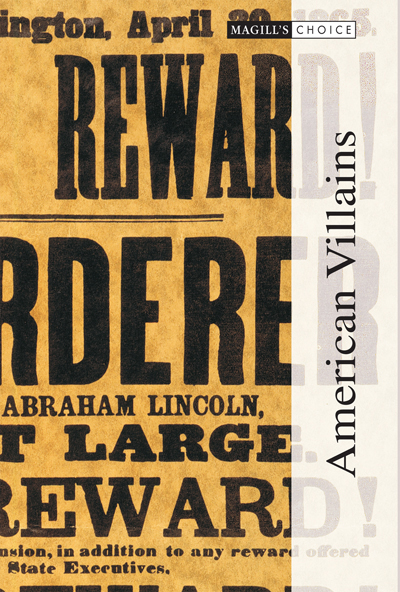 Magill's Choice: American Villains
August 2008
---
---
American Villains explores the lives, deeds and punishments of 177 of the most infamous villains of our time; the assassins, serial killers, frauds, gangsters, murderers, terrorists, thieves, and traitors.. What makes this set unique is that it focuses on U.S. criminals who are not generally covered in American biographical surveys.
The essays in American Villains have been selected from our Great Lives from History: Notorious Lives set. Each essay has been updated and reedited for accuracy. A broad range of personages is covered, including such notorious names as Benedict Arnold, Ma Barker, David Berkowitz, Al Capone, John Dillinger, Nathan Bedford Forrest, Sam Giancana, John Hinckley Jr., Jim Jones, Meyer Lansky, Timothy McVeigh, Lee Harvey Oswald, Scott Peterson, Julius and Ethel Rosenberg, Sirhan Sirhan, Tokyo Rose, Aileen Wuornos and Giuseppe Zangara.


Categories of Villain include:
Assassins

Con Artists, Cheats, and Frauds
Corrupt Politicians
Cult Leaders

Gangsters and Associates

Military Figures

Murderers and Accused Murderers

Outlaws and Gunslingers

Pirates

Political Rebels and Revolutionaries

Racists and Hatemongers

Scientists and Doctors

Serial Killers

Sexual Predators and Accused Predators

Terrorists




Thieves and Bank Robbers




Traitors and Spies




War Criminals




The essays in this set are approximately 1,000 words in length and are arranged alphabetically. Each essay begins with ready-reference information, including:
Name of Villain

Identity (e.g., Spree murderer, Gangster)

Born (date and place of birth)

Died (date and place of death)

Also known as (aliases, nicknames, full and birth names)

Major offenses (crimes)

Active (period of greatest offenses)

Locale (where operated)

Sentence (years in prison, other punishment)
"Early Life" is a summary of the upbringing of the villain and entry into crime. "Criminal Career" is a chronological overview of all criminal activities; "Legal Action and Outcome" identifies legal response, trials, sentences and punishments; "Impact" assesses why the person is remembered and what his or her significance is in history and popular culture; and "Further Reading" lists sources for further study.
Please note that older Magill's Choice titles were published in print and eBook versions only. A print purchase does not include free online access on the https://online.salempress.com platform, but you may purchase the eBook version through our eBook vendors.
---