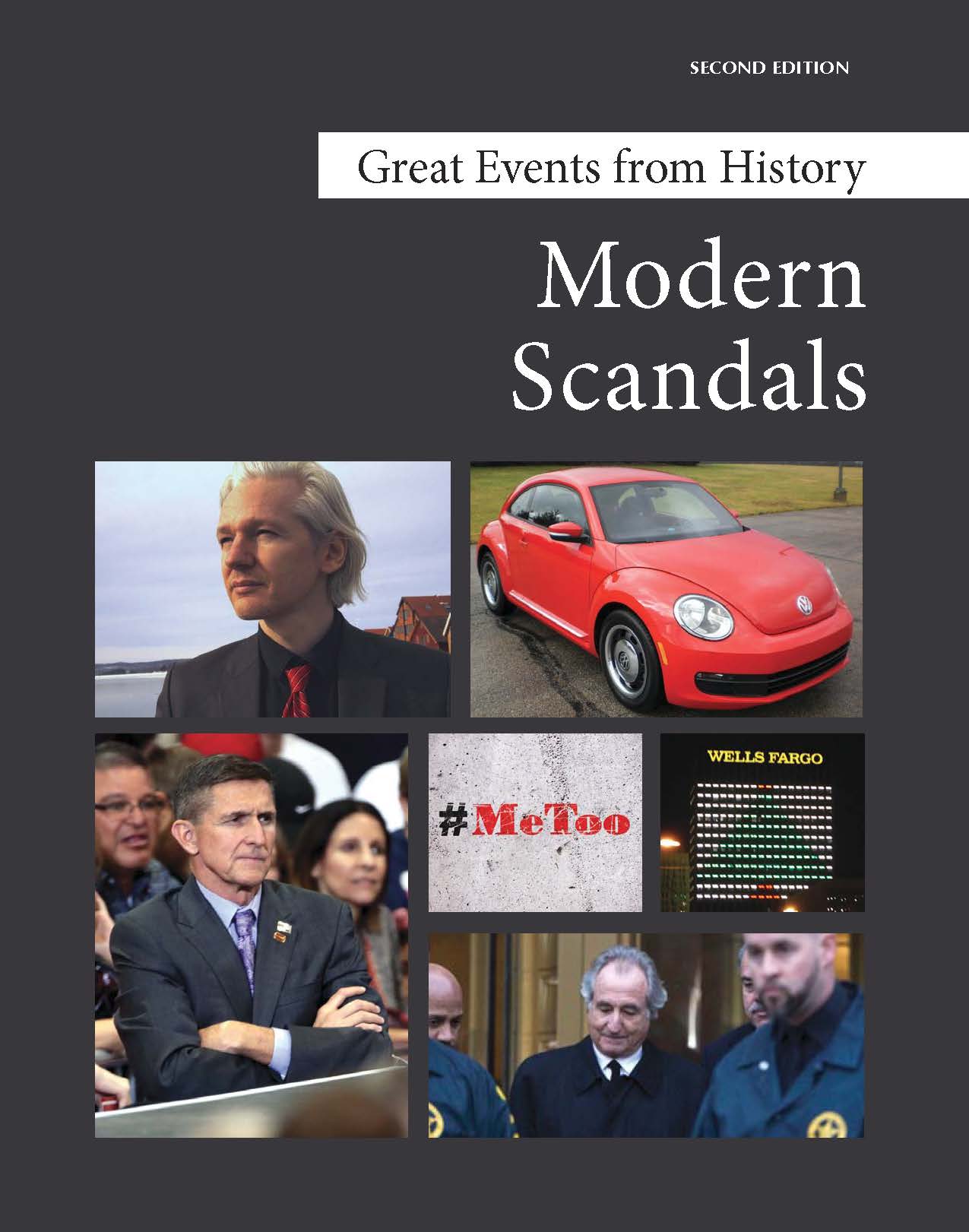 Great Events from History: Modern Scandals
December 2018
---
---
This new edition provides the reader with an in-depth examination of some of the most noteworthy scandals worldwide since the beginning of the 20th century.
This second edition of Great Events from History: Modern Scandals describes and analyzes some of the most important scandals of the twentieth and early twenty-first centuries. Each essay focuses on a single event, or series of closely related events, deemed scandalous by media and society. While seeking to reconstruct the chronology and key figures of these events, the essays discuss both what happened to make the event scandalous and how it has influenced modern history.
The Concept of Scandal
The concept of scandal is more elusive than one might at first appreciate. The term is used here to define events that attract considerable media attention and public discussion but often remain poorly understood. Generally meaning some form of misbehavior or a wrongful act, scandals are not necessarily illegal, and illegal acts are not necessarily scandalous. The essence of scandal is the damage to reputation brought on by violations of codes of morality, propriety, or ethics to which the transgressors are normally expected to adhere. It is possible, therefore, that a given act committed by one person may be considered scandalous, while the same act committed by another person may not be.
Scope of Coverage
Geographically, the set focuses on North American topics, mostly concerning the U.S. However, the scope of Modern Scandals is worldwide and represents Europe, Asia, the Middle East, Canada, Latin America, Australia and the Pacific, and Africa.
Following the organization of other Great Events sets, Modern Scandals is arranged chronologically, from Booker T. Washington's dinner at the White House with President Roosevelt in 1901, to 2018 coverage of the dealings of President Trump and Russian President Vladimir Putin. Other scandals covered include:
Players Fix Liverpool-Manchester United Soccer Match
Richard Nixon Denies Taking Illegal Campaign Contributions
New York Times Publishes the Pentagon Papers
Heaven's Gate Cult Members Commit Mass Suicide
Mutual Fund Companies Are Implicated in Illegal Trading Practices
Deepwater Horizon Negligence Causes the Largest Oil Spill in History
and many, many more.
Format

Essays are of about 1,600 words, or 3-4 pages each, with a few exceptions of longer subjects of importance. All essays include the following ready-reference top matter:
Date or date range of event;
Descriptive title;
Summary paragraph;
Also-known-as;
Locale;
Subject categories;
and key figures.
The main text of every essay is divided into the following sections:
Summary of Event, which provides detailed chronological description of the facts of the event;
Impact, an assessment of the event's historical, social, or cultural significance;
Further Reading, an annotated list of sources for further study;
See also cross-references to other related essays within Modern Scandals.
Designed for history students in high school and college, this series as a whole is an invaluable reference tool in public libraries for students and general readers at all academic levels.
Sidebars accompany selected essays, which include extracts from primary source documents that help illuminate the event. Also included are more than 250 photographs, including portraits and places where events occurred.
Appendices and indexes include:
Bibliography
Essays by Geography
Essays by Category
Key Figures
Subject Index
---