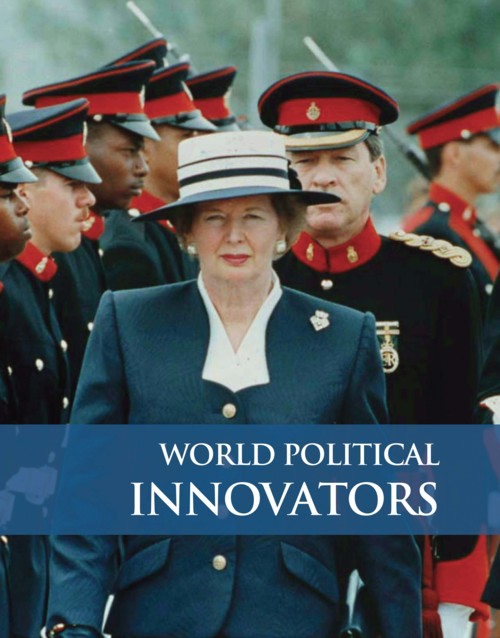 World Political Innovators
September 2016
---
---
World Political Innovators brings together 180 biographies of some of the most important political figures of the twentieth century. These leaders, who have dedicated their lives to the betterment of their country, helped define the landscape of politics today.
In these two volumes, users will find 183 comprehensive biographies of important political figures from around the world since the 1940s. Biographies represent a strong multi-ethnic, cross-gender focus. In
addition to historical significance, leadership skills, and patriotism, you will discover that many of the profiled political leaders demonstrated new and different ways of thinking for the time in which they lived, often impacting today's political landscape. Coverage includes such notable figures as,
Yassir Arafat

Menachem Begin

David Ben-Gurion

Tony Blair

Benazir Bhutto

John Kerry

Young Sam Kim

Ruhollah Khomeni

Helmut Kohl

Dali Lama

Winnie Mandela

Michelle Obama

Saavedra Ortega

Pope Pius

Vladmir Putin

Yitzhak Shamir

Joseph Stalin
Essay Length & Format
Each biographical essay averages 4,000 words in length and offers standard reference top matter:
The name by which the individual is best known;
Birth and death dates, followed by locations of those events as available;
Political party(s) or group(s) that the individual has been affiliated with;
Synopsis of the individual's historical political importance, and why he or she should be studied today.
The text of the essays are divided into the following:
Early Life provides facts about the individual's upbringing and historical context;
Life's Work, the heart of the article, consists of a straightforward, generally chronological, account of how the individual gained recognition, emphasizing their most significant endeavors, achievements, and failures;
Sidebars explore a specific political party or group that the individual identified with;
Personal Life includes post-achievement activities or positions, family life, and topics of general interest;
Further Reading provides a starting point for additional research.
Salem Press' Innovators series seeks to highlight those thought-leaders that changed the world. This new volume will be a useful tool for high schools, undergraduate political science collections and public libraries of all sizes.
Special Features
Several features distinguish this series from other biographical reference works. The back matter includes the following aids, appendices, and indexes:
Annotated Timeline presents a comprehensive list of milestone events in the evolution of politics since the 1940s;
Party Website Directory for major political parties;
Geographical Index lists political innovators by the country where they had the most impact;
Index provides a detailed A-Z list of political figures, parties, etc.
---