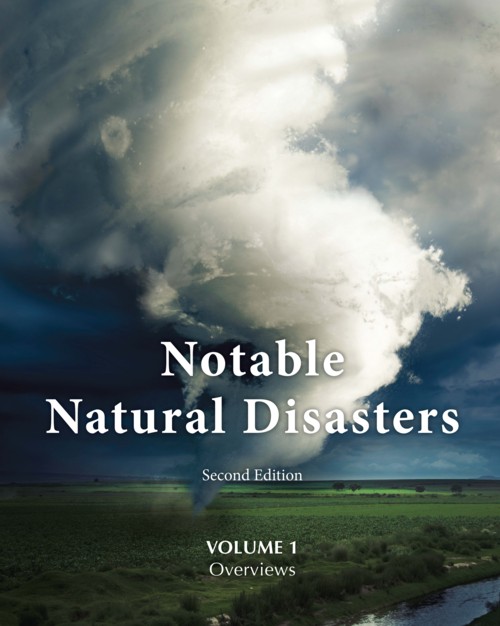 Notable Natural Disasters
May 2017
---
---
A chronological survey of more than 100 of the worst disasters in history, including such recent events as the 2015 Mount Everest avalanches, 2015 Nepal earthquake, and Super Storm Sandy.
Previously published in Salem Press's Magill's Choice series (2007), this edition is updated and expanded. It includes such recent events as the earthquake in Nepal in 2015; the 2011 Fukushima earthquake, tsunami, and nuclear disaster in Japan; and the Zika epidemic, which was recognized an official public health emergency of international concern by the World Health Organization (WHO) from February to November, 2016.
Some books about disasters focus on the science, using events as examples but without providing detailed narrative descriptions of what happened. Disaster chronologies, on the other hand, describe events in varying degrees of detail, but generally do not offer a look at the underlying scientific principles and other general concerns. This book was conceived to address both aspects in an accessible manner that is scholarly rather than sensationalized. The three-volume set combines clearly explained scientific concepts with gripping narrative details about 163 significant disastrous events from history. Notable Natural Disasters, 2nd edition, is illustrated with ample photographs, maps, tables and diagrams to aid the reader.
Volume 1 includes 23 overviews of significant natural events that are frequently involved in disasters:
Avalanches
Heat Waves
Blizzards, Freezes, Ice Storms
Hail Hurricanes
Typhoons & Cyclones
Droughts
Icebergs & Glaciers
Dust Storms & Sandstorms
Land-, Mud-, & Rockslides
Earthquakes
El Niño

Meteorites & Comets
Epidemics
Smog
Explosions
Tornadoes
Famines
Tsunamis
Fires
Volcanic Eruptions
Floods
Wind Gusts
Fog
Each overview focuses on scientific explanation, opening with a few sentences that define the natural phenomena and its importance.
Several sections follow, including:
Science: explains the science behind the phenomenon in general terms understandable to the layperson;
Geography: gives the names and descriptions of the continents, countries, regions, or types of locations where the phenomena occur;
Prevention and Preparations: describes measures that can be taken to prevent or predict disasters to avoid or minimize the loss of life and property, including drills, warning systems, and evacuation orders;
Rescue and Relief Efforts: explains what is done in the aftermath of disasters to find and treat casualties, including typical wounds received and any special challenges faced by rescue workers. This section also includes efforts of relief organizations and programs;
Impact: describes the typical short-term and long-term effects on humans, animals, property, and the environment of these phenomena;
Historical Overview: gives a broad sense of the disaster type beginning with the first recorded occurrences and offering highlights of notable events up to the present day;
Milestones: a table of major events, such as significant disasters, relevant scientific discoveries, and establishment dates for programs, organizations, and classification systems.
Written by experts in the field, this edition of Notable Natural Disasters is sure to be a welcome addition to public and academic libraries of all sizes.
---