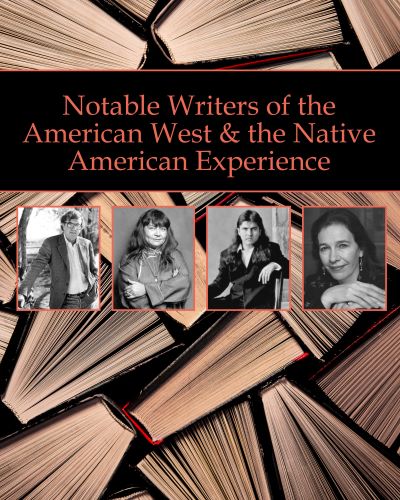 Notable Writers of the American West & the Native American Experience
November 2021
---
---
Many tell the spirited tales of the American West, describing life in the North American frontier as it moved from its earliest border at the Appalachian Mountain range through Westward expansion to the Pacific coastline. Others write or speak of their rich, varied experiences as members of First People Nations. Each story takes its place in history, part of the development and narrative of America.
Notable Writers of the American West & the Native American Experience is a collection with broad appeal. The range of entries for this volume includes writers so varied that readers with a passing interest in discovering America's storytelling history of the Western frontier (as it was redefined throughout our history), readers with a desire to understand the wealth of ancient Indigenous stories passed down in the oral tradition, students endeavoring to get a more reasonable and accurate vision of the American West than Western movies might have provided them, and scholars from a wide range of fields trying to broaden their scope, will find an entry to pique their interest. But there is more to this collection than that, for contemporary writers are also part of the ongoing Native American narrative and the narrative of the American West, often, but not always, at the same time. This volume is a collection of analytic, scholarly, encyclopedic essays about these writers, thinkers, activists and scholars, and readers will be prompted to delve deeper into their works and lives.
The authors included in this collection are having a glorious conversation about life, love, philosophy, literature, politics, civil rights, biases, and (in)justices. They are artists, social transformers, builders, thinkers, poets, playwrights, populists, elitists, products of their society and shapers of their (and our) cultures. They are discussing such vital issues as sexuality and gender, Native and women's rights and privileges, wars of their eras, civil rights, literary criticism, mental illness, child rearing, and identity. The more we try to paint an accurate painting of their lives, the more we realize we need more canvases. Indeed, there is not one, or two, or even several visions here. These writers are as diverse as humans—and Americans—are. The goal of this title is to reinforce the legacy of these important writers, to resurrect the legacy of those who have been unduly forgotten, and to (re)introduce some new names into the lexicon of American writing.
This volume provides both an overview of and a more in-depth context to the stories of over 100 acclaimed writers. Each entry includes a comprehensive overview of each author's biography and literary career as well as a ready-reference listing of their major works in all genres.
Writers in this volume include:
Cormac McCarthy
Black Elk
Black Hawk
Sherman Alexie
Leslie Marmon Silko
Janet Campbell Hale
Paul Gunn Allen
Vine Deloria
James Fenimore Cooper
Larry McMurtry
Willa Cather
Kit Carson

Mark Twain
Stephen Crane
Louis L'Amour
N. Scott Momaday
Louise Erdrich
James Welch
Joy Harjo
Charles Eastman
John Joseph Mathews
Linda Hogan
Tommy Pico
and Tommy Orange.
Each essay identifies the writer's major genres, and birth and death dates and places. The volume also includes a Chronological List of Authors; Genre Index; Personages Index; Title Index; Subject Index; and dozens of photographs. Designed to introduce readers at the high school and university level to the rich world of Native Americans and the vivid literature of the American West, this title provides students with careful research and resources to further explore these rich literary traditions.