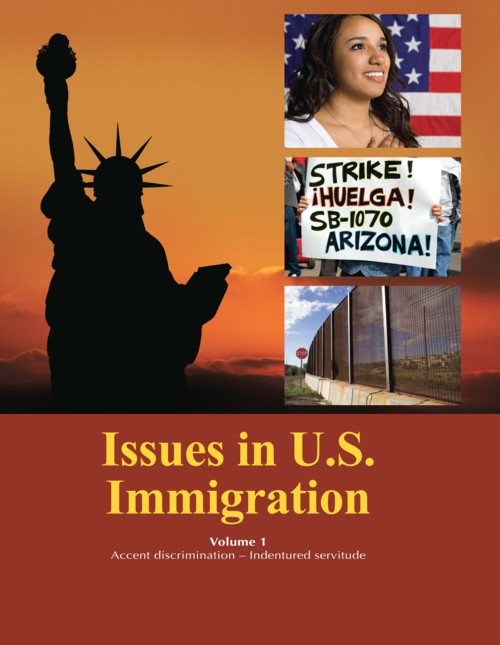 Issues in U.S. Immigration
February 2015
---
---
Designed for and written to be understood by high school students and college undergraduates, Issues in U.S. Immigration offers a clear and innovative approach to immigration history that can also be used by advanced students and scholars.
This updated edition offers a clear and innovative approach to the study of immigration in American history. Its broad coverage and unbiased approach make it the go-to starting point for research on a wide variety of issues surrounding immigration throughout history.
This set's 215+ articles explore immigration from a wide variety of perspectives on pivotal moments in history such as the earliest British settlements of British North America in the 17th century, to the immediate aftermath of the September 11 terrorist attacks, to the current Immigration Reform debate in American politics.
Topics covered in this single, comprehensive source for immigration research and study, include:
Border Control
Law Enforcement
Court Cases
Demographics
Discrimination
Economic & Labor
Issues
Events

Family Issues
Government & Politics
Illegal Immigration
Language & Education
Laws & Treaties
Nativism & Racism
Refugees
Sociological Theories
Stereotypes

Each of the alphabetically arranged articles in Issues in U.S. Immigration opens with the type of ready-reference top matter for which Salem Press's reference works are well known. The first entry following every title is a brief passage that defines or identifies the article's subject. Articles on such subjects as events, court cases, organizations, and laws have additional entries that provide dates and places, as relevant. The next item in every article is a brief italicized statement summarizing its subject's significance. Readers can thus see the most essential information about every topic at a glance.
A new feature in this edition is a collection of state essays discussing regional differences within the United States. Averaging nearly 1,000 words in length, essays focus on the unique immigration histories of each state and provide tables summarizing demographic data. Finally, every article is followed by an annotated list of Further Readings and cross-references to other articles on closely related subjects.
---