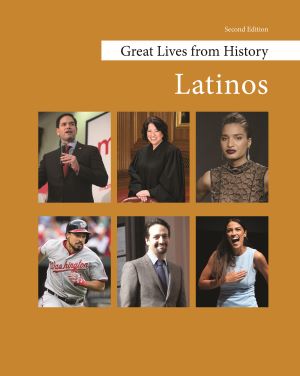 Great Lives from History: Latinos
December 2020
---
---
The updated second edition of Great Lives from History: Latinos covers hundreds of individuals from the eighteenth century through the present, offering a fascinating perspective on Latino history in the United States.
This new, second edition of Salem Press' best-selling Great Lives from History: Latinos features dozens of new profiles of the individuals who have defined Latino history in the United States, as well as substantial updates to existing entries. A three-volume set, the collection offers profiles of hundreds of notable figures from the 19th century through today. Many individuals are household names, famous in such high-profile professions as entertainment, music, politics, and sports, while others have received less attention but made important contributions to civil rights and science or helped pave the way for others in their community in areas such as education, law, and business.
New Additions to this Second Edition include:
Elizabeth Acevedo
Jim Acosta
Alice Bag
Cardi B.
Rosario Dawson
Benicio Del Toro
Ariel Dorfman
Lila Downs
Alejandro Escovedo
Raffi Freedman-Gurspan
Gabriel Garcia Bernal
Francisco Goldman
Eduardo Halfon
Alexander Hamilton
Beto and Gilbert Hernandez ("Los Bros Hernandez")
Luchita Hurado

Oscar Isaac
Santiago Jimenez Jr.
Valerie Luiselli
Carmen Maria Machado
Lin-Manuel Miranda
Mario ("Cantinflas") Moreno
Diane Rodriguez
Hope Sandoval
Emma Tenayuca
Rita Vidaurri
Lydia Villa-Komaroff
Ros Castro
Julio César Chávez
Carlos Condit
Selena Gómez
Salma Hayek

Efrain Gutierrez
Indya Moore
Anthony Rendon
Gina Rodriguez
Marco Rubio
Alexandria Ocasio-Cortés
Tom Pérez
Salvador Sánchez
Wilmer Valderrama
Sofía Vergara
Tego Calder
Ivy Queen
Pitbull
Wisin and Yandel
Maluma
Jenni Rivera
Each essay in this volume provides a summary of the life and work of its subject and discusses that person's impact on both the Latino community and the country at large. Designed for students in high school and college, Great Lives from History: Latinos provides a valuable introduction to an important part of America's history.
---