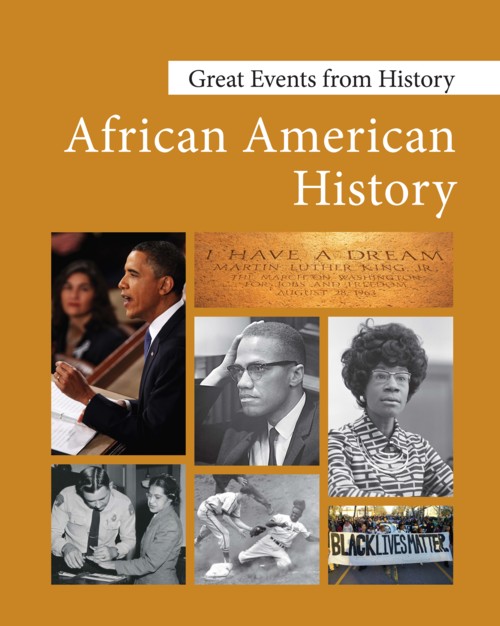 Great Events from History: African American History
February 2017
---
---
This resource provides comprehensive coverage of the many events that define the framework of African American history, including social, cultural, and political movements, and the struggles to gain freedom, equality and civil rights.
A CHOICE Top 75 Community College Resource for February 2018
---
Just as the history of African Americans has been dominated by struggles for freedom and equal rights, articles in Great Events from History: African American History emphasize key events in the study of:
Slavery

The Abolitionist Movement
Civil Rights
Discrimination
Voting Rights
Supreme Court Decisions
Arts & Entertainment
Black Nationalism

Crime & Punishment
Economic Issues
Education
Military History
Politics & Government
Religion
Riots & Civil Disturbances
Women's Issues
This edition of the Great Events from History series compiles 80 brand new, never-before-published essays especially commissioned for the set with an additional 500 core entries. Also included are expanded and updated bibliographies, internal and external cross-references, brand new indexes and appendixes, as well as numerous sidebars, maps, and illustrations.
Some of the recent events that are included in this comprehensive source are:
The election of Barack Obama in 2008

The Opening of the Martin Luther King Jr. Memorial in 2011

The Black Lives Matter Movement in 2012

The "Hands Up, Don't Shoot" protests in Ferguson, MO in 2014
Essays have been supplemented with informational sidebars that will further inform a reader's understanding of the topics discussed, including primary source documents, court decisions, mission statements, laws, biographical profiles, and state statistics that will deepen a reader's understanding of the topic.


Designed for high school, undergraduate and public libraries, this new resource provides students and researchers with comprehensive and accessible material designed to shed a new light on the study of African American history.
---