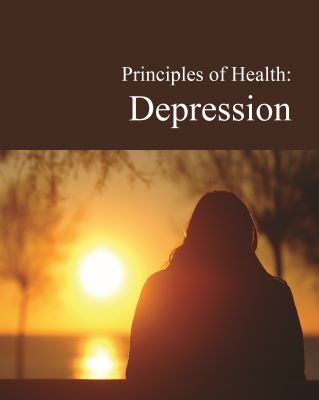 Principles of Health: Depression
July 2021
---
---
Principles of Health: Depression is an important and timely volume that addresses a serious public health issue in the United States. Depression is defined as a state of low mood and aversion to activity. This volume addresses factors that can contribute to depression, like certain life events and personality; how depression is measured; and life styles that are connected to depression, like alcoholism and creative thinking. In addition, content will cover management of the condition and how it affects global health.
This work begins with a comprehensive Editor's Introduction to the topic of prescription drug abuse. Following the Introduction, Principles of Health: Depression includes 119 entries arranged in five broad categories:
What Is Depression defines depression from a medical perspective, discussing such topics as brain chemistry, addiction, and genetics. It also addresses the nuances of depression in certain populations, such as adolescents, the elderly, women, blacks, Hispanics and Latinx individuals, Asian Americans and Pacific Islanders, military personnel, and veterans.
Types of Depression and Associated Conditions covers specific classes of depression as well as closely associated conditions, many of which can co-occur with depression. Among the topics discussed are bipolar disorder, borderline personality disorder, postpartum depression, seasonal affective disorder, post-traumatic stress disorder, fibromyalgia, and chronic and autoimmune disorders.
Recognizing Depression: Signs and Symptoms focuses on ways to recognize signs of clinical or chronic depression, which is much deeper than a fleeting mood and can lead to serious consequences if not addressed. Physical symptoms such as fatigue, inability to concentrate or make decisions, and loss of interest are discussed as well as the disturbing increase in teenage suicide.
Screening and Diagnosis looks at current methods of diagnosing depression and the difficulty medical practitioners face due to the lack of lab tests to detect depression. Depression may be a component of other psychiatric or chronic physical conditions, and standard medical tests can only be used to rule out physiological causes. This section includes discussions of standard screening processes (like the Beck Depression Inventory), chronic illness and mental health, and environmental factors and mental health.
Treatment and Medications considers various approaches to ameliorate depression, from medications to psychotherapy to alternative practices and newer, possibly more aggressive, interventions for treatment- resistant depression. Topics include antidepressant and antipsychotic medications, psychotherapy techniques and psychiatry, transcendental meditation and music therapy, deep brain stimulation and transcranial magnetic stimulation.
Self Care and Helping Others discusses resources for those suffering from depression and offers suggestions if they, friends and family, or others they care for are experiencing persistent feelings of sadness, depression, and/or anxiety. From primary care physicians to emergency services, there are many ways to reach out for help. In addition, this section covers some techniques, such as exercise and relaxation, that depression sufferers can do themselves to help with their condition.
Some the entries discussed in this volume include:
Bereavement
Physical abuse
Rapid mood changes
Medical treatments
Non-psychiatric illness

Anti-depressants
Physical activity
Alternative treatments
Beck Depression Inventory
Each entry includes an Abstract that provides a brief, concrete summary of the topic and its significance, followed by a detailed essay that provides extensive background to the topic and explains its significance to the field of nursing. Photos and illustrations enhance many of the entries, and a list of Further Reading for those who wish to pursue the topic in more depth appears at the end of each entry. In addition, Principles of Health: Depression includes helpful back matter, such as a comprehensive General Bibliography, a Glossary, a list of Organizations, and a Subject Index.
Essays are comprehensive and accessible to high school and undergraduate students and general readers interested nursing—a must-have resource for students and researchers building a foundation in the study of this topic.
FREE ONLINE ACCESS
Libraries and schools purchasing the printed version of any Salem Press title get complimentary online access to that title on our new online database, http://online.salempress.com. Combining Salem's Literature, History, Health, Science and Careers titles, students and researchers can now access all of their Salem content in one comprehensive site. Any school or library with print reference content in Salem Press' database is entitled to online access to that content. This access is an inherent part of our product.
---