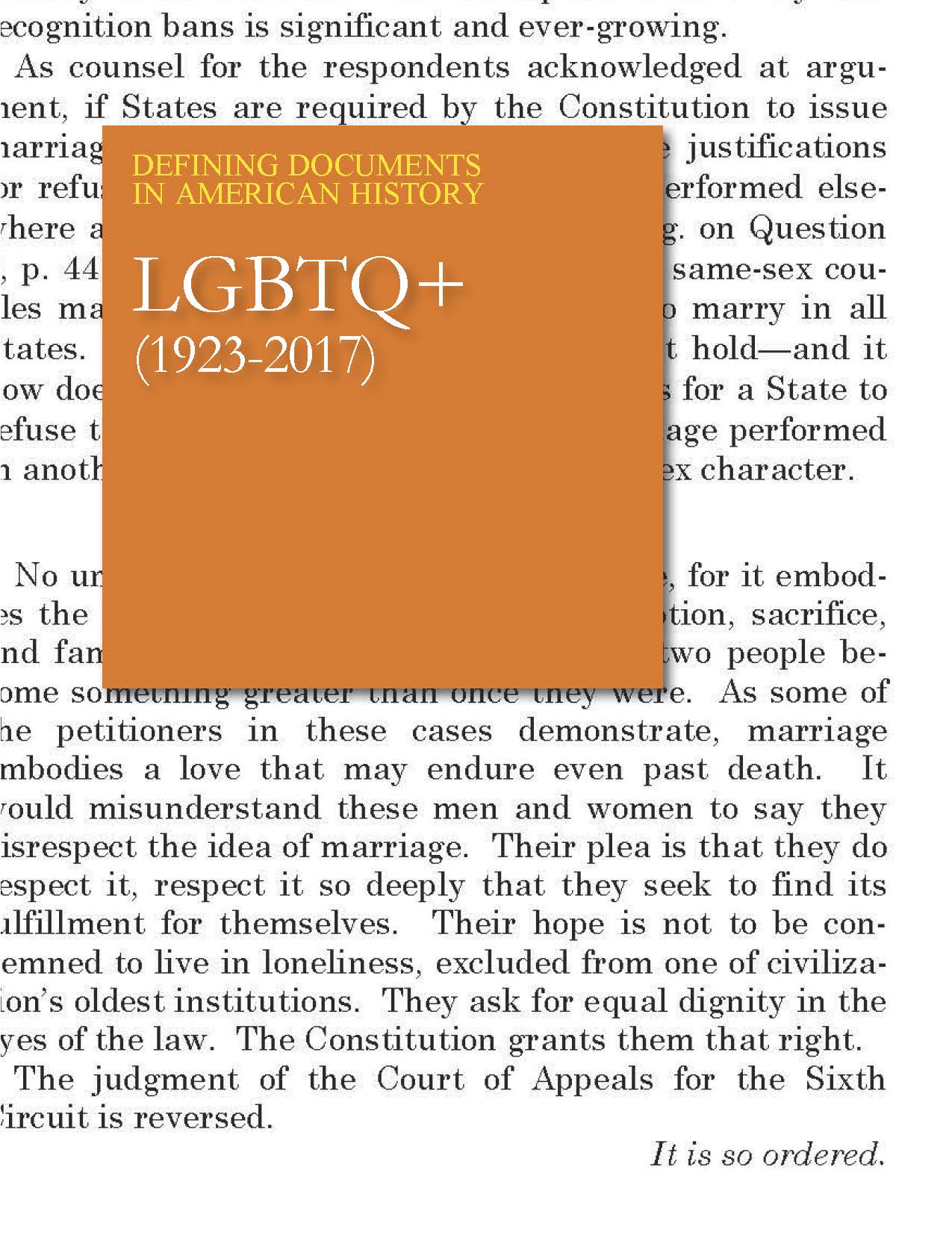 Defining Documents in American History: LGBTQ+ (1923-2017)
April 2018
---
---
As gay, lesbian, and transgender individuals have continued their fight for basic rights and equal treatment under the law, various court cases and challenges to those cases have continued to refine the debate.
This set, Defining Documents in American History: LGBTQ+ (1923-2017) offers in-depth analysis of 35 primary source documents drawn from the ongoing movement to achieve recognition and equality for members of the LGBTQ+ community, beginning with Emma Goldman's "On the Unjust Treatment of Homosexuals," written in 1923, through Danica Roem's speech in 2017, celebrating her election as the first openly transgender elected official in United States History.
The material is organized under three historical groupings:
Early Developments, marking a time when the first homophile organizations began to encourage gays and lesbians to come out in the open.
Coming Out, an era that included such significant events as the Stonewall Riots and "The Hope Speech," by Harvey Milk, the first openly gay elected city official in the nation.
Growing Ever Stronger, including Larry Kramer's passionate activism on the frontline of the AIDS epidemic, the decision in United States v. Windsor that declared DOMA unconstitutional, and a presidential proclamation in 2009 declaring June as LGBTQ Pride Month.
These documents provide a compelling view of the many important aspects of LGBTQ+ history, including the American Psychological Association's 1973 statement that homosexuality is not a mental disorder, changes to the Boys Scouts of America membership policy, and excerpts from Obergefell v. Hodges, the Supreme Court decision guaranteeing the right to marry same-sex couples under both the Due Process Clause and the Equal Protection Clause of the Fourteenth Amendment to the United States Constitution.
Each document is supported by a critical essay, written by historians and teachers, that includes:
Summary Overview
Defining Moment
Author Biography
Document Analysis
Essential Themes
Additional appendixes include: Glossary of important terms related to LGBTQ+ issues; Chronology of important events from LGBTQ+ history both in the United States and around the world; Further Reading, a comprehensive list of resources organized by category; Web Resources is an annotated list of websites that offer valuable supplemental resources.
Designed for high school and college students, the aim of the series is to advance historical document studies as an important activity in learning about history.
---