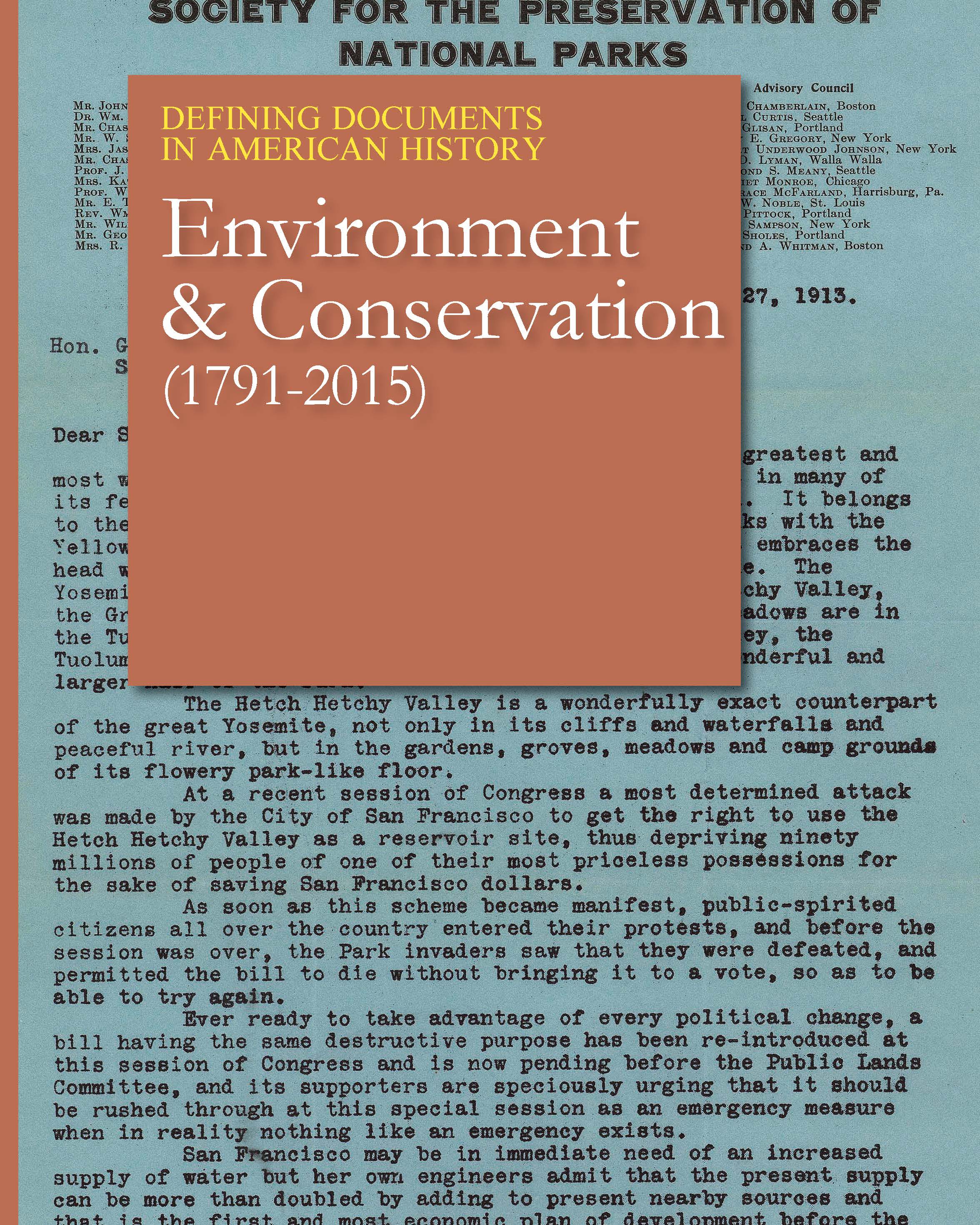 Defining Documents in American History: Environment & Conservation (1791-2015)
May 2016
---
---
Through the close study of 45 primary source documents, this text delivers a thorough examination of important environmental and conservation movements and trends in the U.S. from 1791 to 2015.
Defining Documents in American History: Environment & Conservation offers in-depth analysis of a broad range of historical documents and historic events that shaped such pivotal themes such as the preservation of wilderness areas, species protection, the establishment of national parks and forests, the rise of environmental action groups, the impact of climate change, and the protection of clean air and water, beginning at the same time as the nation's founding and continuing on to the present day.
Defining Documents in American History: Environment & Conservation provides detailed, thought-provoking analysis of:

The Demise of the Bison on the Plains

The Founding of the First National Parks

The Emergence of the Modern Conservation Movement

Ecological Consciousness, Earth Day, and Gaia

Contemporary Environmental Battles
An historical timeline and bibliography of important supplemental readings will support readers in understanding the broader historical events and subjects in the period. An introduction for each of the major subjects covered in the title considers the significance of document analysis for students and educators.
Each document is supported by a critical essay, written by historians and teachers, that includes a Summary Overview, Defining Moment, Author Biography, Document Analysis, and Essential Themes. Readers will appreciate the diversity of the collected texts, including speeches, treaties, journal entries, political speeches, laws, government reports, international resolutions, letters, and court opinions, among other genres. An important feature of each essay is a close reading of the primary source that develops evidence of broader themes, such as the author's rhetorical purpose, social or class position, point of view, and other relevant issues. In addition, essays are organized by section themes, highlighting major issues of the period, many of which extend across eras and continue to shape life as we know it around the world.
About the Series
Defining Documents consists of a collection of essays on important historical documents by a diverse range of writers on a broad range of subjects in American history. The series offers a broad range of historical documents on important authors and subjects in American history, with primary source documents, in-depth analysis, and comprehensive lesson plans that represent the diversity of ideas and contexts that define social, political and cultural subjects throughout American history. The Defining Documents series is perfect for students, those researching a particular era, or anyone interested in American History since 1492.