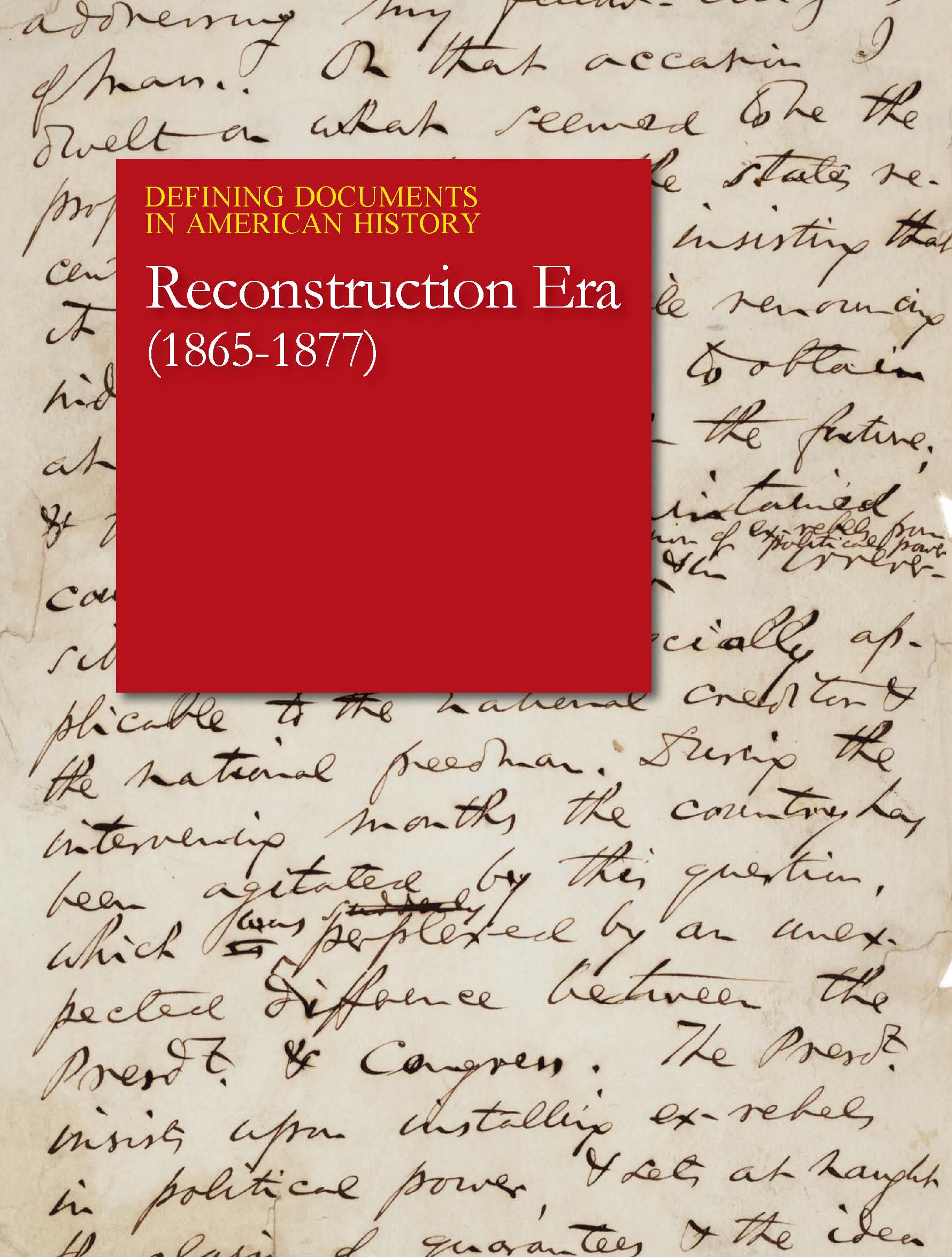 Defining Documents in American History: Reconstruction Era (1865-1877)
June 2014
---
---
Allows readers to gain new insights into the reconstruction era and the development of the industrial United States. Provides in-depth analysis of over twenty primary source documents to deliver a thorough examination of this important time in American history.
Defining Documents in American History: Reconstruction Era offers in-depth critical analysis of 40 primary source documents. Articles begin by introducing readers to the document's historical context, followed by a description of the author's life and circumstances in which the document was written. A document analysis, written by professional writers and historians, guides readers in understanding key elements of language, rhetoric, and social and political meaning that define the significance of the author and document in American history.
Reconstruction provides detailed analysis of a wide array of documents which are split up into 7 broad categories:
Debating Reconstruction
Communities in Need
Acts of State
Black Codes and White Lives
Extreme Reactions
Reconstruction Moves Ahead
An Ambiguous Legacy
Each document is supported by a critical essay, written by historians and teachers, that includes a Summary Overview, Defining Moment, Author Biography, Document Analysis, and Essential Themes. Readers will appreciate the diversity of the collected texts, including journals, letters, speeches, political sermons, laws, government reports, and court cases, among other genres.
An important feature of each essay is a close reading of the primary source that develops evidence of broader themes, such as author's rhetorical purpose, social or class position, point of view, and other relevant issues. Each chapter begins with a brief introduction that explains the questions and problems underlying the subjects in the historical documents. A brief glossary, included at the end of each document, highlights keywords. Each essay also includes a bibliography and additional reading section for further research. The volume ends with a chronological list of all documents, web resources, and overall bibliography.
The Defining Documents collection will introduce students and educators to a diverse range of genres, including journals, letters, speeches, government legislation, and court opinions. Documents represent the diversity of ideas and contexts that define social, political and cultural subjects throughout American history.