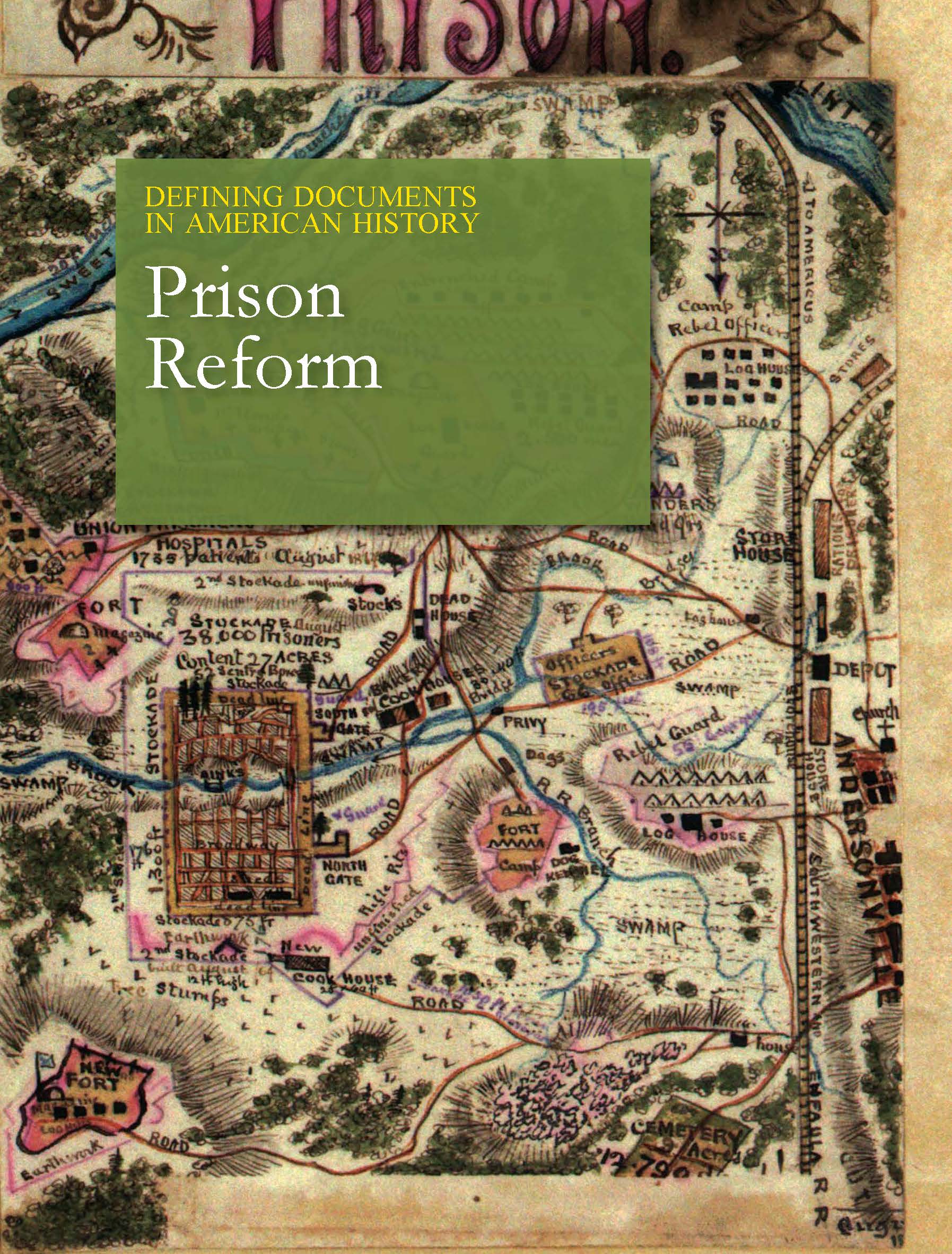 Defining Documents in American History: Prison Reform
March 2019
---
---
Defining Documents in American History: Prison Reform provides an in-depth analysis of the primary documents that capture the debates, activism, and legislation surrounding the system of imprisonment in the United States.
Prisoners have been part of the population in America since the first settlers arrived from Europe. Since then, there have been efforts to reform and improve the prison system in this country. These volumes collect and analyze sixty-one documents that discuss the fierce debates and legislation related to prison reform, the privatization prisons, the efforts to end practices like solitary confinement, and the improvement of mental health care in prisons. The documents reviewed here include letters, memoirs, book excerpts, speeches, court rulings, legal texts, and legislative acts.
The material is organized into six sections:
Prisons without Wardens, Walls, or Cells begins with the Transportation Act of 1717 and concludes with newspaper reports of the shoot-out at the OK Corral.
Antebellum Prisons and Prison Reform includes descriptions and evaluations of the two prison styles of the era: the Auburn (at Sing-Sing and Dannemora) and Pennsylvania Systems (at the notorious Eastern Penitentiary in Philadelphia).
Prisons & Prison Reform in the Late Nineteenth & Twentieth Centuries considers various social and moral concerns, including the treatment of the insane in Nellie Bly's Ten Days in a Mad-House; the Declaration of Principles, National Prison Congress; and the Attica Manifesto and Declaration to the People of America.
Prisons & Prison Reforms in the 1990s and Twenty-first Century marks the emergence of Supermax Prisons and includes the Announcement of Second Chance Pell Pilot Program and Department of Justice Letter on the FIRST STEP Act.
Wartime Incarceration and Punishment begins with the Civil War and Fourteen Months in American Bastiles and moves through World War II and An Interview with an Older Nisei, and ends with the Executive Summary of the Fay Report.
Race, Ethnicity, and Imprisonment considers The Indian Policy in Its Relations to Crime and Pauperism and The Convict Lease System.
Each in-depth chapter provides a thorough commentary and analysis of each primary source document, often reprinted in its entirety. Commentary includes a Summary, Overview, Defining Moment, Author Biography, Detailed Document Analysis, and discussion of Essential Themes.
An important feature of each essay is a close reading and analysis of the primary source that develops broader themes, such as the author's rhetorical purpose, social or class position, point of view, and other relevant issues. Each section begins with a brief introduction that defines questions and problems underlying the subjects addressed in the historical documents.
This title also includes three appendices: Chronological List, Web Resources, and Bibliography.
---