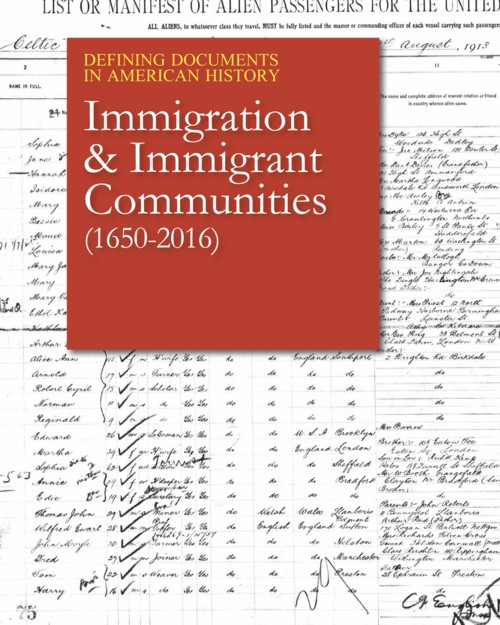 Defining Documents in American History: Immigration & Immigrant Communities (1650-2016)
March 2017
---
---
Winner of RUSA's 2018 Outstanding References Source List
Immigration & Immigrant Communities offers in-depth analysis of a broad range of historical documents and historic events that shaped the lives of immigrants and immigrant communities throughout American history.
Coverage begins with Adriaen van der Donck's description of the New Netherlands in 1650, and continues to President Franklin D. Roosevelt's 1942 Executive Order 9066 that led to the incarceration of people of Japanese ancestry during World War II, the 2012 opinions of the Supreme Court Justices Kennedy and Scalia regarding the case of Arizona v. United States concerning states' rights related to the enforcement of federal immigration laws, and concludes with the 2016 Supreme Court decision in United States v. Texas.
In-depth, thought-provoking analyses are organized under four broad categories:
In Their Own Words: Immigration Descriptions
Anti-Immigration Rhetoric
Federal Legislation
Executive and Judicial Actions
Each in-depth chapter guides readers with historical insight and comprehension. Written by historians and teachers, several elements explain the document's historical impact and provide thoughtful critical analysis, including a Summary Overview, Defining Moment, Author Biography, Document Analysis, and Essential Themes. Plus, an historical timeline and bibliography of important supplemental readings, and web resources, will support readers in understanding the broader historical events covered.
The documents discussed in these volumes paint a portrait of the issues and challenges face by immigrants on American soil. This title will be a useful addition to high school and undergraduate libraries, plus history collections of all sizes.