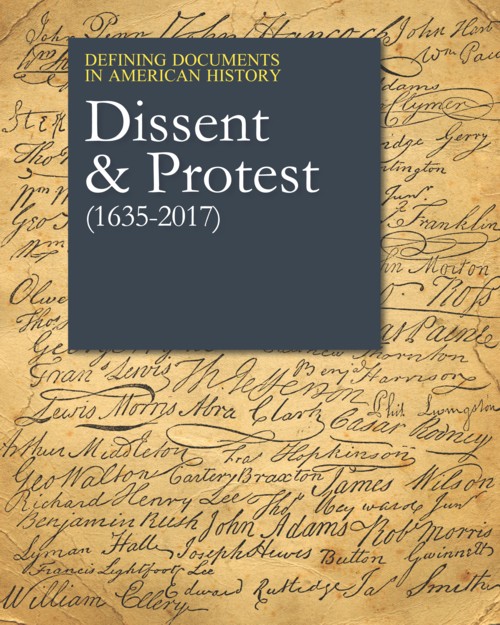 Defining Documents in American History: Dissent & Protest
May 2017
---
---
Dissent & Protest offers in-depth analysis of a broad range of historical documents and historic events that make up the vibrant and ever-evolving store of dissent and protest in the United States.
Dissent & Protest studies crucial documents from various protests, dissents, revolts, riots, and revolutions throughout American history, from the American Revolution to the Black Lives Matter Movement of today. This text closely studies 93 primary source documents to deliver a thorough examination of issues so important to Americans that they took action, exercised their rights and stood up to protest.
These 93 detailed thought-provoking analysis of speeches and documents organized into the following categories:
From Colonies to Nation

Slavery and Abolition

Sectional Conflict, Civil War, Reconstruction

African American Civil Rights

Women's Rights

Political and Social Protest

Anti-War Activism

Each in-depth chapter guides readers with historical insight and comprehension. Written by historians and teachers, several elements explain the document's historical impact and provide thoughtful critical analysis, including a Summary Overview, Defining Moment, Author Biography, Document Analysis, and Essential Themes. Plus, an historical timeline, bibliography of important supplemental readings, and Web Resources will support readers in understanding the broader historical events covered.
The documents include highlight American's commitment to stand up and fight for the issues they believe in. This title will be a welcome addition to the history collections of high schools, undergraduate libraries, and public libraries.