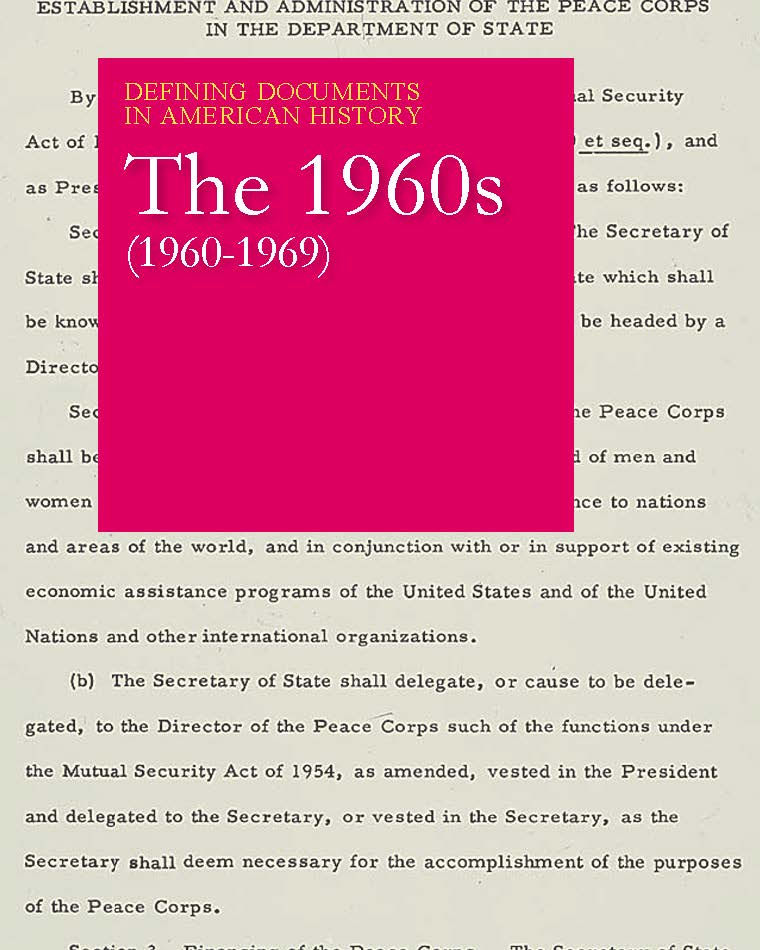 Defining Documents in American History: The 1960s (1960-1969)
April 2016
---
---
This important resource provides students and researchers new insights into the 1960s in the U.S., through an in-depth analysis of forty-nine important primary source documents and their lasting effect on American history.
This title provides an in-depth analysis of a broad range of historical documents and historical events that shaped such pivotal themes such as the nuclear arms race, antiwar sentiment, civil rights, privacy rights, and race to the moon. Organized under three broad categories:
Visions of a New Era
Confrontations with Communism
Civil Rights, Social Justice, and Antiwar Activism
Each in-depth chapter guides readers with historical insight and comprehension. The documents included represent the diversity of ideas and contexts that defined social, political, and cultural subjects throughout this period in American history.
Defining Documents in American History: 1960s provides detailed, thought-provoking analysis of:
The Civil Rights Movement

The Vietnam War and Anti-War Movement

The Apollo 11 Moon Landing

The Assassinations of John F. Kennedy & Martin Luther King Jr.

Beatlemania and the British Invasion
An historical timeline and bibliography of important supplemental readings will support readers in understanding the broader historical events and subjects in the period. An introduction for each of the major subjects covered in the title considers the significance of document analysis for students and educators.
About the Series
Defining Documents consists of a collection of essays on important historical documents by a diverse range of writers on a broad range of subjects in American history. The series offers a broad range of historical documents on important authors and subjects in American history, with primary source documents, in-depth analysis, and comprehensive lesson plans that represent the diversity of ideas and contexts that define social, political and cultural subjects throughout American history. The Defining Documents series is perfect for students, those researching a particular era, or anyone interested in American History since 1492.