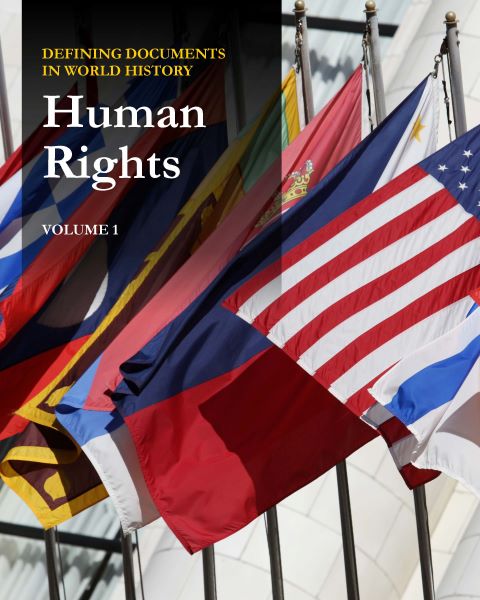 Defining Documents in World History: Human Rights
January 2023
---
---
Human rights have an honored place in modern history and are based on the idea of human dignity and worth. Today they encompass civil, political, economic, social, and cultural rights and freedoms and are understood to apply universally to humankind. The idea of human rights appears in some early religious writings and is reflected in the Magna Carta (1215). Such rights were discussed throughout the Age of Enlightenment and were central to the American Declaration of Independence, the Bill of Rights, and the French Declaration of the Rights of Man and Citizens, among other documents.
After World War II, the United Nations' Universal Declaration of Human Rights set the modern standard in international law following the horrors of the war. Since then, human rights have come to be widely espoused by liberal Western nations and generally disparaged by authoritarian regimes. Organizations like Amnesty International and Human Rights Watch promote human rights and document abuses.
These volumes explore the development of human rights in history and their spread around the world in the modern era. Documents examined include charters, constitutions, legislative debates, political speeches, historical accounts, court cases, disputes between nations, and more.
Appendixes in this book include:
Chronological List

which arranges all documents by year;
Web Resources, an annotated list of websites that offer valuable supplemental resources;
Bibliography

lists of helpful articles and books for further study
About the Series
The Defining Documents series provides in-depth commentary and analysis on the most important primary source documents in the United States and the world. The Defining Documents series is perfect for students, those researching a particular era, or anyone interested in world history. Visit www.salempress.com for more information about additional titles in this series.
FREE ONLINE ACCESS
Libraries and schools purchasing the printed version of any Salem Press title get complimentary online access to that title on our new online database, http://online.salempress.com. Combining Salem's Literature, History, Health, Science and Careers titles, students and researchers can now access all of their Salem content in one comprehensive site. Any school or library with print reference content in Salem Press' database is entitled to online access to that content. This access is an inherent part of our product.
---