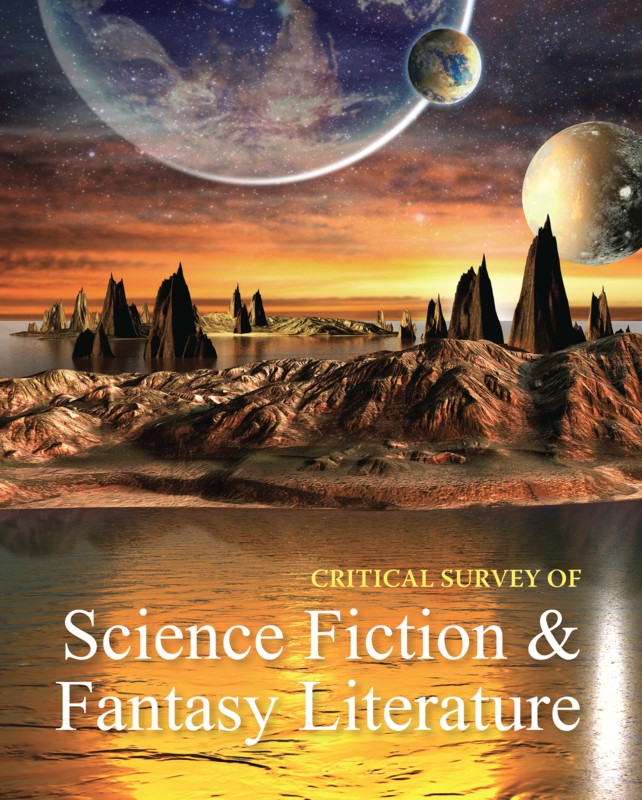 Critical Survey of Science Fiction & Fantasy Literature
March 2017
---
---
This edition provides descriptions of hundreds of famous and well-regarded works of science fiction and fantasy, summarizing plots and analyzing the works in terms of their contributions to literature.
This new edition of the Critical Survey of Science Fiction & Fantasy Literature is a three-volume set offering plot summaries and analyses of 842 of the most popular and frequently taught science fiction and fantasy books and series.
Front matter includes a broad survey of developments in the science fiction and fantasy fields by scholar T. A. Shippey, editor of the 2002 edition, and an introduction by Paul Di Filippo, editor of this revised edition.
Organization & Format
Each article discusses an individual book or series and often comments on other works by the same author. Individual articles open with basic information in a ready-reference format:
Author's Name
His or Her Birth & Death Dates

Identification of the Work as Either Science Fiction or Fantasy

Sub-Genre

Type of Work (such as Drama, Novel, Novella, Series, or Story)

Time and Location of Plot

Date of First Publication
The main body of each essay contains two sections: "The Story" offers a brief summary of the work's plot and identifies major characters, while "Analysis" offers a critical interpretation of the title and identifies the literary devices and themes used in the work.
Works featured in this compilation include essays on such classics as:
Alice's Adventures in Wonderland
The Wonderful Wizard of Oz
The War of the Worlds
The Moon is a Harsh Mistress
Lord of the Rings

trilogy
This title also includes new articles and recent titles such as:
American Gods
Singularity Sky
Jonathan Strange & Mr. Norrell
Cloud Atlas
Boneshaker
Area X: The Southern Reach Trilogy
City of Stairs
Readers will find several reference tools at the ends of Volume 3: Annotated Bibliography, Up-to-Date Lists of Major Science Fiction and Fantasy Award Winners, Timeline of Works Discussed, Annotated Website List, Author Index, Title Index, and a Genre Index.
---