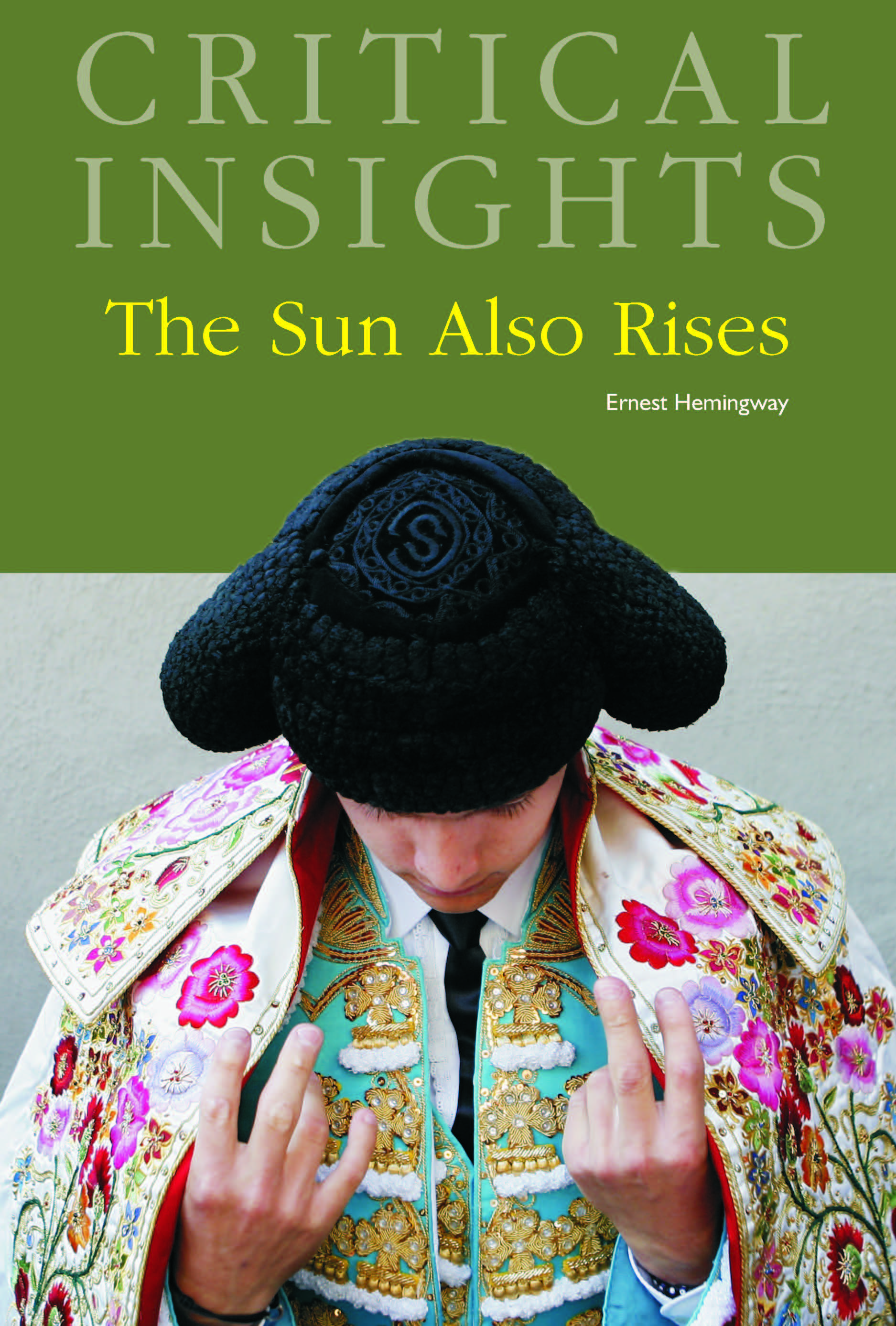 Critical Insights: The Sun Also Rises
October 2010
---
---
This volume brings together a variety of new, classic, and contemporary criticism on Hemingway's masterpiece. A great starting point for students seeking an introduction to The Sun Also Rises and the critical discussions surrounding it.
The Sun Also Rises has cast a long shadow over American literature ever since its publication in 1926. Overnight, its author was acclaimed as the spokesman of what Gertrude Stein called the "lost generation"; young men and women began modeling themselves after the novel's tough-talking, dissolute characters; and its revolutionary prose style spawned countless imitations and, after these had worn thin, parodies. Though Hemingway went on to write five more novels and dozens of short stories before winning the Nobel Prize in 1953, The Sun Also Rises, his second novel, endures as a quintessential American classic. With its vivid characters and spare, laconic prose, it effectively captures the despair, disillusionment, and muted hope of a generation struggling to find meaning in a world torn apart by war. A favorite in high school and college classrooms around the world, it has also, as this volume attests, persisted in generating a wide range of critical opinions.
Each Critical Insights is divided into four sections:
An Introduction – The book and the author
Edited and with an introduction by Keith Newlin, Professor and Chair of the Department of English at the University of North Carolina Wilmington, this volume brings together a variety of new, classic, and contemporary criticism on Hemingway's masterpiece. Newlin's introduction describes how Hemingway revised his early draft of the novel, refining his initial inspiration-a trip he had taken to Pamplona with his wife and friends-into a complex, tightly woven story of implication and omission.
Critical Contexts
For readers studying The Sun Also Rises for the first time, a quartet of new essays provide valuable introductory material. The essays aim to provide a background to the title and author that is an historical, cultural, and biographical foundation for the reader. Matthew J. Bolton explores the novel's cultural context with a discussion of Hemingway's involvement in the Parisian expatriate community; Jennifer Banach sets Hemingway's portrayals of masculinity and femininity within the novel against the cultural changes brought on by the war; Lorie Watkins Fulton, examining Hemingway's lifelong rivalry with William Faulkner, finds it prefigured in Jake Barnes's rivalry with Robert Cohn; and Laurence W. Mazzeno offers a survey of the major trends in criticism of the novel.
Critical Readings
The remainder of the volume presents a diverse selection of classic and contemporary critical essays. These essays utilize common critical approaches to further analyze the author's work. Carlos Baker, Hemingway's first biographer, provides an overview of the context in which Hemingway composed his famous work, while essays by Mark Spilka, Dewey Ganzel, Delbert E. Wylder, Donald T. Torchiana, and Scott Donaldson offer perspectives on some perennial critical concerns: what kind of morality the novel offers (if any), and just what qualities can be considered heroic in Hemingway's protagonists. More contemporary essays reflect recent shifts in critical preoccupations. In an alternative feminist reading, Sibbie O'Sullivan finds in Jake and Brett's relationship an affirmation of love and friendship. Ira Elliott considers the performative aspects of Jake's masculinity, and Lorie Watkins Fulton offers an alternative perspective on Jake's narration and Brett Ashley's character. Jeremy Kaye revisits Hemingway's depiction of Jewish masculinity in Robert Cohn, and Donald A. Daiker shows how teaching and learning figure as motifs throughout the novel. Finally, Dana Fore draws on recent work in disability studies to offer an analysis of Jake's views of disability and his own injury.
Each essay is 2,500-5,000 words in length and all essays conclude with a list of "Works Cited," along with endnotes.
Additional Resources:
Chronology of Ernest Hemingway's Life
Works by Ernest Hemingway
Bibliography
About the Editor
About The Paris Review
Contributors
Index
---