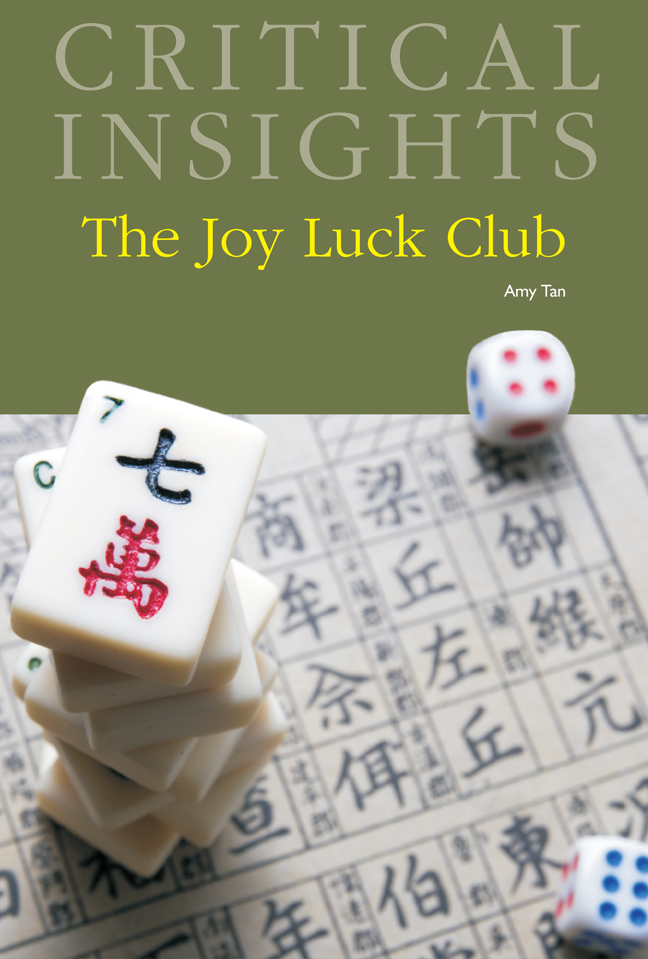 Critical Insights: The Joy Luck Club
October 2009
---
---
This volume presents an array of scholarship on a novel that is quickly becoming a modern classic, Amy Tan's The Joy Luck Club. It considers the structure, narration, style, and themes of Joy Luck, comparing them with Michael Cunningham's The Hours. Essays also examine traditional Chinese beliefs in the novel, compare Joy Luck to other novels.
The volume opens with Evans' introduction in which he emphasizes the artistic excellence of Tan's text, as well as a brief biography of her life and responses to the book from The Paris Review.
Critical Contexts
Critical Contexts section of this volume presents four original survey essays that provide the reader with a useful framework for studying Tan's novel. Camille-Yvette Welsch begins by surveying the critical reception of Tan's works, particularly Joy Luck. Evans returns to place the book in an appropriate cultural and historical context-looking specifically at the four decades following World War II. Doris L. Eder considers some of the mechanics of Tan's novel, including structure, narration, style, and themes; after which Neil Heims compares and contrasts Tan's book with Michael Cunningham's The Hours.

The Critical Readings
Presenting a number of previously published essays, the Critical Readings section of this book begins with Barbara Somogyi and David Stanton's classic interview with Tan. Next, Ben Xu examines the notion of the ethnic self as it is presented in The Joy Luck Club while Stephen Souris suggests that Tan's book "invites analysis from critical perspectives that theorize and valorize fragmented, discontinuous texts and the possibilities of connections across segments." Esther Mikyung Ghymn finds fault with many of the characters for being stereotypical, and insufficiently individualized. Following Ghymn's essay, M. Marie Booth Foster compares The Joy Luck Club to Tan's The Kitchen God's Wife. Patricia L. Hamilton explains many of the traditional Chinese beliefs mentioned in Joy Luck, while Patricia P. Chu argues that a "utopian view of American immigration is the foundation of Tan's text." Catherine Romagnolo provides a feminist perspective in her examination of the narrative beginnings in The Joy Luck Club. Closing the volume, Robert C. Evans returns with a new, unpublished interview with Amy Tan conducted on the eve of the 20th anniversary of the publication of The Joy Luck Club.

Each essay is 2,500-5,000 words in length and all essays conclude with a list of "Works Cited," along with endnotes.
Additional Resources:
Chronology of Amy Tan's Life
Works by Amy Tan
Bibliography
About the Editor
About The Paris Review
Contributors
Index
---