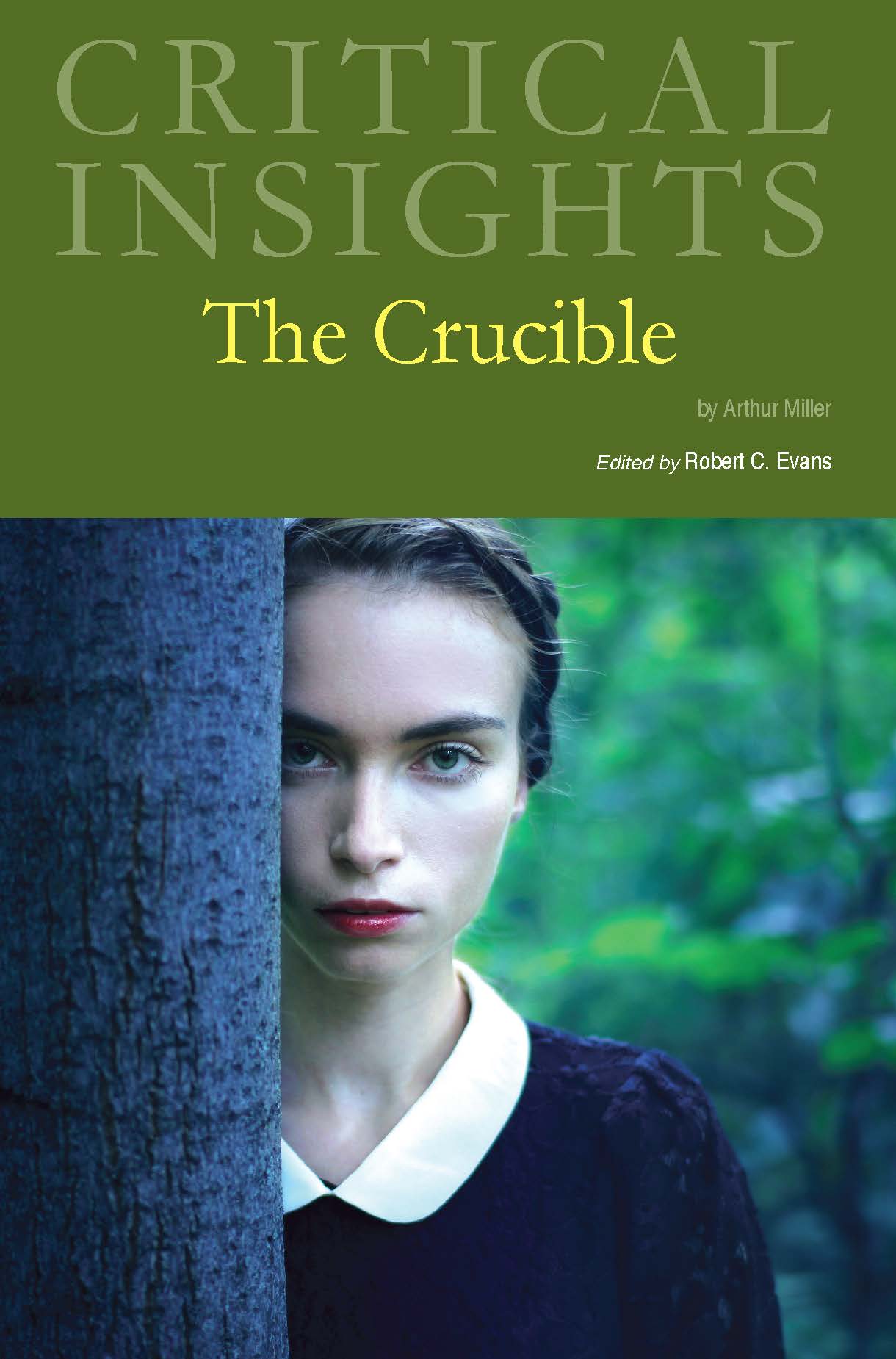 Critical Insights: The Crucible
May 2018
---
---
In-depth critical discussions of the controversial play by Arthur Miller - Plus complimentary, unlimited online access to the full content of this great literary reference.
The present book explores many different aspects of The Crucible, including its biographical and historical origins, its themes and techniques, and the ways it has been presented on stage, on film, and even in a noteworthy audio recording. The volume begins with a "flagship" essay by Christopher Baker, who aruges that the play "blends the social and religious conflicts of angst-ridden Christians with the tensions experienced in any age when powerful. authoritarian institutions seek to bend individuals to their will. It dramatizes," Bake continues, "the struggles of clearly flawed people to arrive at a sense of justice that will somehow not become tainted with their own shortcomings. And," he asserts, "it movingly portrays the agony of a couple that seeks to defend their relationship against tensions that would wreck their loving marriage. The play continues to appeal to audiences through it exploration of the themes of religion, power, psychology, and love." Baker's essay is followed by a brief overview of Miller's life, written by Bryan Warren, that focuses especially on the decades immediately before and immediately following the production of The Crucible.
Next, in a series of four contextual essays, the play is examined from deliberately various perspectives. Stephen Marino, for instance, looks at this work (and other works by Miller) from a historical point of view. Marino emphasizes the importance of issues of inheritance, not only in The Crucible but in several other works by Miller. Marino regards these issues as central and continuing concerns of Miller's writings. Comparing and contrasting Miller's play about witchcraft with seventeenth-century historical documents and laws, Marino calls attention to underlying economic tensions and motives, both in the seventeenth-century setting and in Miller's twentieth-century play. Marino's essay is then followed by an article written by Antonio Byrd. Building on but also supplementing Marino's own fine survey of scholarship about Miller (in Marino's 2015 book), Byrd pays particular attention to academic discussions of The Crucible published since the turn of the twenty-first century. Nicolas Tredell then examines the play through a particular "critical lens," paying special attention to issues of skepticism, knowledge, and tragedy in an essay that draws on insights from the philosopher Stanley Cavell. Finally, the "contextual" section of the book closes with an essay Susan C. W. Abbotson, which compares and contrasts the original text with the 1996 film version—a version for which Miller himself wrote the screenplay. The next section of the book offers a series of distinct but often related "Critical Readings." In the first of these, Nicolas Tredell returns, this time with an essay on issues of vengeance and scapegoating in the play—an essay indebted to insights by the philosopher René Girard. Next, a cluster of pieces examines the question of Miller's politics from the 1930s to the 1950s. Since The Crucible is often read as an attack on "hysterical" anti Communism (that adjective is so inevitable that it has long since become a cliché), these essays try to set the issue of Miller's own Marxism in historical relief. The first piece in this collection of related articles is by Alan Wald, the distinguished historian who has contributed valuably to a rich understanding of Miller's pre-war and post-war politics.

The second piece, by Lyndsey Fifield, surveys commentary about Miller's Marxism from the one writer who probably knows Miller best—Christopher Bigsby, the playwright's friend and biographer. An essay by Robert C. Evans builds on Wald's suggestions that Miller, in 1945–46, wrote for a Communist publication under the pseudonym of "Matt Wayne." Evans argues that "Wayne's" ideas about good writing closely resemble Miller's own. Evans then, in an ensuing essay, compares and contrasts The Crucible with various other dystopian writings from the post-war period, including George Orwell's Animal Farm and Nineteen Eighty-Four plus a collection of essays, by former Communists, titled The God That Failed. Evans' essay is followed by a piece by Johnathon T. Lawrence that quotes from various attacks on The Crucible from contemporary reviewers and commentators who argued that dangerous Communists (unlike witches) really did exist and that Stalinists had been far more brutal "witch hunters" than anything Americans could easily imagine. Finally, in the last of this cluster of essays, Evans discusses a play titled The Egghead, by Miller's one-time friend Molly Kazan, which has often been seen as partly a rebuke to The Crucible. In another cluster of related essays, several contributors discuss various productions of The Crucible as well as critical responses to them. Christopher Baker, for instance, surveys four different film versions of the play. Trevor Ramey then examines numerous reviews of the 1996 film, for which Miller wrote the screenplay. Thomas A. Greenfield next discusses one particular Broadway revival of the play (by director Ivo van Hove in 2016), and then Crystie Deuter offers an overview of reactions to a variety of non-Broadway productions— the kind most theater-goers actually witness. Finally, Brant Pope looks at (or, rather, listens to) an important audio production of the play, a production that may be of special interests to teachers of Miller's drama. All these essays about various productions suggest numerous insights into the play's themes, characterizations, staging potentials, and contemporary relevance, to mention just a few of the
matters these pieces discuss.

All in all, the present volume offers an unusually wide variety of responses to Miller's play, not only from the essayists themselves but from the many other persons whose opinions they report and describe.