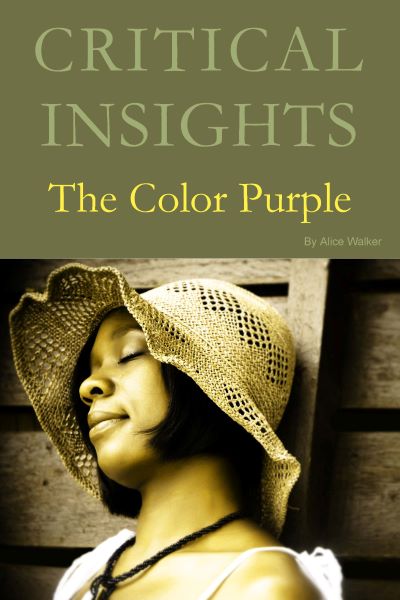 Critical Insights: The Color Purple
March 2022
---
---
Alice Walker's The Color Purple is one of the most celebrated and influential novels in American and African American literature, a rare winner of both the Pulitzer Prize and National Book Award for Fiction, and the inspiration for an acclaimed film adaptation and Broadway musical. In celebration of The Color Purple's fortieth anniversary, this volume offers new readings of the classic literary work from biographical, cultural, historical, and spiritual points of view, with additional analyses devoted to art, adaptations, comparative texts, ethics, linguistics, masculinity, motherhood, poetry, and social activism and movements such as Black Lives Matter.
This volume, like all others in the Critical Insights series, is divided into several sections. It begins with an introductory "About This Volume" essay, followed by another work titled "The Power of Love and the Spirit: Toxic Masculinity, Forgiveness, and Redemption in The Color Purple," by Jericho Williams. This is followed by a Biography of Alice Walker written by volume editor Jericho Williams.
A collection of four critical contexts essays are intended to treat the novel
From a historical vantage point
In terms of its critical reception
Using a specific critical lens
And by comparing and contrasting it with another important work.
This section opens with an essay by Kendra N. Bryant titled, "A Charge to Keep: Alice Walker Writing Herself into a Color Purple Existence," followed by a piece by Amy Leshinsky, "The Critical Reception of The Color Purple," This essay reviews both the negative and positive reception The Color Purple received upon its publication and explores the nuances of topics being discussed. The following two articles are written by Carol Blessing and RaSheeda V. Brown respectively. The first, "Educating through Ethics and Love: Teaching That Black Lives Matter," uses ethical analysis informed by current events to study the novel while noting the importance The Color Purple in current time. In the final essay, "'Your Blues Is Just Like Mine': A Critical Examination of The Color Purple and Push," Brown compares the two novels while drawing comparisons to several important lessons each work highlights when it comes to children, childhood, and one's sense of self.
Following these four Critical Context essays is the Critical Readings section of this book, which contains the following essays:
Alice Walker's Metaphysics in The Color Purple, by Nagueyalti Warren
African American English in Alice Walker's The Color Purple: A Linguistic Analysis, by Mack Campbell
Sewing, singing, and Storytelling: Female Artistic Power in The Color Purple, by Shu-Jiang Lu
"Us each other's peoples now": Expressing Lesbian Desire Through the Epistolary Form in The Color Purple, by Erin Bell
Motherhood and the Maternal Body in The Color Purple, by Zsuzsanna Lénárt-Muszka
Women of Letters: Mariama Bâ and Alice Walker, by Rosemary Peters-Hill and Matthew Pinchback
Narratives of Repair: Alice Walker's The Color Purple and Arundhati Roy's The God of Small Things, by Lucky Issar
A Comparative Analysis of Alice Walker's The Color Purple and Selected Poems, by Dike Okoro
"You're black, you're poor, you're ugly, you're a woman. You're nothin' at all!": (In)Visibility In Steven Spielberg's The Color Purple (1985), by Tatiana Prorokova-Konrad
How Sweet the Sound: Celie's Survival Story as Broadway Musical, by Laura Dubek
Each essay in Critical Insights: The Color Purple includes a list of Works Cited and detailed endnotes. In the final section, Resources, easy-to-follow lists are provided to help guide the reader through important dates and moments in the author's life, beginning with a Chronology of Alice Walker's Life. This is followed by a list of Works by Alice Walker and a Bibliography. Finally, this section closes with an About the Editor section, Contributors, and a detailed Index.
The
Critical Insights
Series distills the best of both classic and current literary criticism of the world's most studies literature. Edited and written by some of academia's most distinguished literary scholars,
Critical Insights: The Color Purple
provides authoritative, in-depth scholarship that students and researchers will rely on for years. This volume is destined to become a valuable purchase for all.