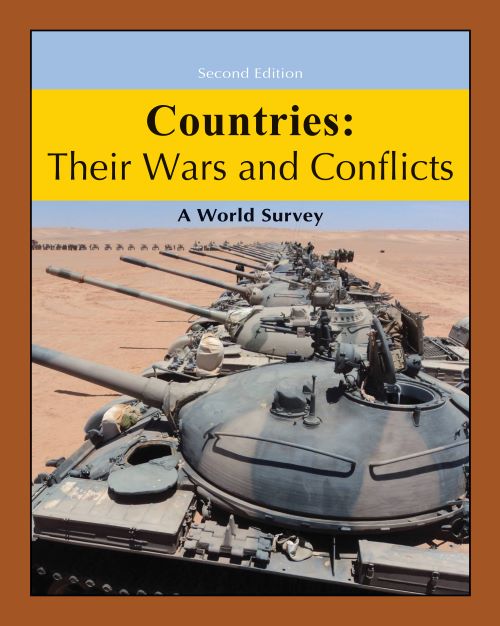 Countries: Their Wars & Conflicts
November 2019
---
---
This new edition of Countries: Their Wars and Conflicts is a comprehensive four-volume set that provides up-to-date, reliable analysis of armed conflict around the world. These volumes are designed to meet the needs of middle and high school students and others seeking clear explanations of what has been going on in the world's many troubled countries.
Formerly called World Conflicts & Confrontations, this new edition is arranged by world region:
Volume 1 – The Americas
Volume 2 – Africa
Volume 3 – Asia, the Middle East, and the Pacific Islands
Volume 4 – Western, Central and Eastern Europe, and the former Soviet Republics
In addition to updated and brand new content, this new edition pays special attention to the conflicts in Afghanistan, Myanmar, Yemen, Syria, Ukraine, the Democratic Republic of the Congo, Syria, and Venezuela, among others. In addition, there is detailed coverage on volatile regions, like North Korea, Russia, and the U.S./Saudi/Iran relationship.
Each volume starts with an informative regional essay, each at least 12 pages long. Next, country essays, each 6-12 pages long, follow in alphabetical order. A short description of its most pressing problem begins each country's essay, including the origin, nature, and history of its conflicts. The essay itself includes helpful subheads, such as Early History, Revolution and War, Transitional Government, Ongoing Problems, Economic Challenges, Future Prospects, and others specific to the country being profiled. Helpful features throughout the essay include a statistical profile, map, and timeline of all conflicts and takeovers to the present day.
Each volume ends with a list of essays by type of conflict; current, former and variant names of countries; and a detailed index. An annotated Further Reading section at the end of each country essay is enormously helpful, as are the sidebars and photos scattered throughout.
These volumes are designed to provide high school and community college students, undergraduates, and the general public with an up-to-date overview of conflicts around the globe. These informative essays provide the necessary historical background to foster a better, more in-depth understanding of the events and figures that are shaping today's conversation of global affairs.