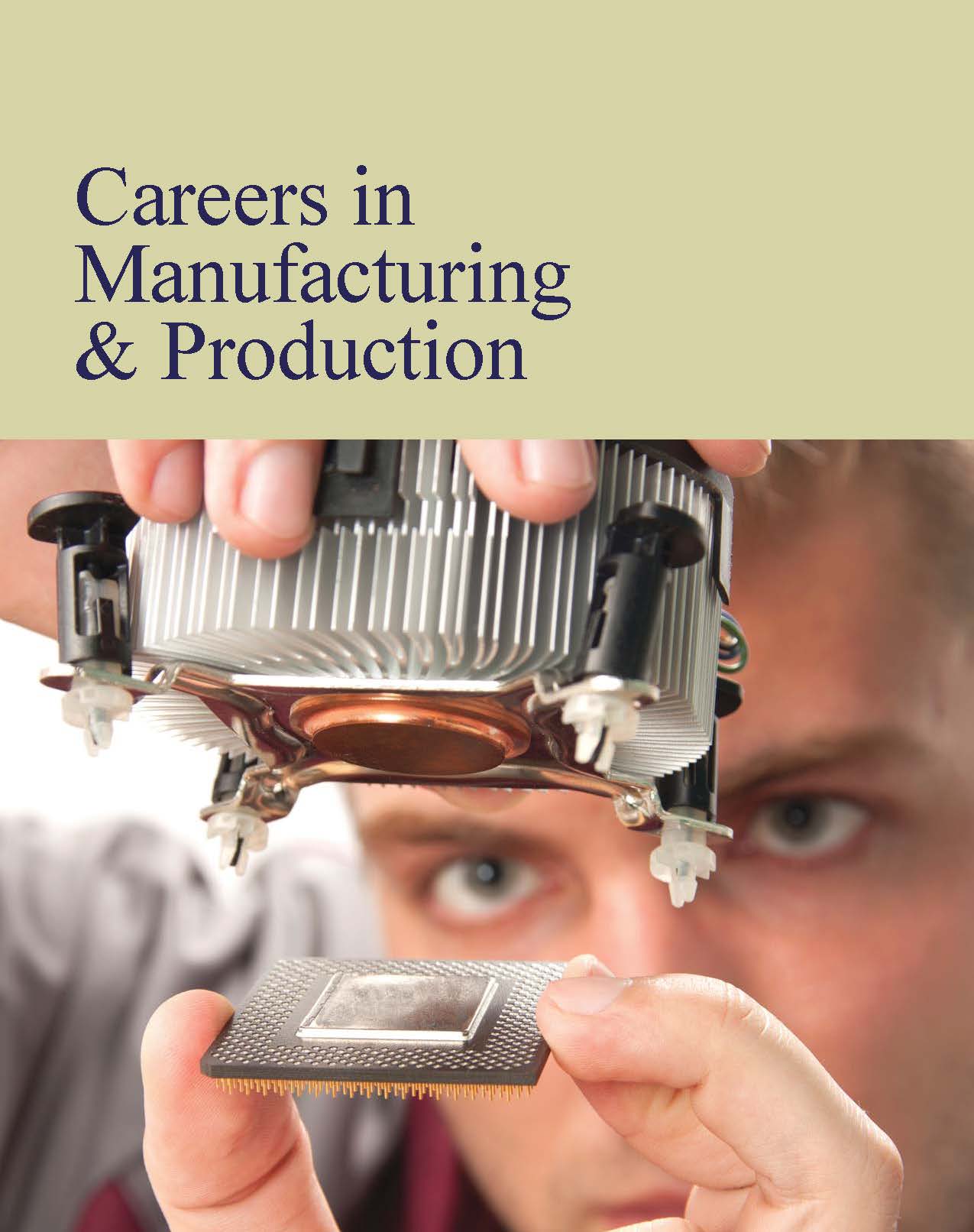 Careers in Manufacturing & Production
May 2016
---
---
Merging scholarship with occupational development, this single comprehensive guidebook provides manufacturing and production students with the necessary insight into potential careers, and provides instruction on what job seekers can expect in terms of training, advancement, earnings, job prospects, working conditions, relevant associations, and more.
Keeping an eye on the expanding fields of manufacturing and production, Careers in Manufacturing explores a variety of growing fields to help young adults gain a head start in learning more about the many career opportunities available in manufacturing. This publication contains over twenty-seven alphabetically arranged chapters describing specific fields of interest in these industries.
Careers in Manufacturing covers over 27 different career paths, including:
Quality Control Inspector




Robotics Technician




Welder




Industrial Designer




Meat Cutter




Oil & Gas Drilling Operator




Blacksmith

Forklift Operator

Millwright

Procession Assembler

and more.
Individual chapters provide real-world insight into these professions, including:
A Day in the Life

Work Environment

Education & Training

Earnings & Advancement

Employment Outlook

Networking Contacts

Areas with the Highest Employment Levels

alongside Conversations with Real Professionals.
Careers in Manufacturing & Production is also enhanced with numerous charts and tables, including projections from the U.S. Bureau of Labor Statistics, and median annual salaries or wages for those occupations profiled.
Several features distinguish this work from other career-oriented reference works. The back matter includes several appendixes and indexes, including a Guide to Holland Code, that discusses John Holland's theory that people and work environments can be classified into six different groups: Realistic, Investigative; Artistic; Social; Enterprising; and Conventional; A General Bibliography, that suggests readings, organized into several major categories; and a Subject Index that includes people, concepts, technologies, terms, principles, and all specific occupations discussed in the occupational profile chapters.
Careers in Manufacturing & Production is specifically designed for a high school and undergraduate audience and is edited to align with secondary or high school curriculum standards. This title is an indispensible reference for anyone looking to excel in the manufacturing and production fields.
---