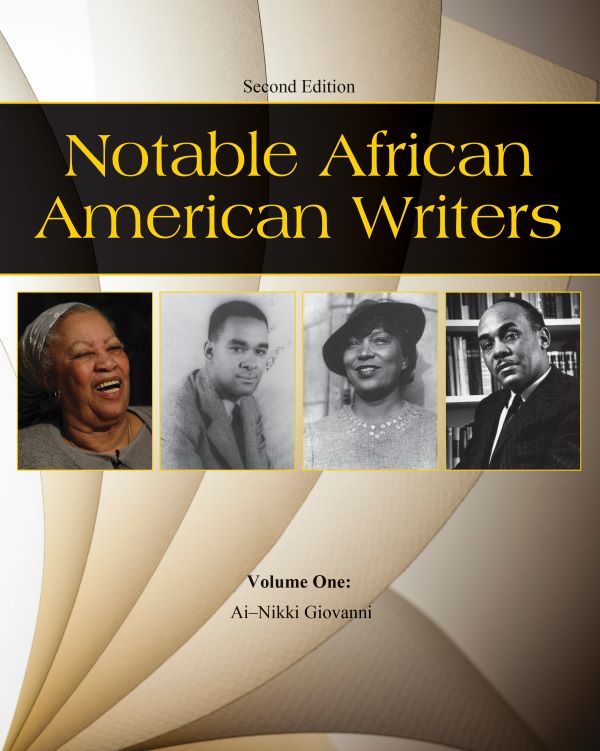 Notable African American Writers, 2nd Edition
March 2020
---
---
Five Centuries of Contribution: Trials & Triumphs of Writers, Poets, Publications and Organizations.
This new, second edition of Notable African American Writers documents the ever-growing African American literary tradition, highlighting African Americans who wrote centuries ago, as well as modern storytellers whose work reflects the changing global landscape. Readers will explore what inspired various African-American writers to create poems, plays, short stories, novels, essays, opinion pieces and numerous other works, and how those writers contributed to American culture. From autobiography to young adult fiction, these volumes provide an overview and more in-depth context of each author's biography and literary career as well as a ready-reference listing of his or her major works in all genres.
In the decade and a half since the publication of the first edition, African American literature became an even more vibrant part of the American literary tradition than it had already been. Some writers who had previously established themselves as major figures, such as Toni Morrison, continued to be impressively productive, while new writers who were very little known at the time of the first edition's publication have now established themselves as important authors in their own right.
This edition not only features 19 new writers but also includes hundreds of updates to older articles including current bibliographical resources. Each essay identifies a writer's major genres, and birth and death dates and places. The essays are arranged alphabetically by the author's last name, from "Ai" to "Al Young." Some new entries include:
Dinaw Mengestu
Ta-Nehisi Coates
Dawn Lundy-Martin
Chinua Achebe
Terrance Hayes
Anna Deavere Smith
Jess Mowry

Teju Cole
Roxane Gay
Nnedi Okorafor
bell hooks
Safiya Henderson-Holmes
Suzan-Lori Parks
Each essay identifies the writer's major genres, and birth and death dates and places. In addition to essays on the writers themselves, the set includes detailed essays on African American drama, long fiction, poetry, and short fiction. The three-volume set also includes a Chronological List of Authors; Genre Index; Personages Index; Title Index; Subject Index; and dozens of photographs.
Updated through 2018, with hundreds of new entries this new edition includes:
Many new Author biographies, for a total of 500, with illustrations, cover the important events in a writer's life, education, major works, honors and awards, and family and important associations
More Topical entries, including writing collaborative, book clubs, celebrity authors and self-publishing
More Primary Documents to take the reader on a literary journey from a slave contract in 1635 to the present day
Appendix of Writers by Occupation, covering additional authors in multiple genres, with author & pen name, birth year, genre and more
Appendix of Writers by Genre, covering newspapers, journals, publishers, online resource, and illustrators, each with an introduction and listings of top authors in each genre, their pen names, key publications and awards
Chronology of Writers & Historical Timelines
Chronology of Firsts, with interesting facts, from the first narrative written by an African-American slave, to the first African-American to receive the Nobel prize for literature
A list of Abbreviations, References & Cumulative Index
Designed to introduce readers at the high school and university level to the rich world of African American literature, this three-volume collection will provide students with careful research and resources for further exploration into these rich literary traditions.