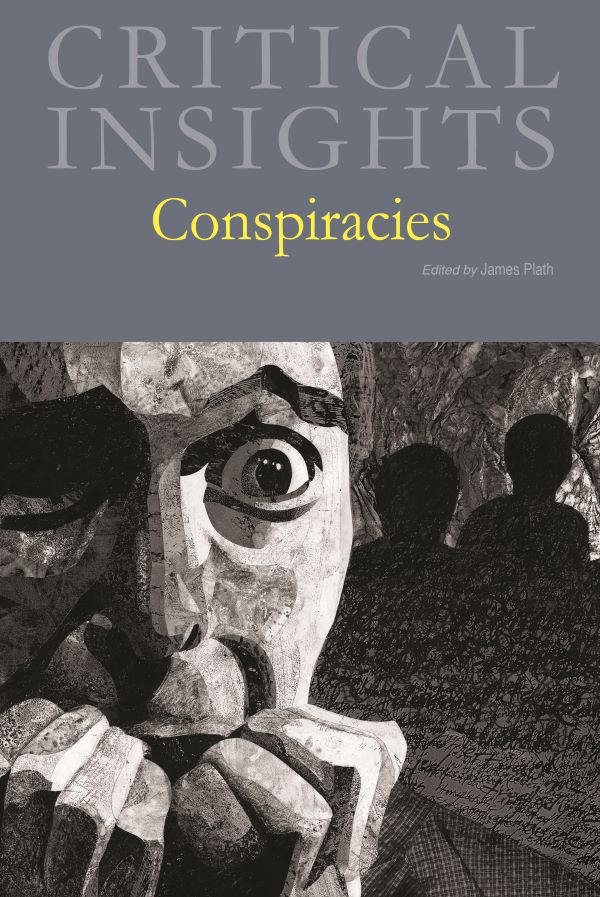 Critical Insights: Conspiracies
April 2020
---
---
This volume explores touchstone moments in conspiracy fiction -- in film as well as in classic and popular works -- and delves into the socio-political aspects of conspiracies while examining them at the heart of some of the most beloved canonical literature in English. 
A CHOICE Top 75 Community College Resource for November 2020
---
Widespread or limited, motivated by individual benefit or public betterment, conspiracies -- and the secrecy, plotting, and unlawfulness that accompany them -- have played a prominent role in human interaction and are featured in literature from the Bible to Shakespeare to Dan Brown's The Da Vinci Code.
This volume, like all others in the Critical Insights series, is divided into several sections. It begins with an introductory piece, "Life, Liberty, and the pursuit of Conspiracy,"—an allusion to the Declaration of Independence—by editor James Plath, which introduces the topic of conspiracies and conspiracy theories within the broader contexts of history, politics, psychology, literature, and American life.
Following the introductory essay, a collection of four critical contexts essays are intended to treat the novel (1) from a historical vantage point, (2) in terms of its critical reception, (3) using a specific critical lens, and (4) by comparing and contrasting it with another important work.
"Conspiracies and Religion in Dan Brown's The Da Vinci Code" by Tammie M. Kennedy
"Corporations as Villains in Postwar Conspiracy Films" by Rebecca Bell-Metereau
"'The Old Man's Laughter': The Conspiracy of American Life in Ralph Ellison's Invisible Man" by Matthew Shipe
"Heroism and Indeterminacy in Oliver Stone's JFK and Don DeLillo's Libra" by Tim Engles
Following these four Critical Context essays is the Critical Readings section of this book, which contains the following essays:
Conspiracy: Not Just a Theory in Contemporary Young Adult Fiction, M. Katherine Grimes
Conspiracy in Shakespeare's Julius Caesar, Robert C. Evans
State Conspiracies in Aldous Huxley's Brave New World, Thomas Horan
Conspiracy in George Orwell's Nineteen Eighty-Four, Robert C. Evans
Conspiracies of the Flesh: Disciplinary Power and Female Embodiment in Margaret Atwood's The Handmaid's Tale, Aisha Matthews
Who Reads the Reader? Surveilling the Conspiracies in Watchman, Sid Sondergard
Suspicion, Conspiracy, and Overinterpretation in Foucault's Pendulum, Jessica Sciubba
Irrational, Unimaginable (and Perhaps Unintelligible) Horrors: Super/Natural Conspirators in The Shining, Peter J. Bailey
What Evil Lurks: James Bond's Battles with S.P.E.C.T.R.E., Erik Esckilsen
Oedipa Maas and the Uses of Conspiracy in Thomas Pynchon's The Crying of Lot 49, Kerry Grant
In the final section, Resources, a select bibliography of non-fiction that is pertinent to the theme is provided. Each essay in Critical Insights: Conspiracies includes a list of Works Cited and detailed endnotes. Also included in this volume is a Bibliography, biographies of the Editor and Contributors, and an alphabetical Index.
The Critical Insights Series distills the best of both classic and current literary criticism of the world's most studies literature. Edited and written by some of academia's most distinguished literary scholars, Critical Insights: Conspiracies provides authoritative, in-depth scholarship that students and researchers will rely on for years. This volume is destined to become a valuable purchase for all.
---