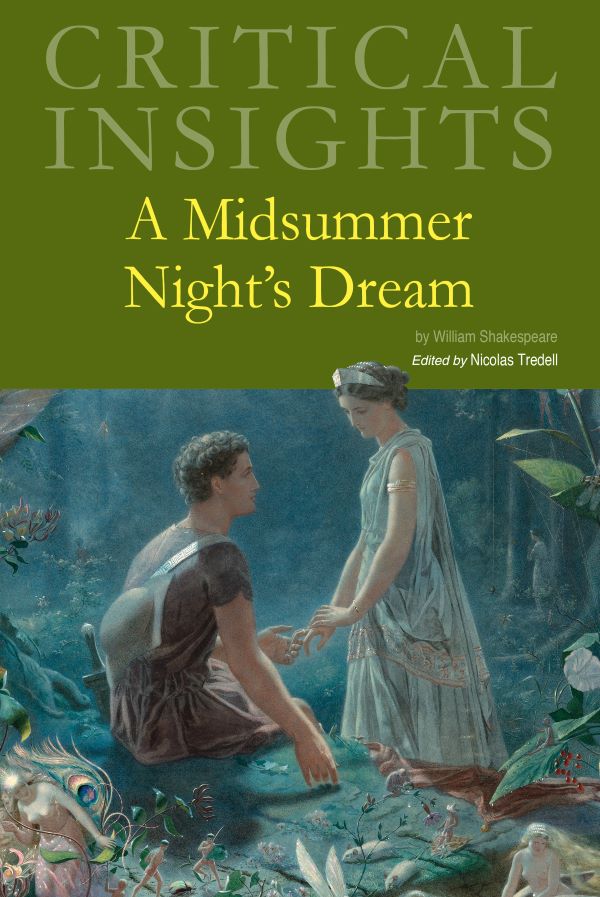 Critical Insights: A Midsummer Night's Dream
February 2020
---
---
Shakespeare's best-known and most-loved comedy, this intricately structured drama employs a rich range of poetry and prose to juxtapose fairies and mortals, court and forest, fantasy and reality, reason and madness. This volume offers new perspectives on critical history, complex form, rich language, key themes, trauma, and the many theatrical and cinematic versions it has generated. 
This volume, like all others in the Critical Insights series, is divided into several sections. It begins with an introductory piece, "A Midsummer Night's Dream as Fantasy Fiction," by Catherine Belsey, which positions the play in a wide intertextual network that includes the Harry Potter novels, ancient Roman comedy, Chaucer's The Knight's Tale, George Peele's The Old Wives' Tale, traditional folklore, and fairy tales passed down throughout centuries, and more. This is followed by a Biography of William Shakespeare, written by the volume's editor, Nicolas Tredell.
A collection of four critical contexts essays are intended to treat the novel (1) from a historical vantage point, (2) in terms of its critical reception, (3) using a specific critical lens, and (4) by comparing and contrasting it with another important work. This section opens with an article by Editor Nicolas Tredell titled, "The Re-Enchantment Industry: A Midsummer Night's Dream in Its Own and Our Time." This essay focuses on the historical context of the play, specifically early modern England, the Reformation, and the advance of secular rationalism. This is followed by a second piece written by Tredell, "'It hath no bottom': The Critical Reception of A Midsummer Night's Dream." The following two articles are written by Paul Innes and Hester Bradley respectively. The first, "A Midsummer Night's Dream: Chiasmus in Action," offers a particular critical lens by focusing on the structural form of the play. The final essay, "A Different Future on the Moon: Queer Genre and Time in A Midsummer Night's Dream," compares and contrasts A Midsummer Night's Dream with John Lyly's play, Endymion.
Following these four Critical Context essays is the Critical Readings section of this book, which contains the following essays:
The Shared Space of the Wood in A Midsummer Night's Dream, Lisa Hopkins
The Speed Demons of A Midsummer Night's Dream, Matthew Steggle
"Flowers of this Purple Dye, / Hit with Cupid's archery": Lyly, Shakespeare, and Early Modern Cupid, Martin Higgins
Shakespeare and the Moral Imagination in A Midsummer Night's Dream, Sean Benson
"Thou shalt know the man": Underspecification and Knowledge in A Midsummer Night's Dream, Nicolas Tredell
Michael Hoffman's Film of A Midsummer Night's Dream: A Survey of Reviews, Robert C. Evans
"Keeping the Dream Alive": Nicholas Hytner's A Midsummer Night's Dream (2019), Ronan Hatfull
"Every Man According to the Squip": Magic, Metatheatre and Mind Control from A Midsummer Night's Dream to Be More Chill, Richard O'Brien
Sometimes Youth Is Not Waster on the Young: A Midsummer Night's Dream in High School, Dana E. Aspinall
"Design Your Own Dream": Students as Content Creators in an Online Shakespeare Course, Julia Reinhard Lupton and Janet DiVincenzo
In the final section, Resources, easy-to-follow lists are provided to help guide the reader through important dates and moments in the author's life. A selection of further reading is then provided. Each essay in Critical Insights: A Midsummer Night's Dream includes a list of Works Cited and detailed endnotes. Also included in this volume is a Chronology of William Shakespeare's Life, a list of Works by William Shakespeare, a Bibliography, biographies of the Editor and Contributors, and an alphabetical Index.
The Critical Insights Series distills the best of both classic and current literary criticism of the world's most studies literature. Edited and written by some of academia's most distinguished literary scholars, Critical Insights: A Midsummer Night's Dream provides authoritative, in-depth scholarship that students and researchers will rely on for years. This volume is destined to become a valuable purchase for all.
---
BUY THE PRINT AND GET FREE ONLINE ACCESS
This edition comes with FREE ONLINE ACCESS on the popular Salem Press platform, http://online.salempress.com. With unlimited users and remote access included, your students and researchers can now search this amazing collection of data, anytime & anywhere, all just a click away.