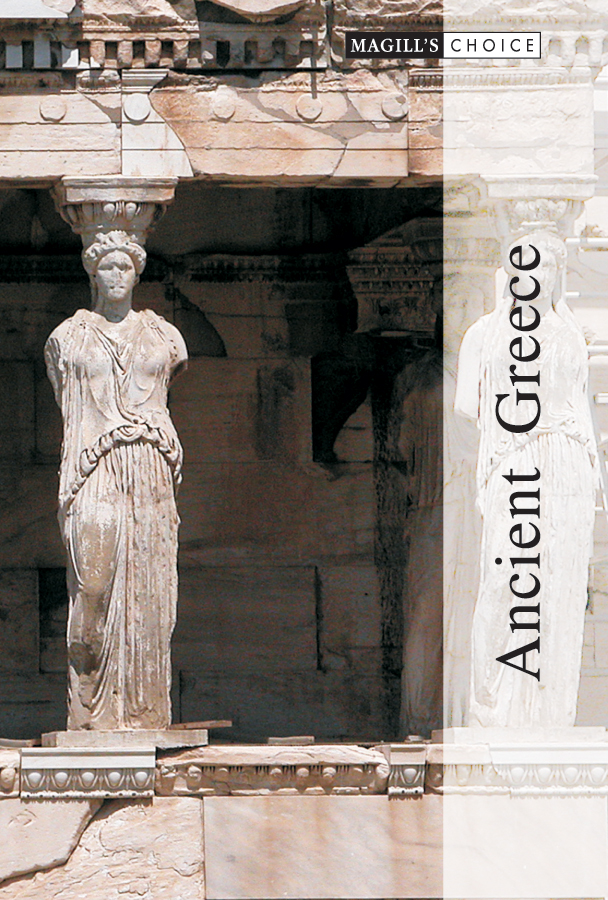 Magill's Choice: Ancient Greece
August 2006
---
---
An A-Z survey of Greek history, culture, and civilization from its earliest archaeological remains until the Battle of Actium (31 B.C.E.), when Greek civilization merged with Roman to become Greco-Roman civilization.
A-Z coverage of 315 major personages, wars, political, and cultural subjects from Greece, from Homeric times through 31 B.C.E.
Scope & Coverage
The 315 essays in this set include:
General Overviews of Art & Architecture

Daily Life & Customs

Death & Burial

Education & Training

Government & Law

Language & Literature

Medicine & Health

Navigation & Transportation

The Performing Arts

Religion & Ritual

Science

Settlements & Social Structure

Sports & Entertainment

Technology

Trade & Commerce

War & Weapons

Women's Life

Writing Systems
Biographical entries cover statesmen, military leaders, writers, and philosophers. Descriptive entries examine literature, battles, and philosophical movements.


Organization & Format
Each entry includes a short list of additional resources for further study and a summation of the historical significance of the person, event, or topic. All three volumes contain a "Complete List of Contents." Appendixes include a timeline, glossary, list of websites, list of literary works, and list of historic sites. Three indexes provide multiple access points to the text: Category Index, Personages Index, and Subject Index. Fully illustrated.


Essays were previously published in such sets as Encyclopedia of the Ancient World, Great Events from History: The Ancient World, Prehistory-476 C.E., and Great Lives from History: The Ancient World, Prehistory-476 C.E. All essays have standard top matter. New essays have been added to fill gaps in coverage, and have been updated. Detailed maps of ancient Greece in each volume's front matter and more than 150 illustrations round out the set.
Please note that older Magill's Choice titles were published in print and eBook versions only. A print purchase does not include free online access on the https://online.salempress.com platform, but you may purchase the eBook version through our eBook vendors.
---