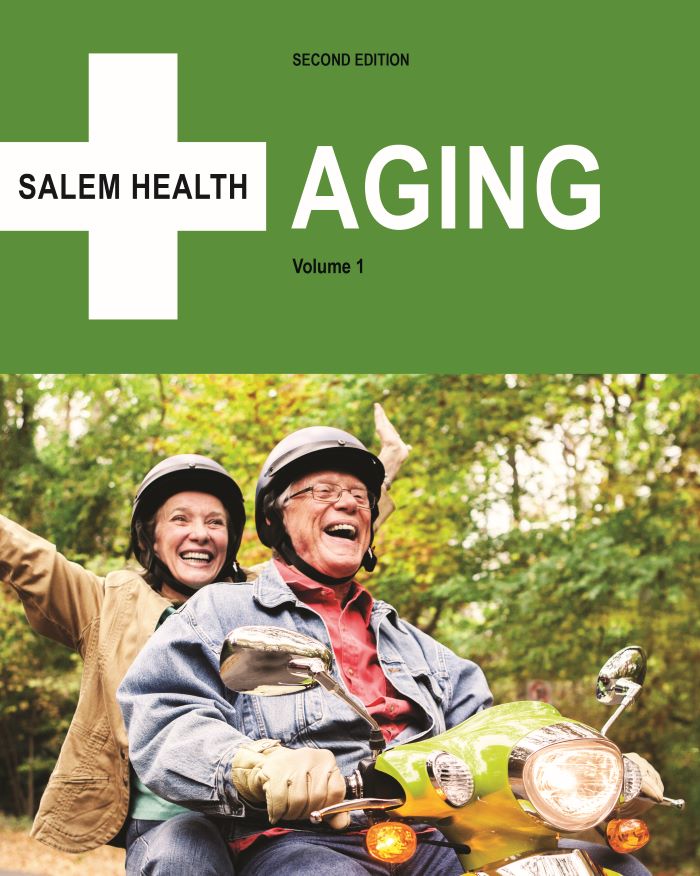 November 2019
---
---
This edition offers information with over 300 essays about aging, including topics such as sociocultural issues, physical changes, health concerns, medical procedures, and much more. Written by physicians and experts in the field, this comprehensive resource may also be of interest to public library patrons, students, and researchers.
This edition of Salem Health: Aging covers this broad subject in two comprehensive volumes, addressing the gap of content and scholarship that has been created in the nearly 20 years since the first edition. Arranged in alphabetical order, the 314 essays cover issues that are of primary concern to older Americans and their families, including social interaction, cultural attitude, employment, family, finances, and physical changes.
In addition to an extensive update of essays from the first edition, a number of significant new topics have been added, including:
Aging Populations Drive Business Success
21st Century Solutions to Aging
Work-Based Education
Reinvention of Aging Critical to National Fiscal Health
Longevity Dividend
Don't Call Them Old
Advances in Prevention, Progression & Prognosis of Disease/Disability
All essays are written by experts in their fields, and start with a list of relevant issues and significance of the topic. Other information is included as suitable: publications include authors and dates; movies include casts; laws include year create; etc. Helpful subheads and informative photographs and charts punctuate the essays, all of which end with an annotated list for Further Information.
Salem Health: Aging ends with the following back matter sections: annotated bibliography organized by topic; list of various media that discusses aging; organizations and programs for the aging; list of notable individuals in the study of aging; list of entries by category from cultural to women's issues; and detailed subject index.
---