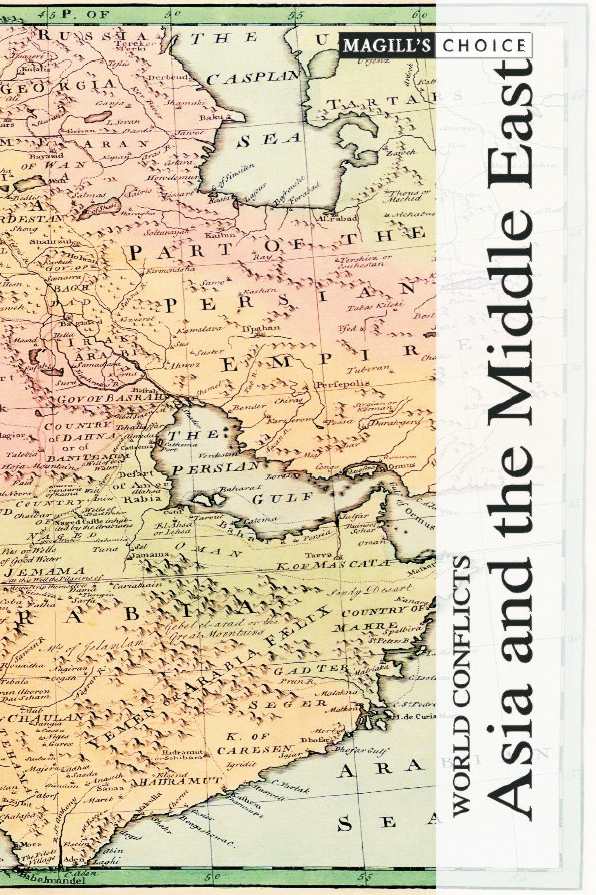 Magill's Choice: World Conflicts - Asia and the Middle East
May 2003
---
---
This contribution to the Magill's Choice series examines crisis areas in the nations of the Middle East and South, Southeast, and East Asia. This set applies a broad definition to "Middle East" to encompass the predominantly Muslim nations of both the eastern Mediterranean region and North Africa.
The thirty-four articles in World Conflicts: Asia and the Middle East are updated versions of articles that appeared in Salem's World Conflicts and Confrontations; they include every article in volume 3 of World Conflicts and Confrontations and four articles on North African nations in volume 2. Two of the articles cover broad regions (Middle East and Asia); the rest cover individual nations.


World Conflicts: Asia and the Middle East identifies the "hot spots" in Asia and the Middle East and offers in-depth analyses of the countries facing the most difficult and dangerous problems. The nations covered in individual essays have been selected because of the intensity of their recent and current conflicts, as well as the roles they play in the world as a whole. The essays on Asia and the Middle East explore regional patterns, analyzing why some countries within the regions have been more prone to conflict than have others.


Each essay opens with a statement summarizing the most pressing problems of the country-or group of countries-followed by an analysis of the origins, nature, and history of these problems. Basic facts and statistics pertaining to each country are summarized in boxed profiles. Moreover, every essay contains at least one map, a detailed time line of modern events, and a discussion of sources of further information, with special attention to the growing availability of the online resources of the World Wide Web.
Please note that older Magill's Choice titles were published in print and eBook versions only. A print purchase does not include free online access on the https://online.salempress.com platform, but you may purchase the eBook version through our eBook vendors.
---