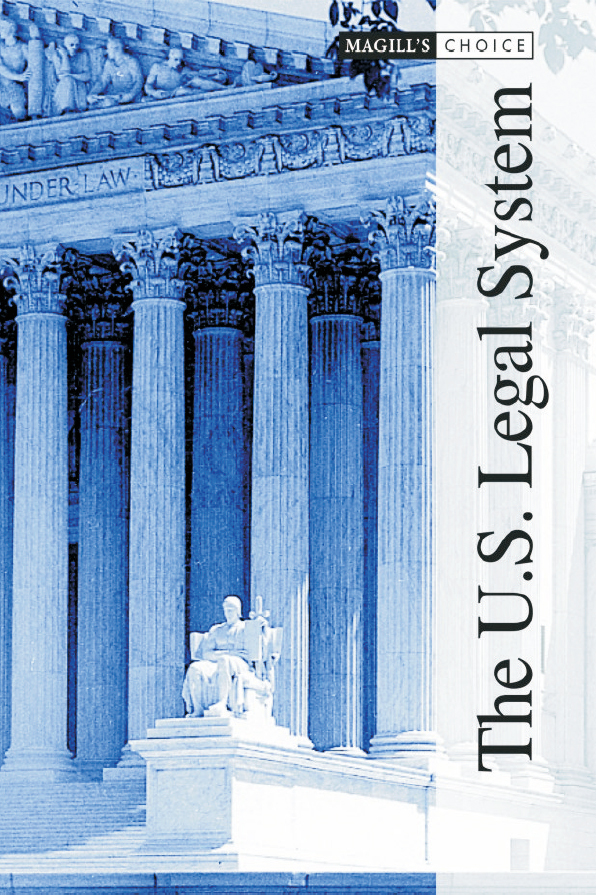 Magill's Choice: The U.S. Legal System
April 2004
---
---
The U.S. Legal System surveys the legal system of the United States in articles that emphasize basic legal concepts and offer a practical guide to how the federal and state legal systems work.
Its articles examine such subjects as the training, practices, and ethics of attorneys and law firms; the organization, procedures and workings of the various kinds of courts; the selection, work, and ethics of judges; the responsibilities of other court officers, such as bailiffs, clerks, and reporters; the selection and use of juries; types of laws; and types of law enforcement bodies.
Designed to be easy to use, this alphabetically arranged two-volume reference work contains 256 essays. Each essay begins with a short statement defining the subject at hand, develops the topic by means of historical background information and case examples, and concludes with a list of cross-references to related articles in the set. Essays of more than one thousand words in length contain selected readings sections that direct interested readers to books, journal articles, and Internet Web Sites for further study.
Most of the articles in The U.S. Legal System are taken from Magill's Legal Guide (1999), while others are taken from American Justice (1996) and Encyclopedia of the U.S. Supreme Court (2000). All the material going into The U.S. Legal System has been reviewed by the editor, a law professor, and updated as necessary.
Please note that older Magill's Choice titles were published in print and eBook versions only. A print purchase does not include free online access on the https://online.salempress.com platform, but you may purchase the eBook version through our eBook vendors.
---