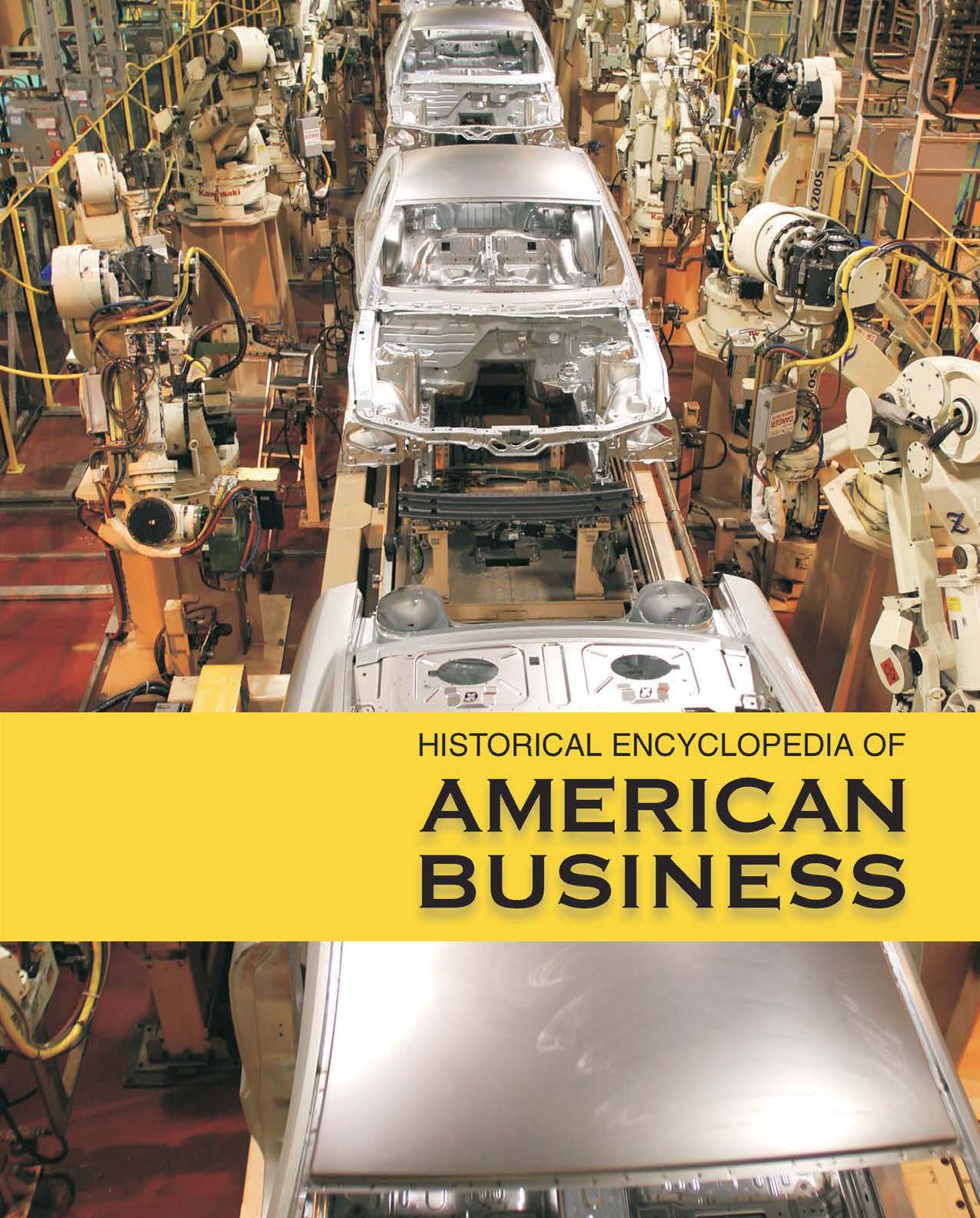 Historical Encyclopedia of American Business
April 2009
---
---
Comprehensive, encyclopedic coverage of all major aspects of business and finance in American history.
Designed and written for high school students and college undergraduates, Historical Encyclopedia of American Business offers an inviting alternative to works on economic history aimed at graduate students and scholars. The coverage of this set is carefully constructed to include almost every facet of American business history on which students are likely to seek information.


Scope & Coverage
The coverage in this set is broad and addresses the full breadth of American business history. Among the sets 477 essays are long overviews on different sectors of the economy, such as agriculture and banking; individual industries such as advertising and electronics; and general topics such as business cycles, labor strikes and outsourcing. There are also overviews on broad legal topics such as antitrust legislation, bankruptcy laws and patent laws. Also covered are significant economic depressions and "panics" as well as such events as the Boston Tea Party, the Dust Bowl of the 1930's, and the financial crisis of 2008.
Although the main thrust of this set is on broad topics and historical trends, it also offers brief biographies of 37 individual persons who have played exceptional roles in American business. These figures range from founding fathers Benjamin Franklin, Alexander Hamilton, and George Washington, to some of the giants of twenty-first century business, such as Bill Gates, Indra K. Nooyi, and Martha Stewart.
Other essay topics cover individual companies, corporations, labor unions, and government agencies. Among individual businesses that are subjects of essays are Apple, Bell Labs, Coca Cola, eBay, and General Motors. Labor unions rating essays include the AFL-CIO and the Teamsters. In addition, there are several essays on the roles of journalism, literature, radio, television and films in business history, as well as essays on individual business publications and broadcast programs.


Organization & Format
Like Salem's many other works, Historical Encyclopedia of American Business is organized and formatted to be student friendly. Essays are arranged alphabetically under the headings students are most likely to check, and every essay begins with a brief summary of its topic's significance. All essays at least 500 words in length have "Further Reading" lists, and bibliographical citations in longer essays are annotated.


Special Features
Volume 3 offers several helpful finding aids, including a complete category list, an annotated general bibliography, a glossary of business terms, directories of major business figures and companies and corporations, and a time line. An index of personages, and a general subject index complete this comprehensive work.
---