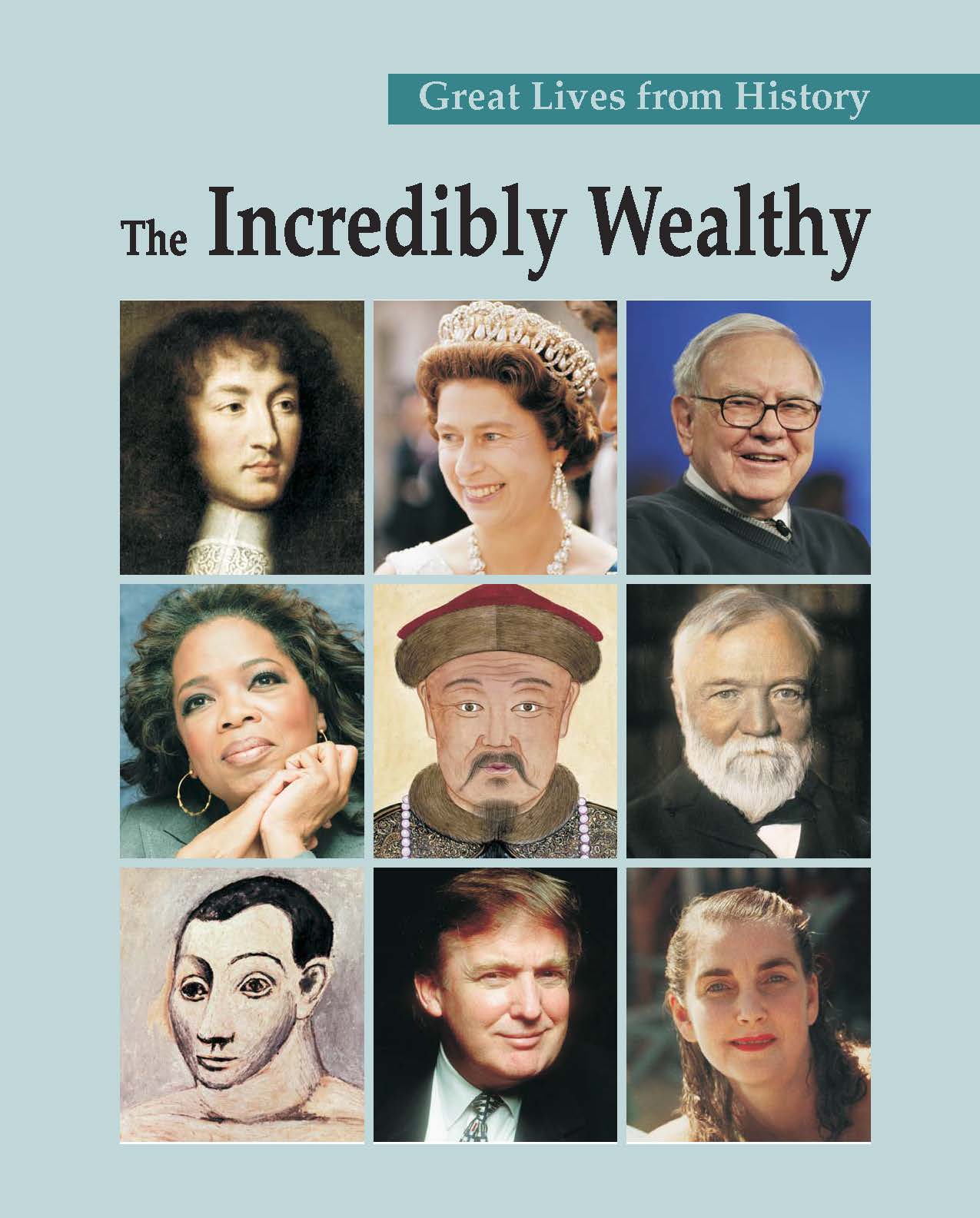 Great Lives from History: The Incredibly Wealthy
January 2011
---
---
A fascinating perspective on world history from economic and sociological, as well as biographical, perspectives.
Great Lives from History: The Incredibly Wealthy features 446 people from all time, worldwide. The vast majority of the individuals included in this set have never been covered in this series before, and all of them have never been covered from the perspective of how they generated and used their wealth, impacting society as a whole. Many of these individuals--major "players" but often persons behind the scenes--are not covered in other biographical reference works of this magnitude.


Each one of these essays has been specially written for this set. The subjects of these essays are wealthy people who earned their fortunes in a wide range of endeavors from ancient times into the twenty-first century--coverage that is essential in any liberal arts curriculum. The editor's criteria for including these individuals in this publication took into account the amount of their wealth; their historical significance; their representation from a wide range of countries and historical periods; the sources of their wealth from a vast range of endeavors; their relevance to class curricula; and their interest to high school, undergraduate, and general readers.


For purposes of this publication, the term "incredibly wealthy" is defined to include men and women who were or are among the wealthiest people during the times in which they lived. Many of these individuals were members of the wealthiest families of their times; profiles of numerous members of the Vanderbilt, Rothschild, and Rockefeller families, for example, are represented here.


By category, the contents include persons whose sources of wealth fall into one or more of the following areas:
Acting

Agriculture Products

Artwork

Banking

the Church

Computer Industry

Conquest

Construction Business

Embezzlement

Entertainment Industry

Financial Services

Gambling

Golfing

Government

Horse Breeding

Inheritance

Insurance

Investments

Law Practice

Liquor Importation

Lumber

Manufacturing

Marriage

Media

Metals Refining

Mining

Moneylending

Narcotics Trafficking

Oil

Patents

Privateering

Product Endorsements

Railroads

Ranching

Real Estate

Retailing

Sale of Products

Shipbuilding

Shipping

Slaveholding or the Salve Trades

Sports Franchises

Steel

Telecommunications

Tourism

Trade

Transportation Systems

Tutoring

Utilities

Writing
The wealthy individuals covered in these volumes are also identified by their country or region.


Organization and Format
Each essay is approximately 2 to 4 pages in length and displays standard ready-reference top matter offering easy access to biographical information, including the individual's name, nationality, occupation, dates of birth and/or death as well as a synopsis highlighting the individual's historical importance in relation to his or her wealth. Also included is "Sources of wealth," which lists industries, occupations, and business ventures; and "Bequeathal of wealth," a listing of how the subjects disseminated their wealth, including charitable endeavors, artistic patronage, or bequests to family members.
The body of the essay is divided into four sections:
Early Life provides facts about the individual's upbringing and the environment in which he or she was reared
First Ventures describes the individual's early career, endeavors, enterprises, and other efforts and risks that led to success (and failures), or other circumstances that laid the groundwork for mature wealth
Mature Wealth the heart of the essay, consists of a straightforward, chronological account of how the individuals earned their fortunes, emphasizing the most significant achievements in their lives and careers.
Legacy provides an overview of the long-range significance of the individual's wealth, emphasizing its impact on history, business, charity, architecture, culture, and other society.

Special Features
The front matter includes a complete list of contents and a pronunciation key. The back matter includes several appendixes and indexes, including a directory of other wealthy persons throughout history, a list of electronic resources, and a complete bibliography. Three useful indexes (Category, Geographical, and Subject) round out the set.
---