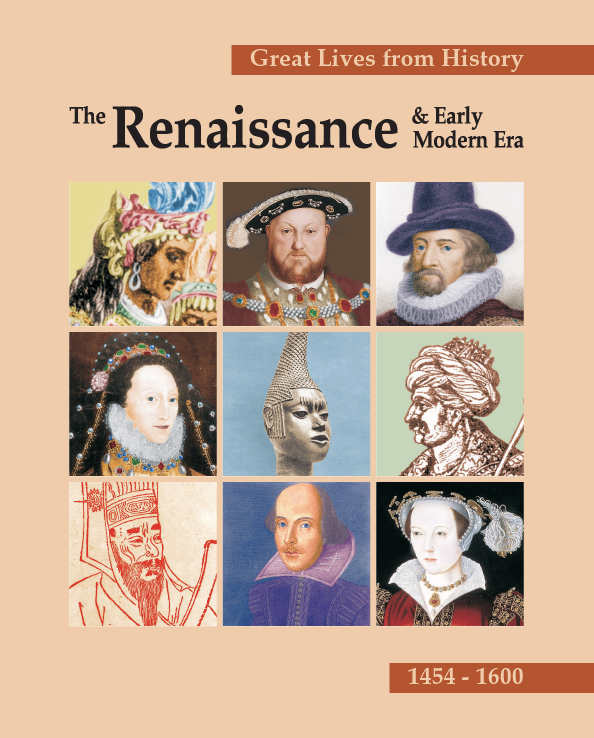 Great Lives from History: The Renaissance & Early Modern Era
April 2005
---
---
Worldwide coverage of important men and women in all areas of achievement who flourished in the period. Plus complimentary online access to the full content of this great reference.
Great Lives from History: The Renaissance & Early Modern Era, 1454-1600 is the third installment in the expanded Great Lives series, initiated in 2004 with The Ancient World, Prehistory-476 C.E. and followed by The Middle Ages, 477-1453. The editor has sought to provide coverage that is broad in areas of achievement as well as geography, including individuals from Africa, Asia, Europe, and North and South America. The set includes the standard figures - kings, queens, generals, artists, and scientists - but much more: Key figures who have previously received little attention, from the queen of Hausaland Amina Sarauniya Zazzua to composer Thomas Tallis, and even such notorious figures as Irish pirate Grace O'Malley and Hungarian nobelwoman Elizabeth Báthory.


Each essay ranges from 1,500 to 3,000 words in length. The familiar standard format offers easy access to biographical information.
The body of each article is divided into three parts:
Early Life the first section, provides facts about the individual's upbringing and a pronunciation of the subject's name (if unusual) is included;
Life's Work consists of a straightforward account of the individual's adulthood and significant achievements;
Significance provides an overview of the individual's place in history.
Each essay is supplemented by an annotated bibliography. The "See Also" section is a list of cross-references to essays in the set covering related personages. Finally, the "Related Articles" section lists essays of interest in Salem's companion publication, Great Events from History: The Renaissance & Early Modern Era, 1454-1600 (2 vols., 2005). Scattered throughout are tables and quotations from primary sources.


There are several special features that distinguish this series as a whole from other biographical reference works. The following reference tools are provided--Complete List of Contents; Key to Pronunciation; and List of Maps, Tables, and Sidebars. Several appendices and indexes are provided as well, including a comprehensive listing of Rulers and Dynasties, Chronological List of Entries, Category Index, Geographical Index, Personages Index, and Subject Index.
---