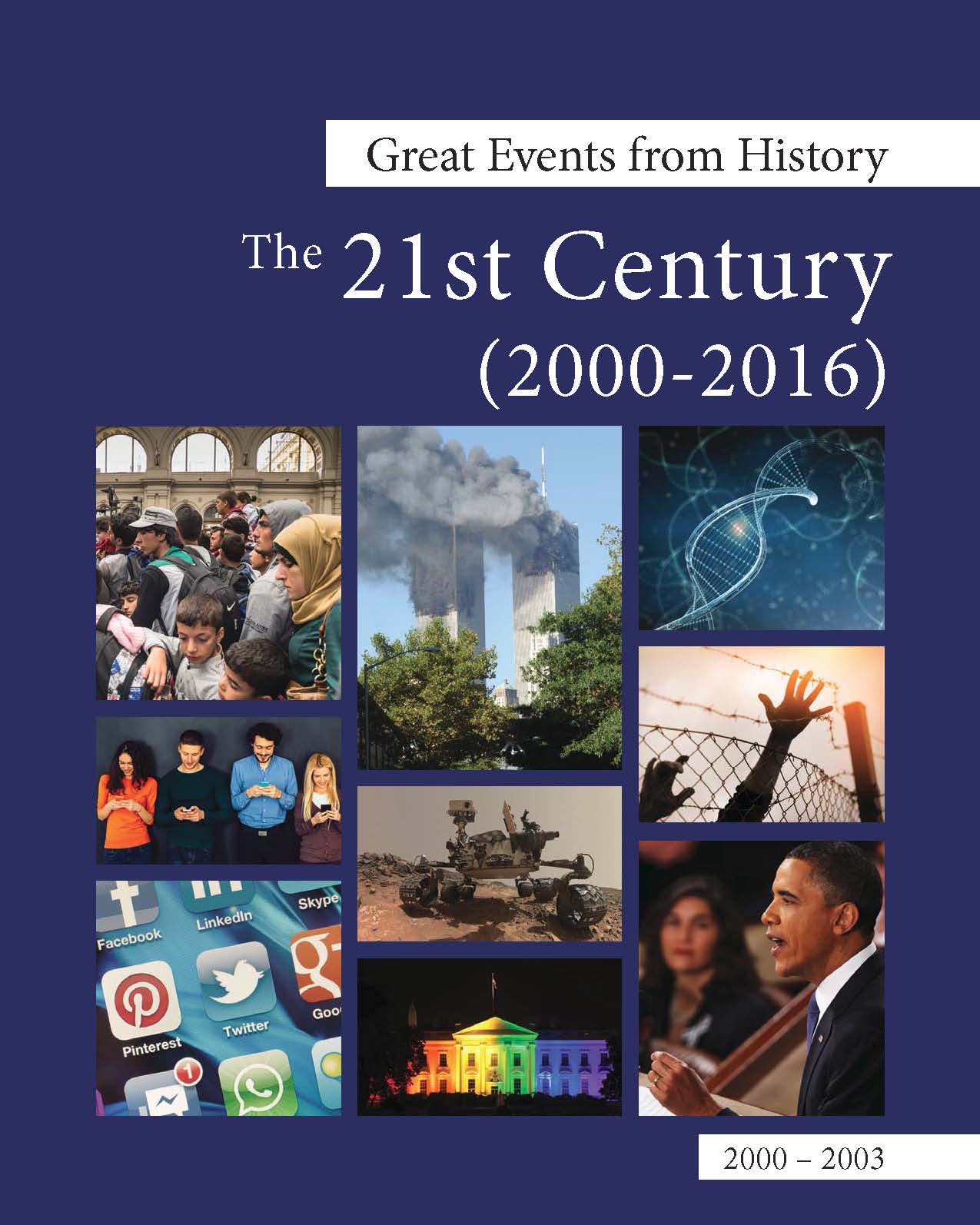 Great Events from History: The 21st Century, 2000-2016
May 2017
---
---
Salem Press' monumental Great Events from History series spans human history from ancient times to the present, worldwide. This new three-volume set continues Salem's award-winning coverage into the twenty-first century, providing thoughtful, detailed essays on major events between 2000 and 2016.
A CHOICE Top 75 Community College Resource for February 2018
---
The first sixteen years of the twenty-first century have seen tumultuous and life-changing events- terror, wars, natural disasters, as well as social and political events that will render the world forever changed. This text documents it all-the 9/11 attack on the Twin Towers, the wars in Afghanistan and Iraq, natural disasters around the globe, the election of the first African-American President. Plus, important social and cultural developments, including the rise of digital and social media, as well as breakthroughs in science and medicine.
In-depth, yet accessible essays provide a summary of the event and discuss the event's significance and historical impact. Entries are supplemented with sources for further reading, cross-references to other material in the series, maps, quotations from primary source documents, timelines, and hundreds of photographs and illustrations.
Each essay, which has an average length of 1,500-2,000 words, prominently displays the following:
the common name of the event
the most precise date (or date range) of the event
a brief summary of the event and its significance
where appropriate, an also known as name for the event
the locale, or where the event occurred
the categories, or the type of event covered
the key figures of the event, with birth and death dates, where available, and a brief description
The text of each essay is divided into the following sections:
Summary of Event: Describes the event chronologically and includes discussions that place the event in context
Significance: Describes the event's historical impact, influence, and significance
Byline: Name of the contributor who wrote the essay
Further Reading: Sources for further study appropriate and accessible to librarians, students, and the general public
See also: Lists related essays within the set
Designed for history students at the high school and undergraduate levels, public libraries will also find this set, and the series as a whole, invaluable as a reference tool for students and general readers at all academic levels.
---