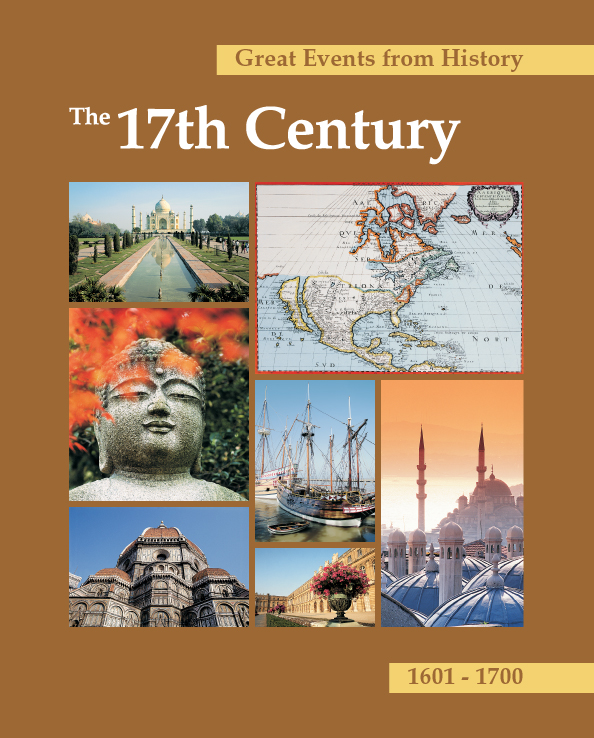 Great Events from History: The 17th Century
November 2005
---
---
Great Events from History is a multi-volume series detailing the most significant events in world history. This series, like Great Lives from History, bridges the gap between full-length, scholarly studies and the shortened forms found in encyclopedias.
Contents
Included in this set are milestones in the geopolitics of the era - from the Thirty Years' War to the War of the League of Augsburg; from Europeans' arrival in Australia to the establishment of the Louisiana Colony. Also essays address key social developments in daily life: the practice of birth control; the popularization of New World imports such as tobacco, coffee, and chocolate; the establishment of Tokyo's "Floating World" district; the ineradicable devastation of the Middle Passage and African American slavery.


Students of this age of scientific revolution will learn the stories behind the development of the microscope, the earliest smallpox inoculations, the discovery of Saturn's rings, and the birth of modern chemistry.


The emphasis in this work is on those turning points that redirected contemporary affairs and shaped the modern world. A broad sweep of categories is reviewed: arts and culture, colonialism, disasters, economics and trade, engineering and architecture, exploratory expeditions, government and politics, international relations, religion, science and technology, social issues, and war and civil unrest.


Organization & Format
The events are arranged chronologically, forming a time line without regard to region. Hence, students can trace world history comparatively, with events in Asia, Africa, Europe and the Americas co-mingled. To facilitate location of time periods within the publication, right-hand pages include date-range tabs and a chronological list appears in Volume 2.


Each article begins with a ready-reference listing that provides a summary of the event and its significance. The "category" and locale of the event are summarized and a list of the major figures participating in the event is provided.


The body of each essay is divided into logical elements: A summary constitutes the bulk of the text, but there is also a carefully detailed section devoted to the significance of the event. Finally, further reading is suggested in an annotated, descriptive bibliography - the perfect starting point for further research.


Reference Aids
Appendices include a time line, a glossary, Internet listings, a chronology, and four indexes: geographical, category, personage, and subject. In addition, each essay is cross-referenced with other essays within the volume as well as to relevant essays in the companion set, Great Lives from History: The 17th Century, 1601-1700.
---