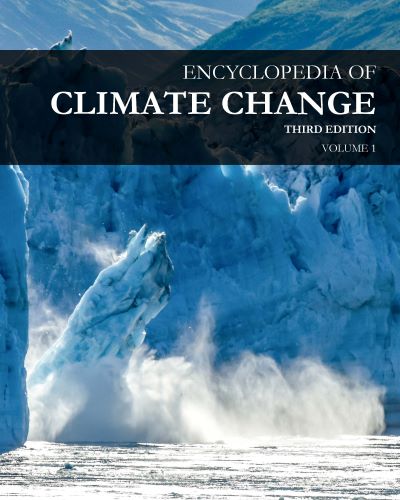 Encyclopedia of Climate Change
December 2022
---
---
This third edition comprises more than 500 essays and extensive back matter written specifically to provide students at high school and undergraduate levels with a comprehensive and convenient source of information on the fundamental science, sociopolitical issues, and controversies surrounding climate change.
This new edition adds a significant number of new essays along with a full update of existing entries to reflect the latest science, developments, weather phenomenon, and predictions about climate change.
Scope of Coverage
The study of climate change involves scientists, policy makers, the business sector, government and non-government agencies, and the general public. Understanding climate change from the perspectives of both environmental science and society involves studying not only scientific terms and concepts but political organizations, geography, social concepts, specific individuals private associations, and laws. The Encyclopedia of Climate Change includes coverage in all these areas, including topics and opinions on both sides of the debate-how much of climate change is the result of human behavior and how much is naturally occurring?
The essays in this set fall into 26 broad categories, from animals and astronomy to transportation and water resources. Content also includes a wide variety of resources, including conferences, organizations, books, movies, TV shows and more.
Essay Length and Format
Essays range in length from 400 to 2,000 words, and appear in one of six possible formats:
Term essays define a term and then explain its significance for climate change
Overview essays discuss a scientific policy, social phenomenon or debate. They compromise a list of key concepts related to the topic, background material, several topical sections, and a conclusion that relates the topic to climate change
Organization essays provide the date the organization was established, its web site, mission and significance for climate change
Biographical essays discuss individuals who have had significant impact on the study of climate change. Data includes their profession, birth and death information, and descriptions of their work as it relates to climate change
Top-Twenty Emitter essays cover the twenty nations with the highest annual emissions of greenhouse gases. They include key facts - population, area, gross domestic product, annual greenhouse gas emissions, Kyoto Protocol status - followed by the nation's history regarding climatic impact, its contributions to global warming and international action, and its future commitments
Law and Treaty essays provide the date of passage or ratification of the law or treaty, a list of participating nations, discussions of the law's background, provisions, and significance for climate change.
Essays longer than 400 words conclude with an annotated bibliography for further reading, and all essays include an author byline and a list of cross-references.
Special Features
Several features distinguish this series as a whole from other reference works.
The front matter includes:
Abbreviations and Acronyms: A list of abbreviations and acronyms used throughout
Common Units of Measure: Measurements in the body of the set are in metric units; each volume includes a table converting metric/SI units into imperial units for the user's convenience
Complete Table of Contents: This lists the contents of all three volumes
Categorized List of Contents: A complete list of contents by category, to aid the reader in finding all essays relevant to a particular topic
The back matter includes:
Mediagraphy: Major books, films, television programs, and other media in recent years addressing the issues surrounding climate change
Timeline: Chronology of the major events relating to the understanding of and response of climate change
Glossary: Glossary of technical and other specialized terms used throughout the set
General Bibliography: Comprehensive lists of works on climate change for students seeking more information on the subject
Websites: Official sites of key organizations, advocacy groups, and online databases
Subject Index: Detailed index to concepts, terms, events, persons, places, phenomena, and other relevant topics
Acknowledgements
Salem Press and Grey House Publishing would like to extend its appreciation to all involved in the development and production of this work. The essays have been written and signed by scholars of history, the sciences, and other disciplines related to the topic.
---