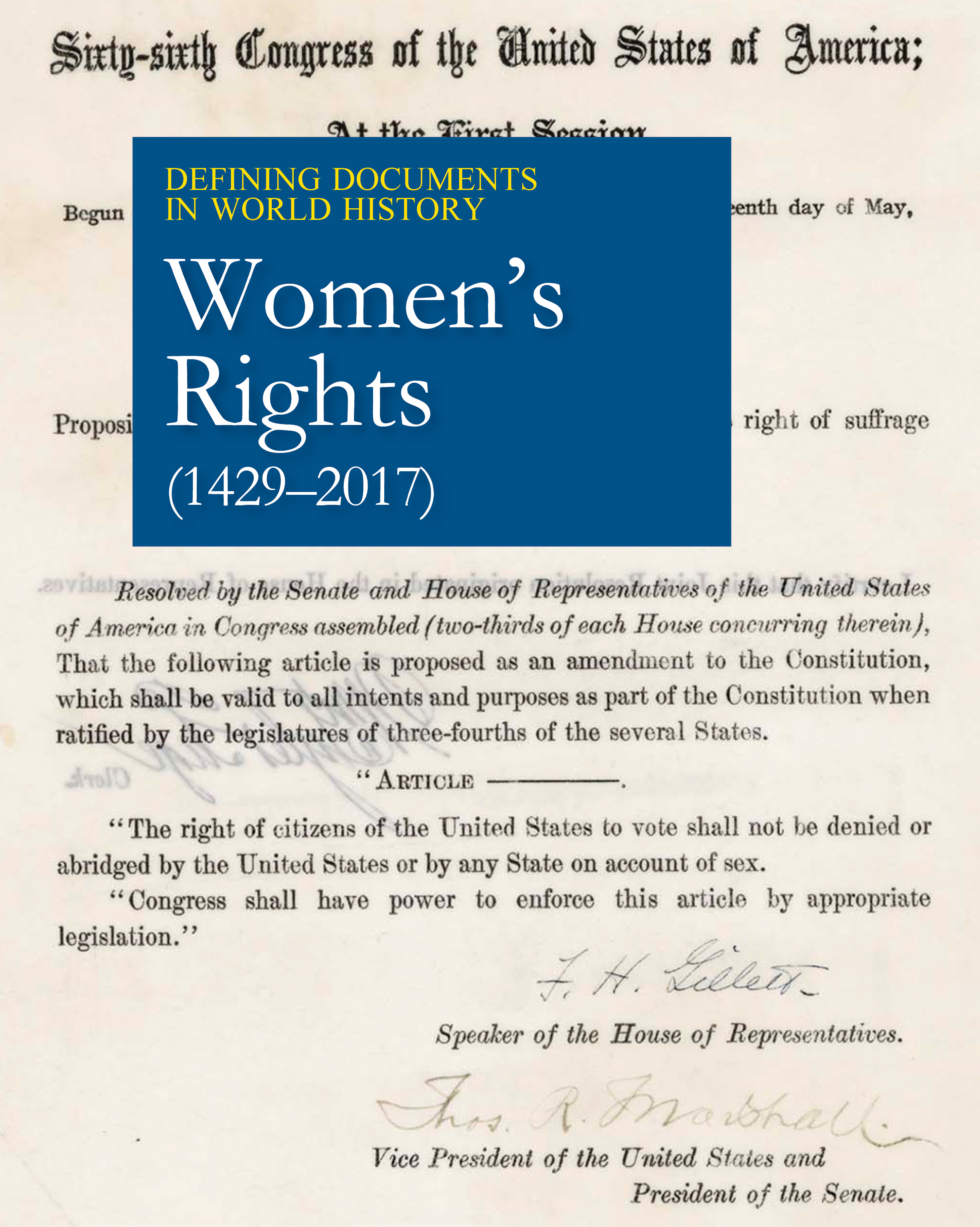 Defining Documents in World History: Women's Rights
January 2018
---
---
Defining Documents in World History series, produced by Salem Press, consists of a collection of essays on important historical documents by a diverse range of writers on a broad range of subjects in global history. This established series includes Ancient World (2700-BCE-c. 500 CE), Middle Ages (476-1500), Renaissance & Early Modern Era (1308-1600), The 17th Century (1601-1700), and The 18th Century (1701-1800) in addition to its latest set, Women's Rights (1429-2017).
Women's Rights offers in-depth analysis of a broad range of historical documents and historic events that make up the story of women's struggles to achieve basic rights and full legal standing, the right to vote, the right to make their own decisions, and the right to achieve dignity and equity. The source documents come from both well- and lesser-known writers from countries ranging from the United States to India to Great Britain to France. The set begins with Joan of Arc's Letter to an English King, written in 1429 and an excerpt from The LIfe of St. Teresa of Jesus from 1565, and concludes with the Supreme Court decision in Whole Woman's Health v Hellersted (2016) and Angela Davis's speech at the Women's March on Washington in 2017. The sixty-three articles in this set are organized into four sections:
Precursors
Suffrage and Sensibility
Equality Now!
The Personal Is Political
Each historical document in this set provides a compelling view of one of the most vivid and long-lasting struggles in human history, by examining what rights for women mean in the context of religious and political organizations, at work, in the armed forces, and in the family unit. Designed for high school and college students, the aim of the series is to advance historical document studies as an imporant activity in learning about history.
Essay Format
Women's Rights contain sixty-three primary source documents-many in their entirety. Each document is supported by a critical essay, written by historians and teachers, that includes a Summary Overview, Defining Moment, Author Biography, Document Analysis and Essential Themes. Readers will appreciate the diversity of the collected texts, including letters, speeches, court decisions, book excerpts, pamphlets, essays, and even a constitutional amendment. An important feature of each essay is a close reading of the primary source that develops evidence of broader themes, such as the author's rhetorical purpose, social or class position, point of view, and other relevant issues. In addition, essays highlight major issues of women's rights movement such as marriage and divorce, voting rights, and contraception-many of which continue to influence debates and covers up to the present day. Each essay also includes a Bibliography and Additional Reading section for further research.
Appendixes
Chronological List arranges all documents by year.
Web Resources is an annotated list of websites that offer valuable supplemental resources.
Bibliography lists helpful articles and books for further study.