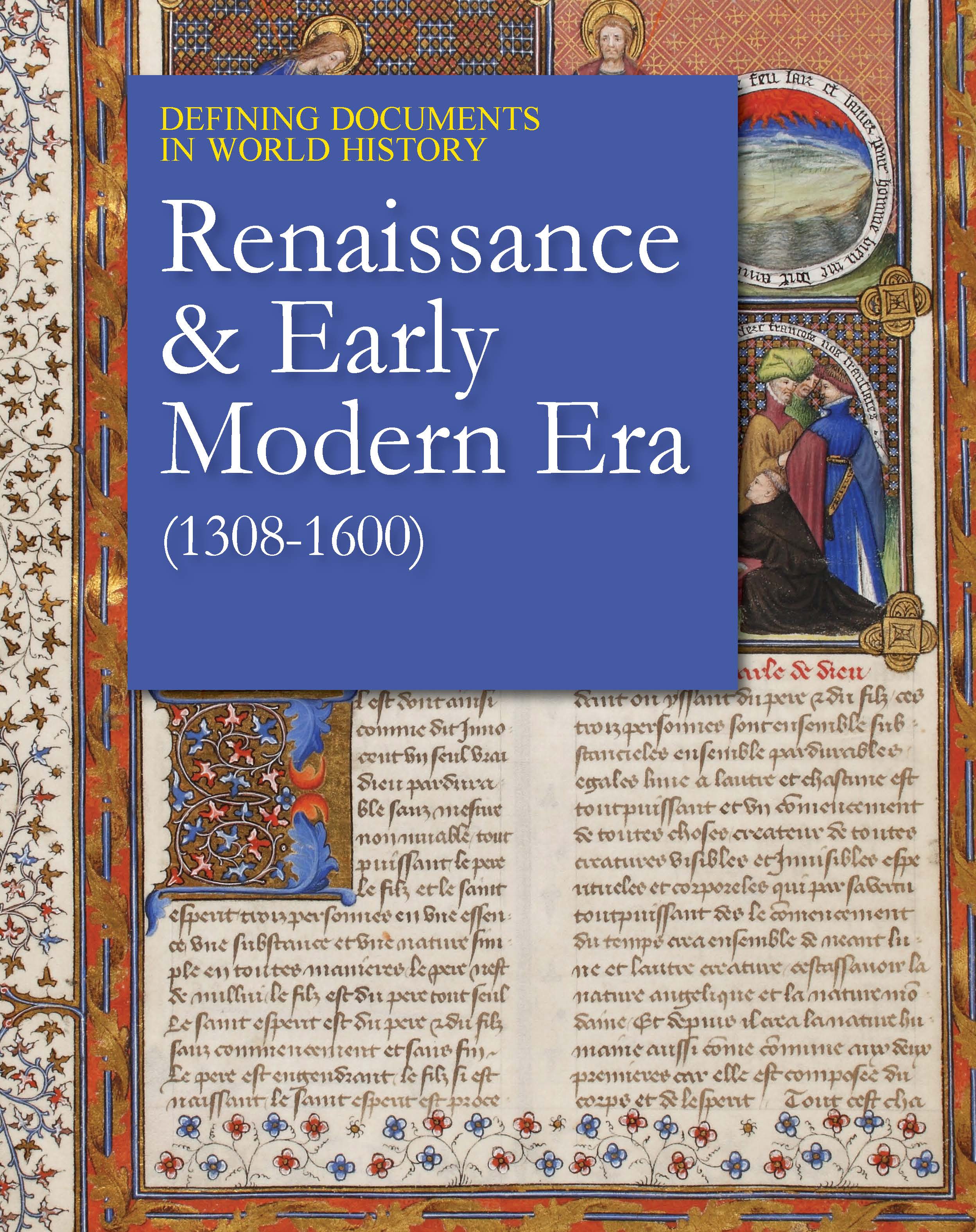 Defining Documents in World History: Renaissance & Early Modern Era (1308-1600)
April 2017
---
---
Defining Documents in World History series, produced by Salem Press, consists of a collection of essays on important historical documents by a diverse range of writers on a broad range of subjects in American history. This established series includes Ancient World (2700 B.C.E.–c. 500 C.E.) and Middle Ages (476–1500) in addition to the latest title: Renaissance & Early Modern Era (1308–1600).
Renaissance & Early Modern Era offers in-depth analysis of a broad range of historical documents and historic events that make up the vibrant story of Europe's journey out of the Dark Ages and into years of growing enlightenment. The volume begins with the story of the Black Death, a time of superstition and incredible fear, and carries us forward in time to Martin Luther's Ninety-five Thesis and the Dutch Declaration of Independence. The speeches, articles, essays, petitions, editorials, even laws and court orders over the span of this nation's history demonstrate the ways in which its citizens have exercised the right to free speech. The thirty articles in this volume are organized into five sections:
• The Black Death, with 2 readings that suggest the genuine terror of living in that time and a chronicle of the devastation in Florence;
• Europe in War and Peace that includes a letter from Joan of Arc to Henry VI and an excerpt from Malleus maleficarum, the handbook used during the witch hunts in both Europe and the New World;
• Renaissance Arts and Letters, starting with Dante's Divine Comedy and concluding with Montaigne's "Of the Education of Children";
• New World Encounters and Conflicts, including a letter from Christopher Columbus detailing his discoveries as well as A Brief Account of the Destruction of the Indies, which detailed the atrocities dealt Native Americans by their Spanish conquerors;
• The Protestant Reformation and After including works by Martin Luther and St. Teresa of Avila;
Historical documents provide a compelling view of dissent and protest, an important aspect of world history. Designed for high school and college students, the aim of the series is to advance historical document studies as an important activity in learning about history.
Essay Format
Renaissance & Early Modern Era contains thirty primary source documents—many in their entirety. Each document is supported by a critical essay, written by historians and teachers, that includes a Summary Overview, Defining Moment, Author Biography, Document Analysis, and Essential Themes. Readers will appreciate the diversity of the collected texts, including treaties, letters, speeches, political and religious sermons, laws, memoirs, and diplomatic communications among other genres. An important feature of each essay is a close reading of the primary source that develops evidence of broader themes, such as the author's rhetorical purpose, social or class position, point of view, and other relevant issues. In addition, essays are organized by section themes, listed above, highlighting major issues of the period, many of which extend across eras and continue to shape life as we know it around the world. Each section begins with a brief introduction that defines questions and problems underlying the subjects in the historical documents. Each essay also includes a Bibliography and Additional Reading section for further research.
Appendixes
• Chronological List arranges all documents by year.
• Web Resources is an annotated list of websites that offer valuable supplemental resources.
• Bibliography lists helpful articles and books for further study.
Contributors
Salem Press would like to extend its appreciation to all involved in the development and production of this work. The essays have been written and signed by scholars of history, humanities, and other disciplines related to the essays' topics. Without these expert contributions, a project of this nature would not be possible. A full list of contributor's names and affiliations appears in the front matter of this volume.
---