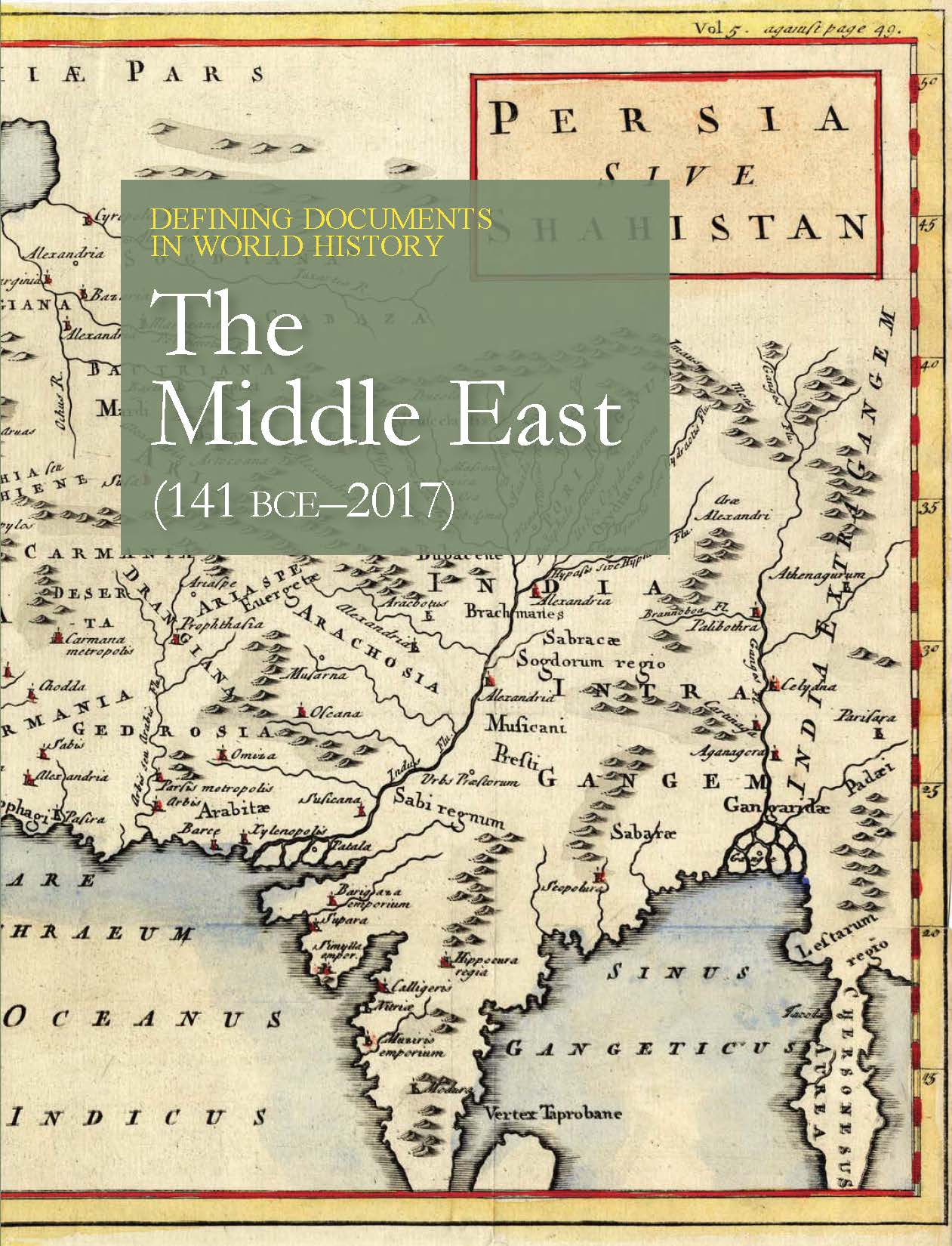 Defining Documents in World History: The Middle East (141 BCE-2017 CE)
May 2018
---
---
The Middle East is the site of the first great civilizations in history. Today, it remains one of the most significant regions of the world for a variety of political, economic, and religious reasons. This new 2-volume set spans the history of the region and includes a variety of documents from several eras.
The material is organized under four historical groupings:
Early, Medieval, and Early Modern History, starting with the revolt of the Maccabees in 141 bce, the destruction of the Temple of Jerusalem by the Romans, and several passages from the fourteenth-century travels of Ibn Battuta, including his pilgrimage to Mecca and travels to Baghdad, Cairo, Damascus, Jerusalem and Mali.
Ottoman Endurance and Collapse traces the Ottoman Empire, starting with the treaty of Ku­chuk Kainardji, describes the Battle of Navarino and the siege of Kandahar and on to the call for the establishment of a Jewish state, the Sykes-Pi­cot agreement, the Balfour Declaration, and the Palestinian Mandate.
Twentieth-Century Troubles begins with the White Paper of 1939 and the Charter of the Arab State, the Truman Doctrine speech, while the cen­tury draws to a close with the Ayatollah Khomei­ni's speech about "The Great Satan," the Egypt- Israel Peace Treaty, and the Oslo Accords.
Recent Realities bring the set into the twenty-first century by examining documents such as George W. Bush's address to the nation concern­ing military operations in Iraq, the U.N. Security Council's 1973 resolution on Libya, and the Syria Report by the Human Rights Watch.
Each document is supported by a critical essay, writ­ten by historians and teachers, that includes:
Sum­mary Overview
Defining Moment
Author Biography
Document Analysis
Essential Themes
Appendixes include a Chronological List which arranges all documents by year, an annotated list of Web Resources that offer valuable supplemental resources, and a Bibliography.
These documents provide a compelling view of many important aspects of Middle Eastern history, including religion, conflicts, politics, empires, and ethnic identi­ties by drawing on religious tracts, political speeches and treaties, travel writing, first-hand reports, corre­spondence, and more.
Designed for high school and college students, the aim of the series is to advance historical document stud­ies as an important activity in learning about history.
---