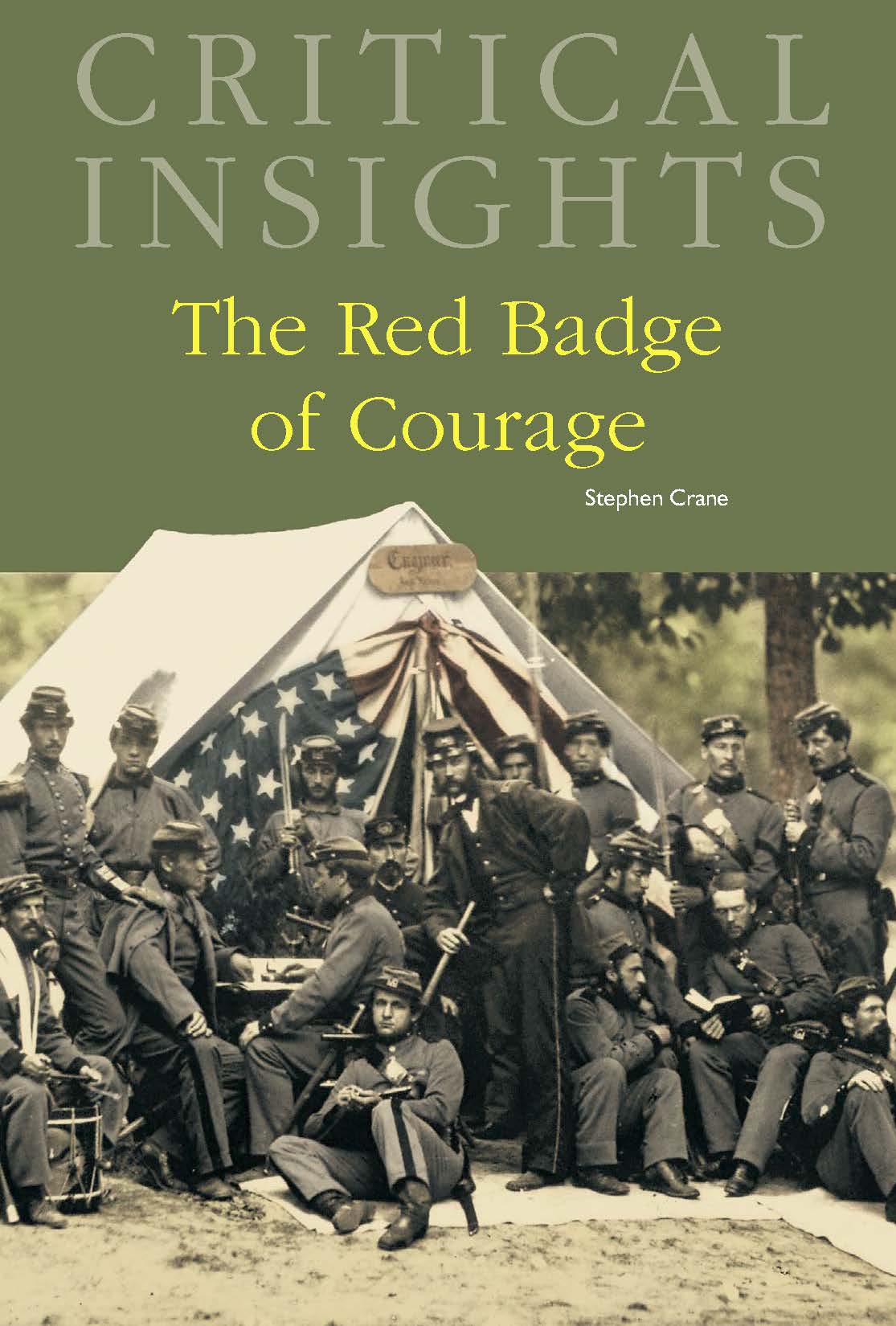 Critical Insights: The Red Badge of Courage
October 2010
---
---
The Red Badge of Courage was a sensation when it was first published in 1894. More vivid, unflinching, and artistically and philosophically complex than any prior war novel, it made its author, Stephen Crane, an overnight international celebrity.
Readers were gripped by Crane's lucid descriptions of warfare and of the vacillating mind of his young, untested soldier, Henry Fleming, and many assumed that he must have been a veteran of the Civil War. Some actual veterans went so far as to claim that they had fought alongside Crane in the war. Astonishing as the novel itself is the fact that Crane was only twenty-three when he wrote it and had never even lived through a war, let alone fought in one. Even today, more than one hundred years after its publication and after generations of readers and decades of commentary, this most famous of Crane's works continues to astonish, amaze, and puzzle.
Introduction
The volume starts out with introduction from the editor Eric Carl Link, a Biography of Stephen Crane by R. Baird Shuman, and an essay from Barry Harbaugh of The Paris Review. Link, Professor of American Literature at the University of Memphis, writes in his introduction to this volume in the Critical Insights series, Red Badge is much more than a war novel—it is a drama of the human psyche, a pinnacle of American naturalism and impressionism, a precursor to modernism, and a brilliant comment on the relations between human beings and our universe. As the essays collected here can attest, the novel is rich in interpretive possibilities.
Critical Contexts
For readers studying Red Badge for the first time, a quartet of introductory essays provide valuable background. Essays examine how the culture of the 1890's—with its clashes over immigration, industrialization, poverty, and military policy—influenced Crane and a survey of the criticism surrounding the novel. An analysis of some of Crane's short stories attempt to resolve some of the critical issues that have long plagued scholars of Red Badge.


Critical Readings
Continuing the discussion are a variety of classic and contemporary essays on the novel. In this section, readers will find a comprehensive overview of the novel and praises it as "one of the great war novels of world literature." Other authors analyze Crane's use of narrative point of view to show how it supports Crane's concept of reality and discusses Crane's stance of epistemological uncertainty and his subjectivism. Essays argue that, despite some critics' qualms, the novel is a unified, coherent work of art that projects a humanistic vision and is a unified and coherent work.
There are examinations of the use of humor and fallacious reasoning in the novel. Authors analyze Crane's imagery piece together Crane's concept of courage and heroism. They attempt to answer questions about Crane's work—whether Henry Fleming matures over the course of the novel and the meaning of the novel's ending. The section ends with a highly innovative reading of race and gender in the work.

Each essay is 2,500-5,000 words in length and all essays conclude with a list of "Works Cited," along with endnotes.
Additional Resources:
Chronology of Crane's Life
Works by Stephen Crane
Bibliography
About the Editor
Contributors
Index
---