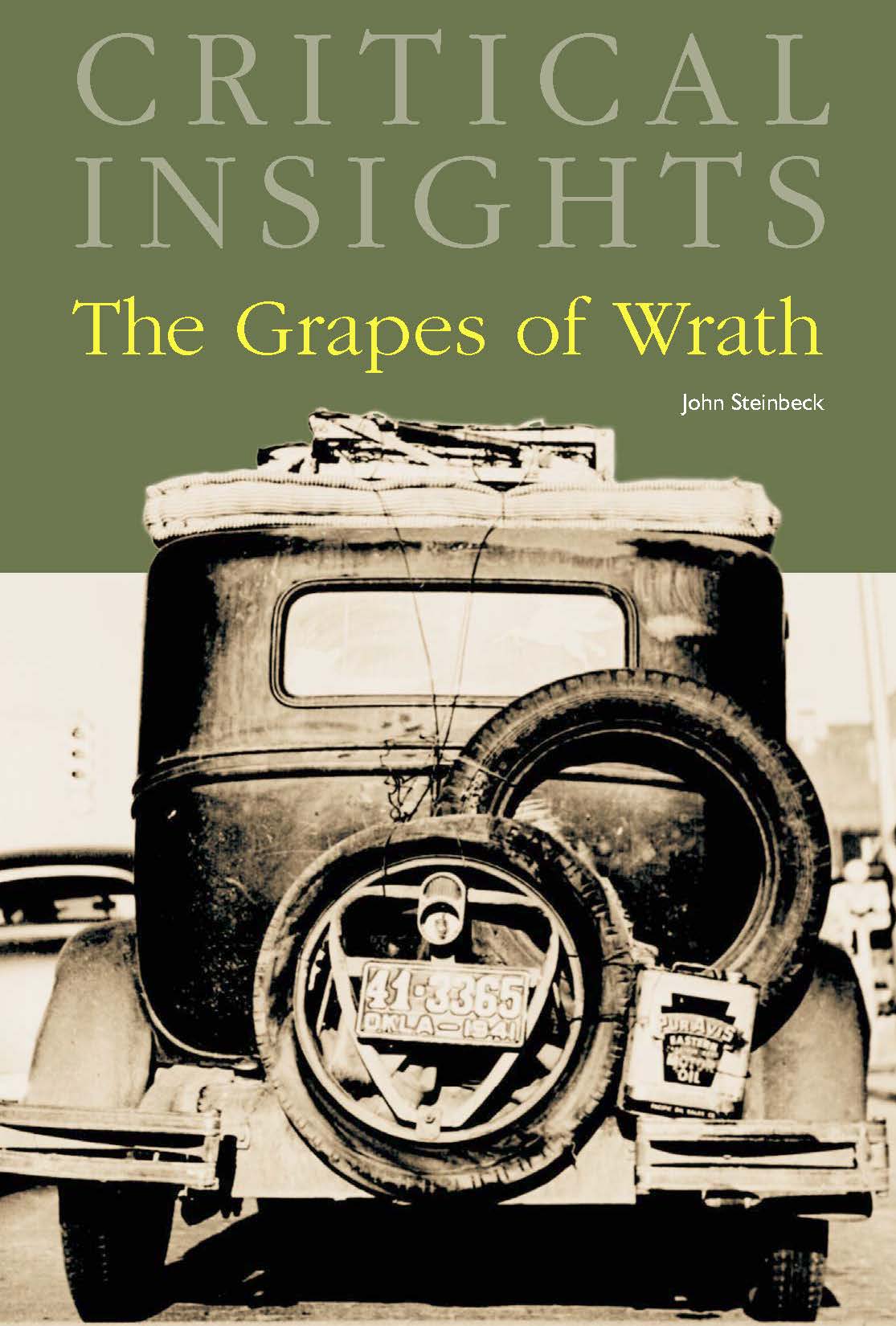 Critical Insights: The Grapes of Wrath
October 2010
---
---
This volume in the Critical Insights series brings together a variety of new, classic, and contemporary essays on this major American novel.
Easily the most famous of John Steinbeck's novels, The Grapes of Wrath has stirred considerable controversy ever since it was first published in 1939. On one hand, some readers and critics have berated it as, at best, mere "proletarian fiction" and, at worst, leftist propaganda; on the other hand are those who have celebrated the novel as a major artistic achievement that interweaves sharp social criticism with a mystical vision of humankind and the natural world. The novel has been both banned and commended, both dismissed by critics and called "the story of the human race."


Edited and with an introduction by Keith Newlin, Professor and Chair of the Department of English at the University of North Carolina Wilmington. Newlin's introduction compares the responses of the novel's early reviewers with those of actual Dust Bowl migrants, and, writing on behalf of The Paris Review, National Book Award winner Ha Jin celebrates Steinbeck's remarkable artistry.


For readers studying The Grapes of Wrath for the first time, a quartet of new essays offer a comprehensive introduction to the novel's key themes, social context, and critical history. Jennifer Banach relates the novel to the American protest tradition, arguing that, though the novel is deeply concern with social issues, it ultimately transcends them with its communitarian vision. Matthew J. Bolton focuses on how it fuses narrative strategies from both protest and modernist literature. Michael Wentworth offers a detailed overview of the Dust Bowl and migrant worker crisis in California to show how, beyond these temporal circumstances, the novel participates within larger traditions of the American road novel and the migrant narrative. Finally, Camille-Yvette Welsch offers a comprehensive survey of Steinbeck criticism.


The volume continues with a selection of classic and contemporary essays on the novel. Frederic I. Carpenter describes how Steinbeck blends together major strands of American philosophy, from Ralph Waldo Emerson to William James and John Dewey. Martin Shockley and Eric W. Carlson treat the novel's Christian symbolism. Peter Lisca, Howard Levant, and John H. Timmerman analyze the novel's structure, form, and language. Warren Motley shows how Ma Joad transforms the Joad family into a cohesive matriarchy, and Donald Pizer locates the novel as an heir to literary naturalism. Robert DeMott draws on Steinbeck's letters and papers to discuss the novel's composition, while Keith Windschuttle offers a detailed description of the actual Okie migration to cast doubt on the veracity of Steinbeck's fictional portrayal of migration. Finally, Charles Cunningham reassesses the novel's politics, and Vivyan C. Adair analyzes Steinbeck's feminine archetypes.
Additional resources include:
Chronology of Steinbeck's Life

Works by John Steinbeck

Bibliography

About the Editor

About The Paris Review

Contributors

Acknowledgements

Index
---