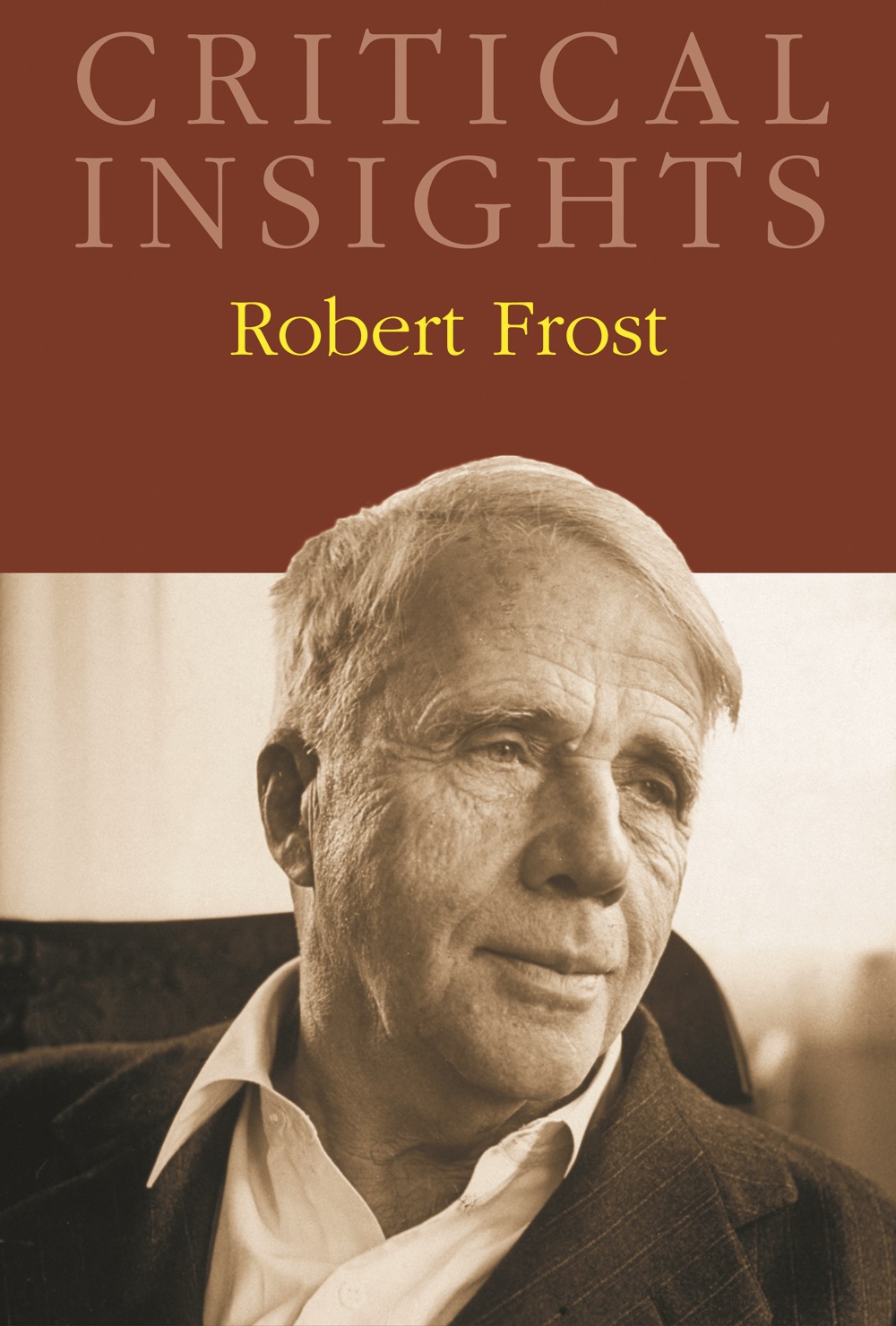 Critical Insights: Robert Frost
October 2009
---
---
In-depth critical discussions of his life and works - Plus complimentary, unlimited online access to the full content of this great literary reference.
Widely celebrated during his lifetime as the greatest living American poet, Robert Frost remains one of the few poets whose work is enjoyed by scholars and general readers alike. A record four time winner of the Pulitzer Prize who gave readings across America and in countries as far flung as England, Brazil, and Russia, Frost is nevertheless known not as a cosmopolitan but as a plainspoken portraitist of rural New England. Yet despite this reputation, Frost is much more than a regional poet: his wit, irony, and willingness to rest in ambiguity make him a poet of the cosmic and universal. In the age of Ezra Pound and T. S. Eliot, he stood alone in writing a poetry that was simultaneously accessible, complex, and profound.


Edited and with an introduction by Morris Dickstein, Distinguished Professor of English at the Graduate Center of the City University of New York and senior fellow of the Center for the Humanities, this volume in the Critical Insights series brings together a variety of critical perspectives on Frost's life and works. For readers new to Frost, four original essays provide valuable context for understanding and assessing his work. Together they outline the work's historical and cultural contexts, survey the major pieces of Frost criticism, examine Frost's relationship with modernist poetics, and consider how his use of paradox and contradiction participate in and differ from the use established by Whitman and Emerson.


Nine other previously published essays deepen readers' understanding and offer a sampling of the key concerns of contemporary Frost critics. Among these essays, David Sanders draws on Frost's letters and interviews to understand how he developed his poetic voice from careful observation of his New England neighbors and how he sought to make these people visible within the growing mass culture of twentieth century America. Roger Gilbert further examines Frost's poetics in his discussion of the recurrence of the trope of the walk in Frost's poetry, concluding that, for Frost, the trope parallels the dynamic act of poetic composition. Other essays examine Frost's politics, with Frank Lentricchia considering how his poetry, with its emphasis on replicating the rhythms of everyday speech rather than traditional conceptions of the literary, gives evidence to the notion that poetics can be a register of social and political change, and Tyler B. Hoffman offering a unique reading of Frost's view of industrialism and the New Deal, arguing that Frost was not the archconservative that leftist critics have made him out to be but rather took a highly nuanced view of the poet's obligations to politics. Jeff Westover extends this vein of criticism by dissecting Frost's nationalism, and Robert Bernard Hass discusses how Frost's interest in science, especially astronomy, impacted the religious beliefs his mother inculcated in him as a child.


Uniquely, this volume also contains an original piece by Paris Review contributor Elizabeth Gumport, who offers a writer's perspective on Frost's fierce independence. Rounding out the collection is a brief biography and chronology of Frost's life and an extensive bibliography for readers wishing to study the poet's work in greater depth.


Each essay is 5,000 words in length, and all essays conclude with a list of "Works Cited," along with endnotes. Finally, the volume's appendixes offer a section of useful reference resources:
A chronology of the author's life

A complete list of the author's works and their original dates of publication

A general bibliography

A detailed paragraph on the volume's editor

Notes on the individual chapter authors

A subject index


From "About This Volume"
Following a brief biography of Robert Frost by James Norman O'Neill and a succinct critical comment by Elizabeth Gumport of The Paris Review, this volume, containing both newly commissioned pieces and reprinted essays and book chapters, brings together an unusually wide range of approaches to Frost's poetry. Though Frost has been famous and widely celebrated in the United States for nearly a century, his reputation has shifted dramatically since his first volumes appeared just before World War I. Acclaimed as a modernist by Ezra Pound when his first two books appeared in England, where he was then living, Frost became popular as a warm, accessible poet from the 1920s through the 1950s as four of his collections received the Pulitzer Prize. He was admired as homey and straightforward when modernist writing was often obscure; as a nature poet, an authentically American writer, when many modernists were cosmopolitan expatriates; and as an optimistic New England sage when his leading contemporaries produced dark, apocalyptic visions.


This image began to change decisively in the 1950s when Randall Jarrell and Lionel Trilling, two impeccably highbrow critics, rediscovered Frost as a modern writer whose outlook was not only dark but terrifying, a poet whose technical mastery matched the more experimental approach of Eliot and Pound, which until then had set the standard for poetic modernism in English. No writer in this volume goes back to the simpler Frost of the first half of the twentieth century; all take for granted the darker, more canny, more difficult writer eloquently expounded by Jarrell, then proclaimed publicly by Trilling at a dinner honoring Frost on his eighty-fifth birthday. While Janyce Marson surveys the key changes in Frost's critical reputation over the decades, both Matthew J. Bolton and Frank Lentricchia take us back to the conflicts within early modernism. Whereas Pound and Eliot wrote and promoted poetry that is complex and elusive, according to Bolton, "Frost mastered an art that conceals art" yet also echoes both Eliot's "Prufrock" and Eliot's master, Dante, in one of his best-known poems, "Acquainted with the Night." In his landmark essay, Lentricchia discusses the issues that helped ignite early modernism, including diction, nationality, and particularly gender. In contrast with the dominant aesthetic of Victorian lyric poetry, which seemed precious and effete, Frost's early work was seen not only as unquestionably American but also as closer to prose, novelistically real and impure, and unabashedly masculine...