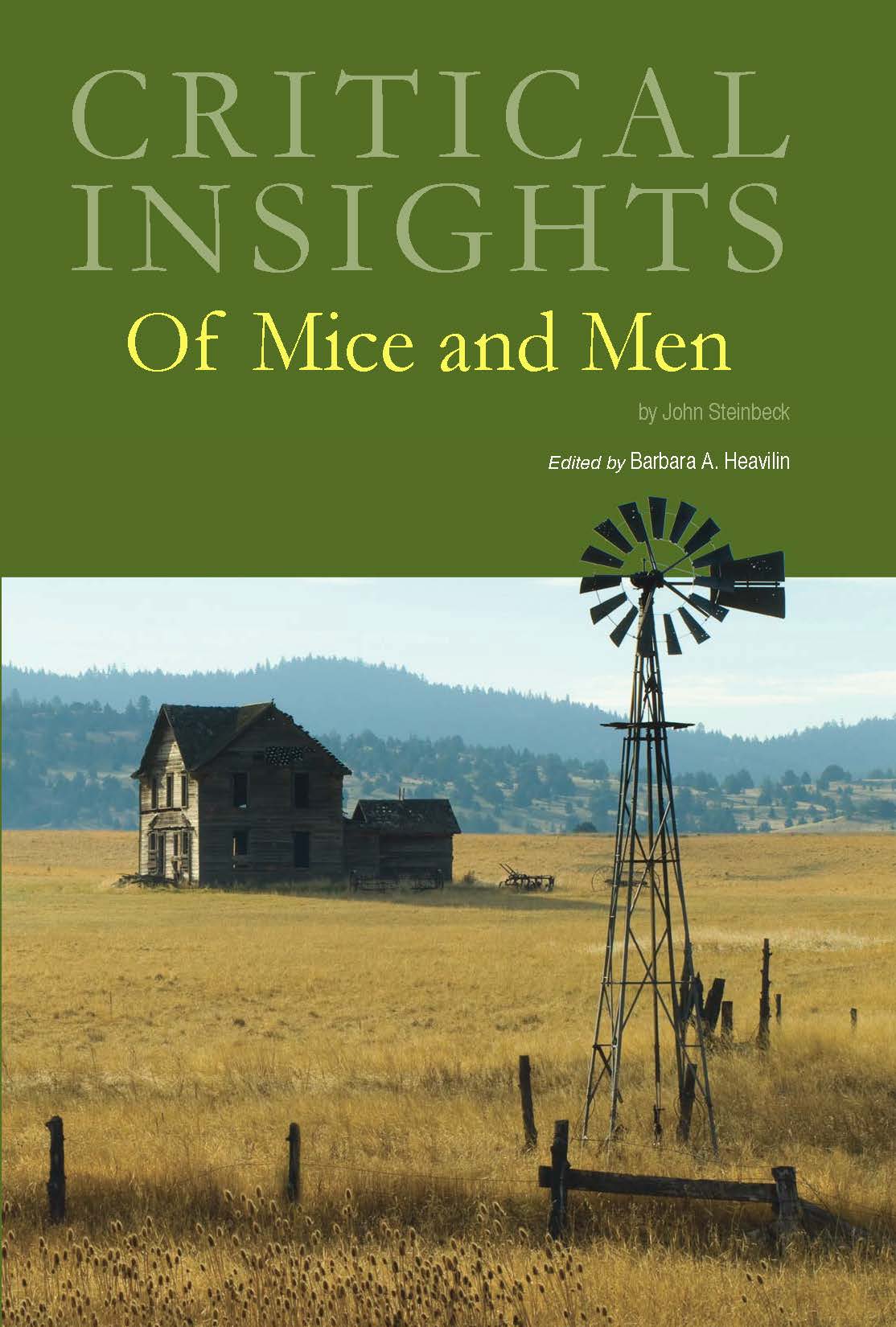 Critical Insights: Of Mice and Men
May 2017
---
---
With an array of contributions by leading Steinbeck scholars, Critical Insights: Of Mice and Men provides a rich array of fresh perspectives and valuable information on this short but beloved text. Essay topics include: the masculine psyche, alienation, and the plight of migrants, and consideration of why this novel is still in high school curriculums today.
Despite its compact size, Of Mice and Men (1937), John Steinbeck's lean and brittle elegy to human frailty (he originally named it "Something That Happened" and later called it a "strangely lyrical little thing") is eighty years old and counting. Its longevity is a commentary on its many enduring humanistic themes and subjects as well as its ever-changing multi- and trans-textualism. Of Mice and Men's life as an individual book of fiction was only a beginning, for in the intervening decades, it has migrated well beyond its initial moment to serve as the basis for two theatrical drama productions in San Francisco and New York (1937, 1937–1938), an Off-Broadway musical by Ira Bilowit (1958), an opera by Carlisle Floyd (1970), two memorable movie versions directed by Lewis Milestone and by Gary Sinise (1939, 1992), and two made-for-television versions directed by Ted Kotcheff and by Reza Badiyi (1968, 1981).
Critical Context
Editor Heavilin leads with a capacious essay on the complex cultural, political, and literary contexts of Of Mice and Men. Another essay considers Burns-Steinbeck nexus as part of his lively appreciation of the role non-teleological thinking and human choice play in the meaning-making process in Of Mice and Men. One of the many themes discussed in connection with the novella is that of morality. Steinbeck's works have had enormous critical and popular success in their visual forms and these essays cover the many textual variations of the novella.
Critical Readings
These essays utilize common critical approaches to further analyze the author's work. Each essay is 2,500-5,000 words in length and all essays conclude with a list of "Works Cited," along with endnotes.
A translator of Steinbeck's work, provides a unique look at how he was received in Eastern Europe, and generally how the novella transcends North American borders. Several of the following essays treat the hottest of topics with deft ability, including the homosocial friendship, masculinity, gender, racism, marginalization, disability, place, pedagogy, and international reception. Although a staple in many school curriculums, Of Mice and Men has had much challenge and criticism over its place there. Another essay reviews the controversies and offers some nuts-and-bolts methods for effectively teaching Steinbeck's "timely and timeless" book.
Additional Resources:
Chronology of Steinbeck's Life
Works by John Steinbeck
Bibliography
About the Editor
Contributors
Index
---