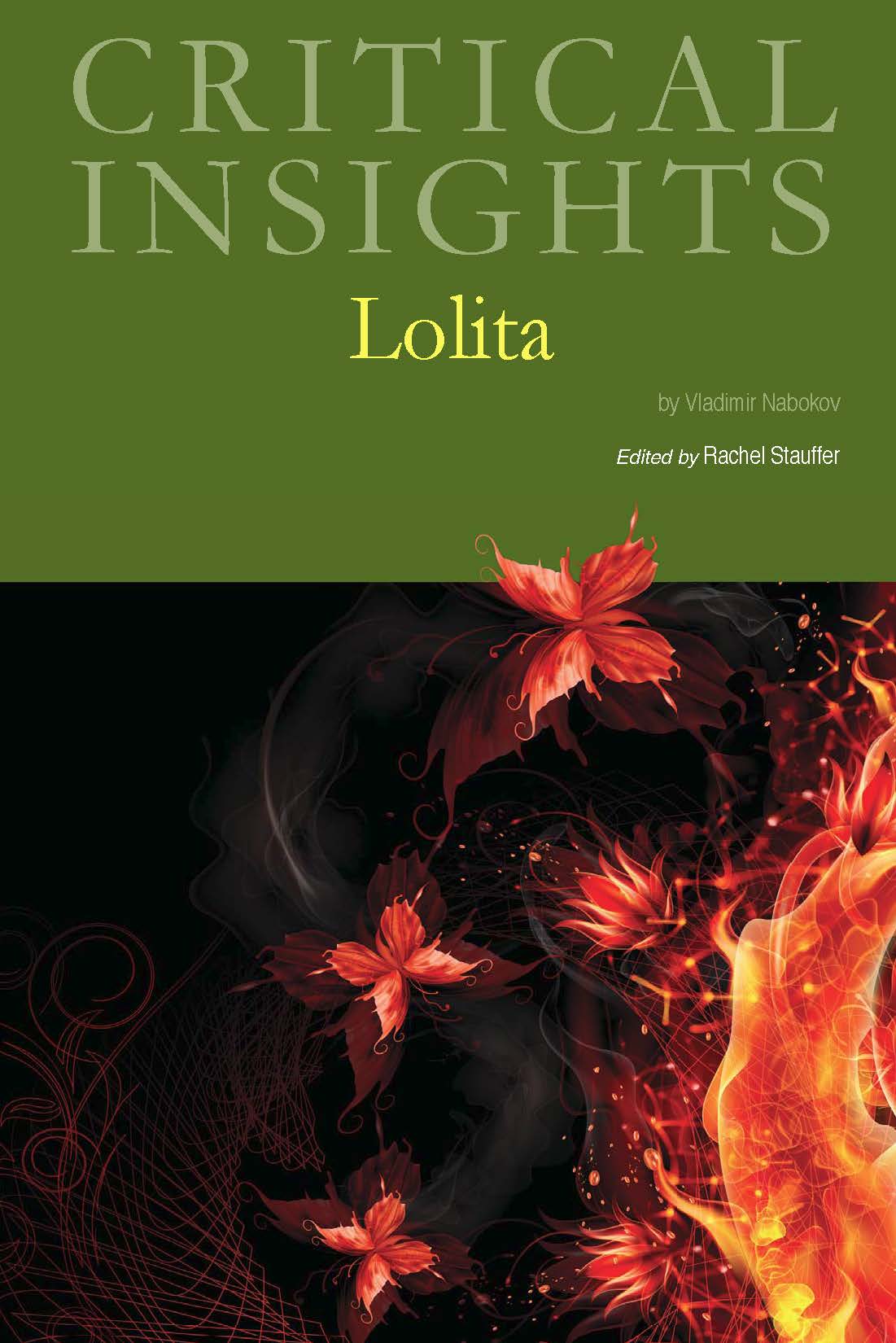 Critical Insights: Lolita
March 2016
---
---
This compilation of critical essays examines the controversy behind Lolita's reception, Humbert Humbert's role as an unreliable narrator, connections to Nabokov's other works, and comparisons to the 1962 film adaptation.
The essays within this volume reflect the existing scholarship while also offering additional, global perspectives and approaches to Lolita that are representative of both new and old trends in the study of this important and complex novel.
Each Critical Insights Edition is divided into four sections:
1. An Introduction
2. Critical Contexts
The provided essays aim to provide a background to the title, author, or theme that is historical, cultural, and biographical foundation for the reader. In this section, Sara Dickinson's comprehensive essay on the nineteenth-century Russian canon's influence on Lolita skillfully highlights Nabokov's personal and literary heritage as a Russian émigré. Lucia C. A. Williams then takes a psychological approach, addressing the relationship between Humbert and Lolita as sexually abusive, and delves into the mental and emotional damage that it inflicts on Lolita based on current understanding about child psychology.

Alexei Lalo provides unique insight into male sexuality in Lolita as he compares the novel with the works of other twentieth-century Russian authors, and provides a discussion of Nobokov's earlier works that influenced and contributed to Lolita. Finally, Thomas Seifrid's comparative analysis traces the influence of Rainer Maria Rilke in Lolita, providing more than ample evidence that Nabokov must have intended such a subtext.
3. Critical Readings
The essays in Critical Readings utilize common critical approaches to further analyze the author's work, or specific works according to the selected theme. This section starts off with Inna Kapilevich and the continual discussion about nineteenth-century Russian literature. Similarly, Natalia Dame's chapter considers the Russian roots of Nabokov's nymphet through an insightful and thought-provoking analysis of Russian women in nineteenth-century fin-de siècle Russian literature.
Ljuba Tarvi's chapter looks at some of Nabokov's other novels and the relationships between older men and younger women, tracing what she calls the "'Lolita'-Mega-Metaphor" as a consistent theme in Nabokov's oeuvre. The reprinted article from Priscilla Meyer, a veteran scholar of Nabokov, considers the question of Clare Quilty as a literary double or dopplegänger of Humbert Humbert, which is a vital question for any reader of Lolita who is familiar with this phenomenon in literature, particularly in Russian literature.
Lyndsay Miller's chapter on revision and narrative authority in Lolita brings to light the role of Humbert as narrator—is he reliable or unreliable? Kirsten Rutsala's chapter also examines Nabokov's narrative technique, suggesting that despite Humbert's best efforts to control the narration, Lolita emerges as a fully realized character in her own right, escaping from him, just as he loses control over the narrative itself.
Rebecca Freeh-Maciorowski also considers an important element of the narrative in her examination of ocularcentrism. Michael Federspiel discusses how Nabokov and/or Humbert conditions the reader to continue reading through games and gentle mind manipulation that gradually "anesthetize" the reader into passive acceptance of the content within. Ending the section is Rachel Stauffer on fear response.
Each essay is 2,500 to 5,000 words in length, and all essays conclude with a list of "Works Cited," along with endnotes.
4. Resources
Chronology of Vladimir Nakokov's Life
Additional Works by Vladimir Nabokov
Bibliography
About the Editor
Contributors
Index
This volume is aimed for a general audience, perhaps for the first-time reader of Lolita, or for high school or college-level instructors who teach the novel.
---