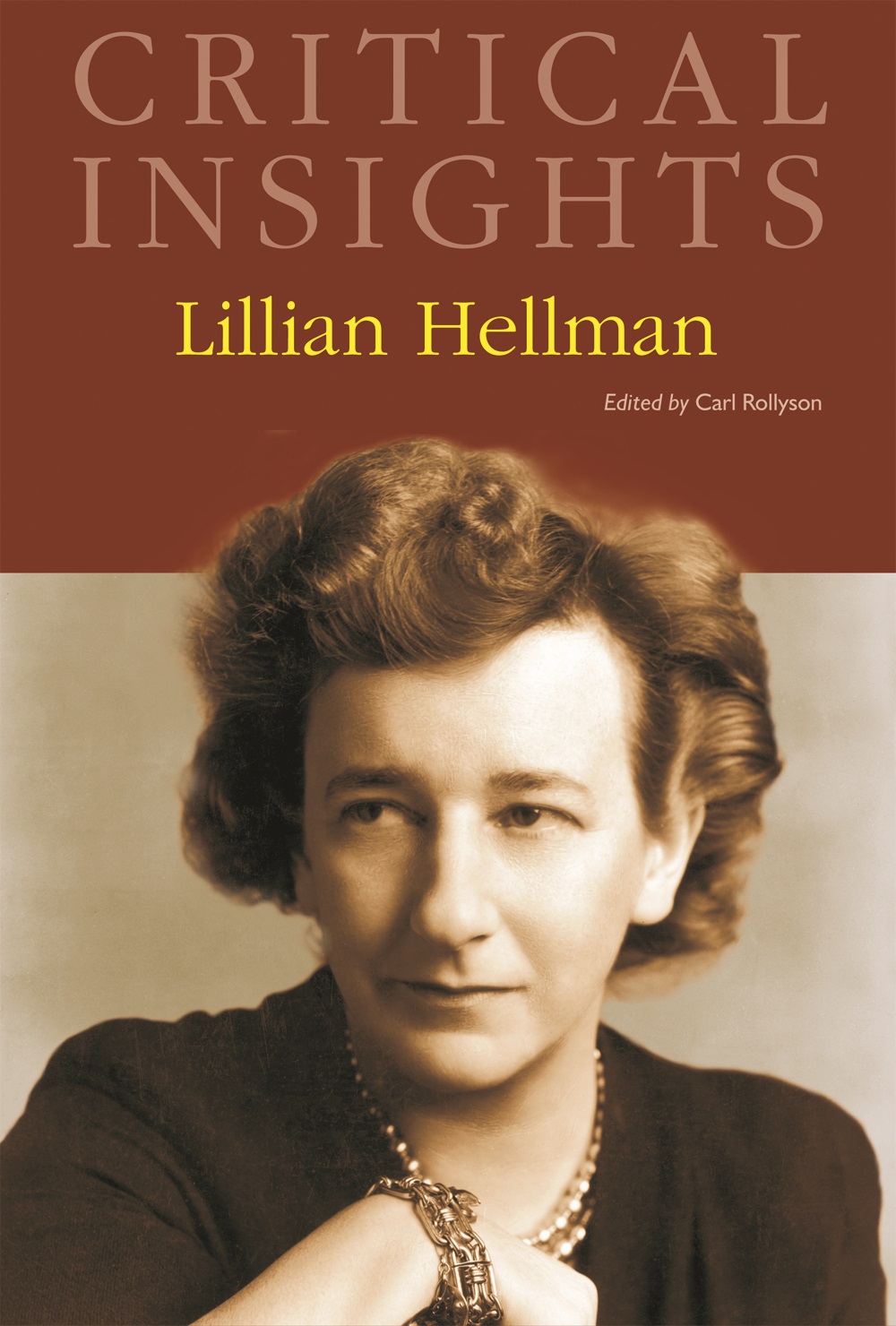 Critical Insights: Lillian Hellman
September 2011
---
---
The title in this series concentrates on those plays and books that remain part of a vibrant scholarly and popular literature about Hellman's life and affairs.
Lillian Hellman, one of the foremost American playwrights of the twentieth century, was also an acclaimed autobiographer and controversial public figure because of her political commitments. That she was also a superb screenwriter in the heyday of Hollywood movies enhances her cultural importance. As with any writer, however, certain of her works have tended to define her place in the American literary canon and have dominated discussions of her politics.


The Children's Hour not only marks her first great success in the theater but also defines many of the melodramatic qualities of her plays. It also demonstrates a political sensibility that was distrustful of authority and keenly aware of the tyranny of majority opinion. In Hellman's plays evil triumphs because of the passivity of characters who recognize but cannot bring themselves to oppose it. The play is often revived and remains as popular as Hellman's masterpiece, The Little Foxes.


Of course, the accusation leveled at the two female teachers in The Children's Hour—that they are engaged in an unnatural relationship—stirred enormous controversy when the play was first produced in 1934. Analysis shows how The Children's Hour draws on a nineteenth-century ideology that regarded sex between women as a kind of contaminating disease that would infect society.


Further, another essay considers how Hellman's clever adaptation of The Children's Hour for the screen—retitled as These Three—continues to receive significant attention. In the most searching examination of the play and film, the essay argues forcefully that by capitulating to too many Hollywood conventions Hellman diluted her significant focus on how power is wielded in society.


In a second essay, William Wyler's remake of The Children's Hour, which does include the charge of lesbianism, is reviewed. But the second Hollywood version of Hellman's play hardly more satisfying than the first because, like the first, the second contrives an ending that softens the play's attack on society.


There is a consideration of what the playwright learned from Wyler, who collaborated with Hellman on screen versions of The Children's Hour, Dead End, and The Little Foxes, and from renowned cinematographer Gregg Toland.


The Little Foxes is discussed, defending the accuracy of the playwright's portrayal of the post-Civil War South and her ironic view of its history. It's noted that Hellman's critical view of the South comes from her bifurcated upbringing in New Orleans and New York City. Similarly, Geraldine Thorsten provides a much-needed corrective to critics who believe that Hellman's later play, Toys in the Attic, borrows heavily from Tennessee Williams. Quite the contrary: Hellman in all likelihood influenced Williams, setting the stage for the kind of candid examination of the South that distinguishes the work of both playwrights.


Hellman provides an even more critical view of the South in Another Part of the Forest, which proved disappointing to reviewers when it premiered on Broadway but has received a more respectful hearing from later critics.


The Cold War period had an enormous influence on both Hellman's playwriting and her politics. Under attack for her pro-Communism and for a style of playwriting that had come to seem out-of-date, Hellman reflected on her career and on how she might continue to function in the theater. A retrospective, self-critical temper informs The Autumn Garden and Toys in the Attic, her last two successes on the Broadway stage.


The probing of human motivation in Hellman's last two successful plays seems, in retrospect, part of her transition to the meditative memoir, a form of literature that rejuvenated her writing career. Hellman was an innovator, adapting the hard-boiled, terse, and elliptical style of writers such as Ernest Hemingway and Dashiell Hammett to the memoir form. Hellman reached the apogee of her achievement in this genre in Pentimento's "Julia." This story is perhaps the best example of Hellman's treatment of her own life in terms of the themes in her writing.


The attack on Hellman's veracity escalated when Scoundrel Time, her memoir of the Cold War, received an initially favorable response from several reviewers. The counterattack exposed Hellman's misstatements about historical events such as the perjury trials of Alger Hiss and her self-serving and tendentious accounts of how liberals failed to defend those like Hellman herself who were summoned by congressional committees to recant their leftist politics and to inform on their comrades.


Whatever ultimate judgment is rendered on Hellman's work as playwright, screenwriter, and memoirist, the remarkable range of her achievement is undeniable. In her controversial memoirs, her characterizations of her politics and of her era will remain debatable. Quite aside from the critical dialogue about Hellman's work, however, is the energy that propels her writing—an outrage fueled by her exposure of injustice and her struggle to define the individual who forges an identity in a contentious society. Her work is likely to last because it represents her vital argument with society and with herself.


Each essay is 5,000 words in length, and all essays conclude with a list of "Works Cited," along with endnotes. Finally, the volume's appendixes offer a section of useful reference resources:
A chronology of the author's life

A complete list of the author's works and their original dates of publication

A general bibliography

A detailed paragraph on the volume's editor

Notes on the individual chapter authors

A subject index