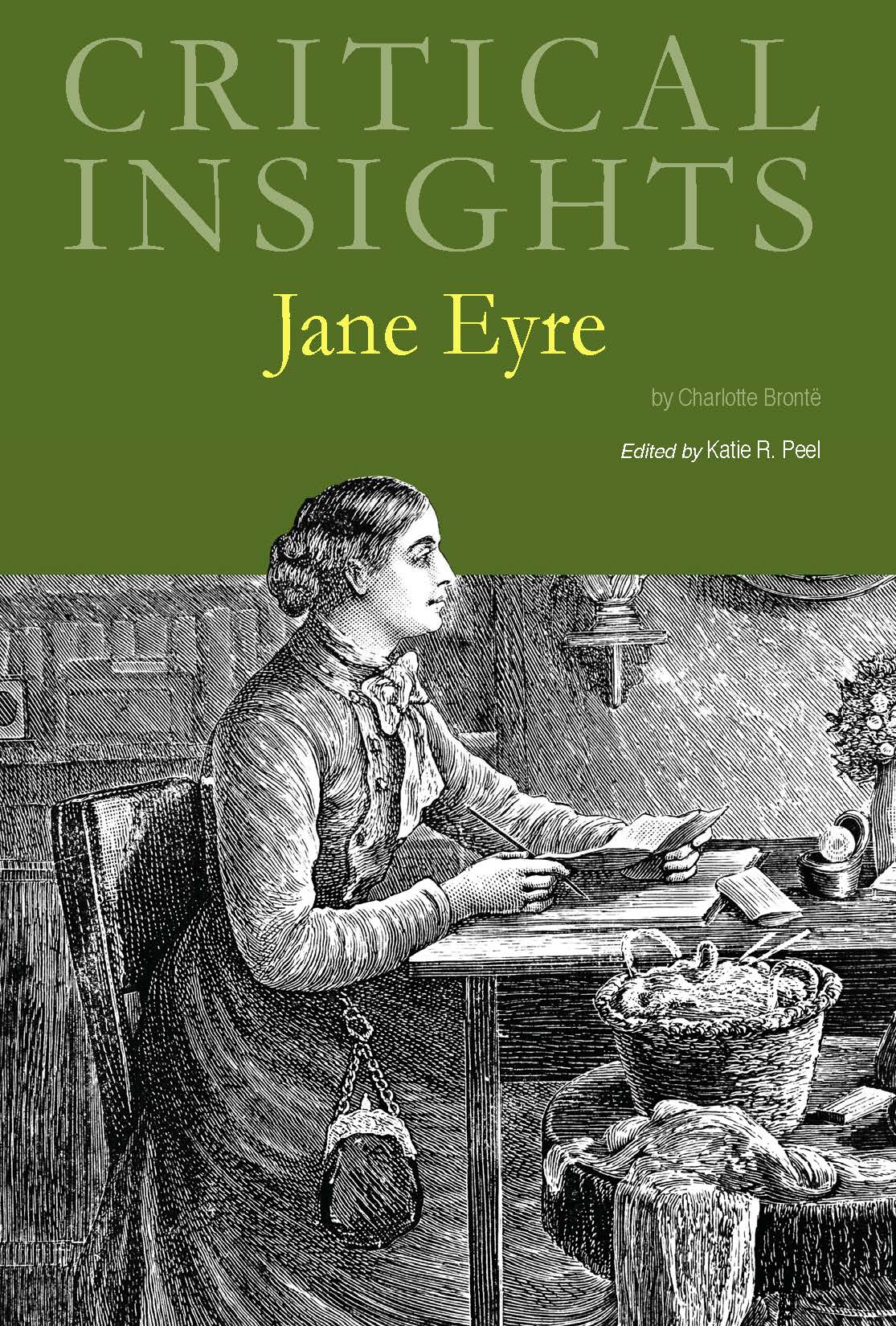 Critical Insights: Jane Eyre
January 2014
---
---
Critical Insights: Jane Eyre presents a variety of new essays on Charlotte Bronte's Jane Eyre, considered by many to have revolutionized the art of fiction. Many agree that Bronte was ahead of her time as she explored the individualistic character of Jane, and topics such as classism, sexuality, religion and issues of gender.
Edited by Katie R. Peel, Professor of Victorian Literature and Women's Studies at The University of North Carolina, this volume includes a variety of fresh approaches, including essays using feminist, reader-response, postcolonial, and performance theories. The essays' topics have also been chosen in order to enhance understanding of the novel and existing scholarship, and include the role of Adele, humor, religion, games and gamesmanship, conversation, and women's space in Jane Eyre, as well as a comparison to Elizabeth Gaskell's North and South.
Critical Insights: Jane Eyre is divided into four sections:
Introductory Section
The Introduction considers why we still turn to Jane Eyre. It takes a new historical approach that connects a passage in the novel to an image that would be familiar to contemporary readers. Joanne Cordón's biography of Charlotte Brontë traces both her life and literary experiences, offering some personal context for the work that we are familiar with.

Critical Contexts
The "Critical Contexts" section takes four distinct approaches to the novel:
Elaine Freedgood connects objects in the home with the industry of empire and its violent history. She reads the objects as well as the act of decorating in ways that intersect with feminist, postcolonial, psychoanalytical, and ecocritical readings of Jane Eyre.
John O'Hara traces the reception of the novel from its early reviews to present day scholarship, across time and schools of thought.
Thomas Recchio uses Lucasta Miller's comparison of the passive Ruth (from Elizabeth Gaskell's Ruth) with passionate Lucy Snowe (from Brontë's Villette) as the premise for his comparison of North and South's Margaret Hale with Jane Eyre.
Ashly Bennett examines the narrative function of shame as a mediator between anger and sympathy, and "an alternative for shaping individuated, intimate social relations."
Critical Readings
The "Critical Readings" section consists of nine new essays that take a range of approaches to various topics in Jane Eyre.

Katherine Montwieler takes a psychoanalytic approach in reading the inherited traumas of the house in her essay "Women's Place: Home, Sanctuary, and the Big House in Jane Eyre." We move from the sins of the patriarchy to the perceived sins of the mother in Mara Reisman's "Sins of the Mother: Adèle's Genetic and National Burden in Jane Eyre." Jennie-Rebecca Falcetta reads Jane Eyre as offering multiple kinds of Christianities. Jonathan Kotchian, a scholar of Renaissance literature, applies Abdiel, a character in Milton's Paradise Lost, ("the only angel in Satan's rank to reject sin and remain faithful to God") as a model to use in reading both the tension between Jane's obedience and her resistance, and St. John's narrative function.
This conflict between obedience and resistance, submission and dominance, surfaces in conversation in Jane Eyre, and Cala Zubair examines the verbal sparring between Jane and Rochester. Amanda T. Smith also looks at Jane's conversation and responses to situations in her own development of humor as a coping mechanism. Mary Isbell looks at John Brougham's 1849 stage adaptation of Jane Eyre and compares audience response to such adaptations with spectator involvement in the game of charades.
While all of these essays result from multiple readings, the final two are explicitly about rereading the novel across time and experience. The last two pieces offer examples of reader-response criticism, as two contributors, Meghan Sweeney and Barbara Waxman, consider rereadings of Jane Eyre.
Resources
Chronology of Charlotte Brontë's Life
Works by Charlotte

Bront

ë

Bibliography

About the Editor

Contributors

Index
One might think that all has been said with respect to Jane Eyre, but the essays in Critical Insights: Jane Eyre indicate that the conversation continues in important ways. The hope is that this collection of essays not only provides useful resources, but also inspires the reader's own engagement in the novel.
---