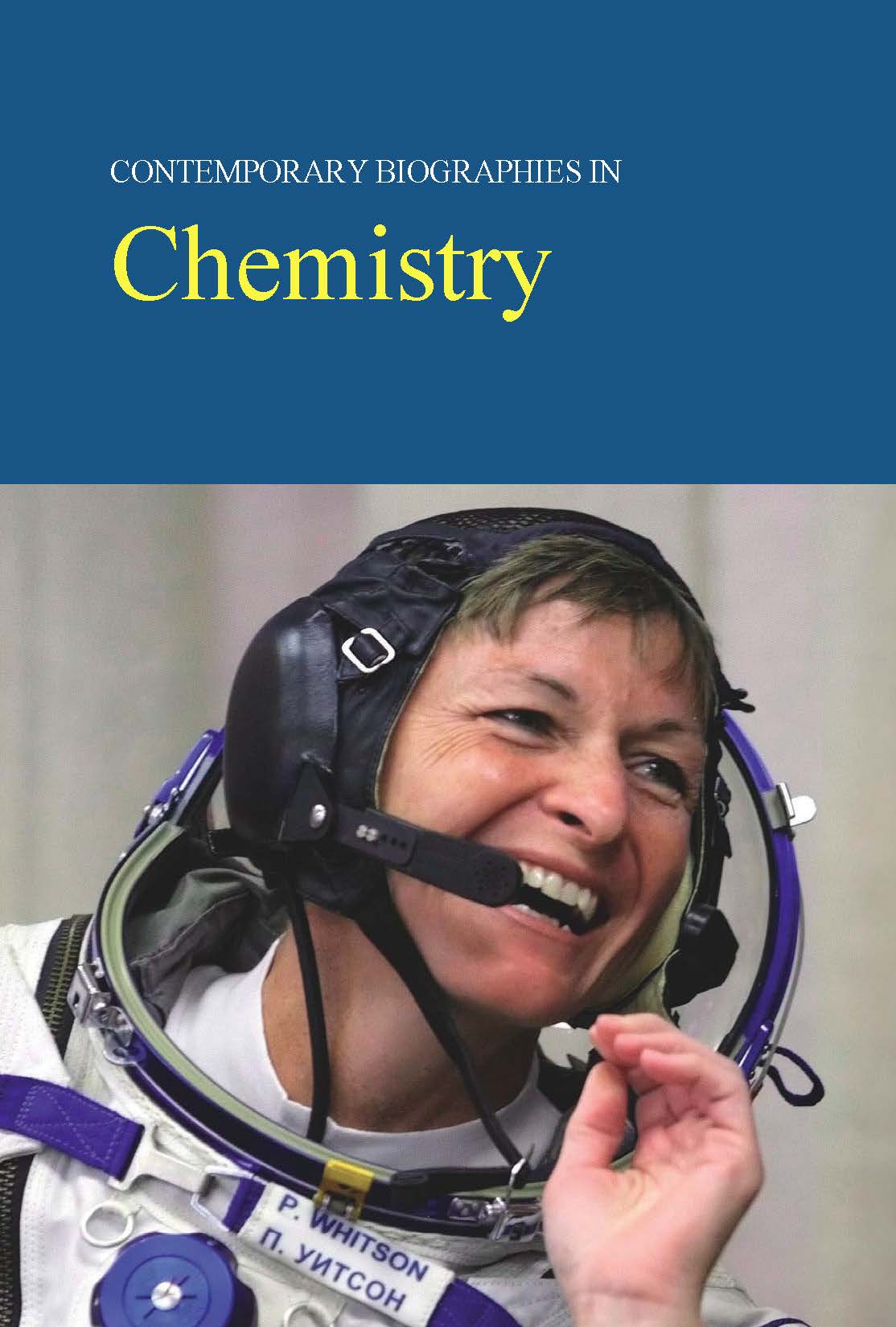 Contemporary Biographies in Chemistry
February 2013
---
---
Contemporary Biographies in Chemistry is a collection of biographies of "living leaders" in the field of chemistry.
A supplement to Salem Press's Careers in Science series, a career-focused series exploring the fields and occupations of physics, chemistry, and other sciences with an emphasis on STEM (Science, Technology, Engineering, and Mathematics) occupations and outlooks, Contemporary Biographies in Chemistry is a collection of biographies of "living leaders" in the field of chemistry. Culled from the pages of Current Biography, the monthly magazine renowned for its unfailing accuracy, insightful selection and the wide scope of influence of its subjects, these up-to-date profiles draw from a variety of resources and are an invaluable source for researches, teachers, students, and librarians.


Contemporary Biographies in Chemistry features 31 profiles of notable people in the field of chemistry. In addition, an appendix consisting of 10 historical biographies of "Great Chemists" is included, as well as geographical and personages indexes. A list of contemporary physicists covered appears below:

Barton, Jacqueline K.
Belcher, Angela
Bertozzi, Carolyn R.
Catlin, Don H.
Chauvin, Yves
Chizmadzhev, Yurii Aleksandrovich
Ciechanover, Aaron J.
Djerassi, Carl
Doudna, Jennifer A.
Good, Mary L.
Gupta, Mahabir P.
Harris, Eva
Heath, James R.
Hershko, Avram
Jones, Monty
Kenyon, Cynthia
Kiessling, Laura L.
Moncada, Salvador
Olopade, Olufunmilayo
Paabo, Svante
Rubin, Eddy
Solomon, Susan
Stefansson, Kari
Steitz, Joan Argetsinger
Tanaka, Koichi
Terrett, Nicholas K.
Wambugu, Florence
Wells, Spencer
Whitson, Peggy A.
Wuthrich, Kurt
Zewail, Ahmed H.
While most of the figures profiled are practicing scientists in their respective fields, the selection also includes scientifically trained government officials, institutional directors, and other policy leaders who are helping to shape the future of science by setting agendas and advancing research. Scientific fields covered range from biochemistry to genetics, to pharmacology and oncology, and from chemical engineering to molecular biology.
Articles range in length from 1,000 to 4,000 words and follow a standard format. All articles begin with a ready-reference listings that include both birth details and concise identifications. The articles then generally divide into several parts, including:
Early Life & Education: Provides facts about the scientists' early lives and the environments in which they were reared, as well as their educational background
Life's Work: A core section that provides straightforward accounts of the periods in which the profiled subjects made their most significant contributions to science
Significance: Provides an overview of the scientists' places in history and their contemporary importance.
---