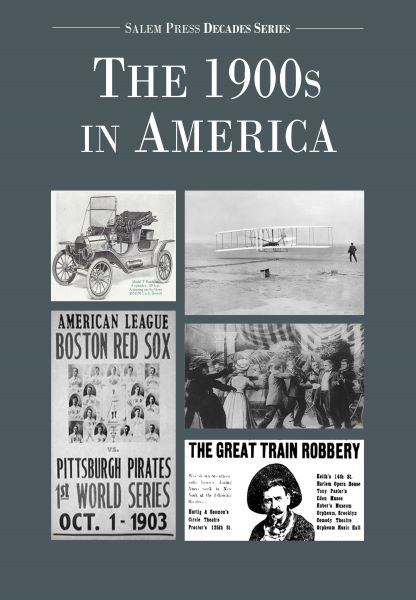 March 2024
---
The 1900s were a decade of transformation for the world, but especially for the United States, which saw the rise of motion pictures, motor vehicles, and experimental flight; the influence of presidents Roosevelt and Taft; and disasters such as the San Francisco earthquake of 1906
This new title, in two volumes, includes essays on these important events and more, such as industrial advances, the acquisition of the Panama Canal, sporting events such as the first World Series, and Einstein's theory of relativity. Essays also cover topics of political ideology such as Roosevelt's "big stick" method of foreign diplomacy, and various treaties of the time, as well as social justice issues affecting the lives of everyday Americans.
Scope and Coverage
This illustrated three-volume encyclopedia covers events, movements, people, trends in popular culture, literature, art, sports, science, technology, economics, and politics in both the United States and Canada.

The 1900s in America boasts articles on such major events as the Wright Brothers' first powered flight, the statehood of Oklahoma, the appearance of the Ford Model T on the market, and the founding of the Federal Bureau of Investigation (FBI). Biographies of significant individuals of the decade include Theodore Roosevelt, John Pierpont Morgan, Louis Armstrong, Albert Einstein, Susan B. Anthony, and William Howard Taft, among others.
The decade saw an explosion in literature and the arts including books (The Wonderful Wizard of Oz, Heart of Darkness, and The Souls of Black Folk), films (A Trip to the Moon, The Great Train Robbery), and the beginning of modern art; significant scientific developments including the automobile, the airplane, and radio; its share of disasters (the San Francisco earthquake, the Monongah mining disaster); and matters of social justice, including the Niagara Falls conference and the death of Susan B. Anthony. The full breadth of the set's essays can be seen in the many categories under which the essays fall.
Organization and Format
Every essay begins with a concise title followed by a brief description of the person, organization, work, concept, or event. Further headings attribute authorship, establish a date for the subject, and assign a location. Every essay features an "Impact" section, which examines the subject's broader importance during the 1900s. Special features include hundreds of images, maps and sidebars, timelines, tables and graphs, and facts and trends. To help researchers search through the content, the end of the title includes a List of Entries by Category and a detailed Subject Index.
Although essays in these volumes have been written to meet the needs of high school students and college undergraduates, the set's clear and innovative approach to the decade and authoritative articles should also make it useful to more advanced students and scholars.
Special Features
Hundreds of images illustrate the articles in The 1900s in America. In addition, maps and sidebars—lists, timelines, tables, graphs, and textual extracts—highlight interesting facts and trends from the decade.
The title ends with a List of Entries by Category and a detailed Subject Index.
---